Website popups show up while you're viewing a website. Overall, they work by encouraging a person to notice them and read them. You can ask for an email signup, promote a downloadable book, or anything else.
Generally, a pop up can generate more leads because you offer something in exchange for the user's email address.
Salesfire Overview
Salesfire is a pop up platform that helps you create personalized and authentic pop ups that get more from the website visitors. This CRO tool (conversion rate optimization) lets you send prompted messages to convert your traditional window shoppers into customers.
With it, you get various overlay triggers to push consumers to take action. They can be implemented on website contact forms, email forms, and anywhere else on the website.
That way, you can contact potential customers with a timed reward based on their behaviors while on the site.
The most important pop up is the exit pop up. As the visitor goes to leave the site, you can offer them an incentive to stay and provide an email address.
While Salesfire is a great choice, there are other Salesfire alternatives to consider:
Top Salesfire Alternatives
Poptin is a cloud-based popup plugin with tons of features. It offers the typical qualities you want from your opt-in pop ups, such as good design tools, templates, and various pop up types. These include floating bar, lightboxes, side-bar, and exit pop ups.
You also get tons of integrations and an ESP. One unique thing about it is the pricing model. It's focused on how many engagements you have (when the pop up does its job), so if you've got high traffic amounts with pops to one segment, you save money.
Features
With Poptin, you have access to:
Customizable popup and form templates
Various types of pop ups (including countdown popups, video pop ups, lightboxes, gamified pop ups, and more)
Full array of triggers (click-based, time-on-site, page-based, or campaign-based)
Targeting rules (geolocation, page targeting, Shopify cart targeting, JavaScript targeting, and more)
Drag and drop editing
A/B Testing
Built-in analytics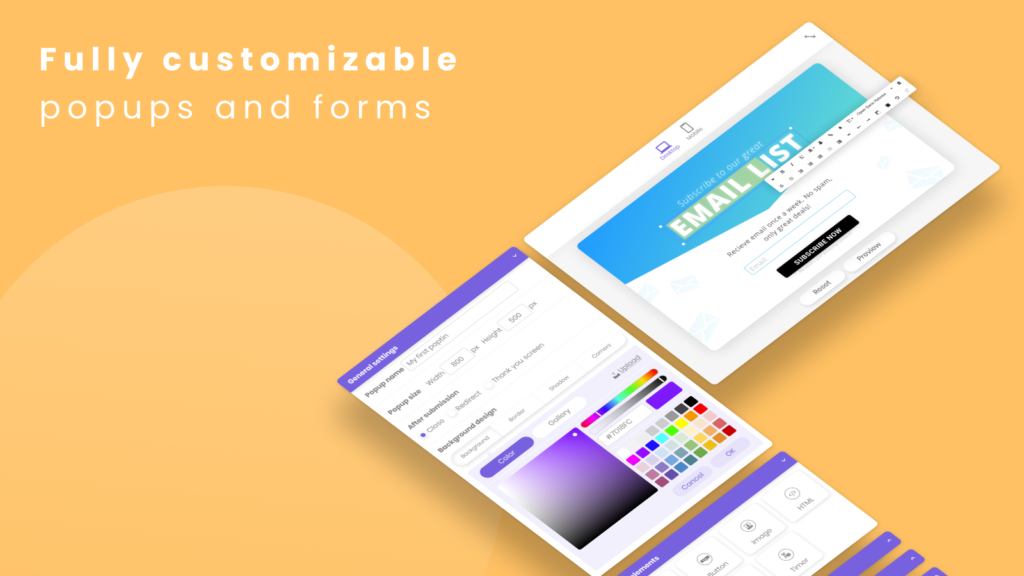 It also comes with various integrations, making this a great Salesfire alternative. You can work seamlessly with these products:
Nutshell
Hubspot
iContact
Constant Contact
Mailchimp
Zapier (to include tons of extra integrations)
See full list of Poptin integrations here.
The analytics dashboard is well designed and includes the basic information, such as conversion rates so far and visitors. You can view the stats for each day, month, week, seven days, 30 days, and create custom durations as needed.
Plus, you get four themes and color schemes to pick from for the dashboard.
The popup builder is easy to use, and you first define the goal of the pop up. Do you want to make an announcement, increase sales, or get more leads? Based on that, you have various templates available.
Targeting is also possible with this CRO tool. You can set the pop-up to show when:
The visitor is leaving the page.
The visitor has spent enough time on the page.
The visitor scrolled a certain percentage of your page.
The visitor visited multiple pages on the site.
The visitor clicked a specific number of times.
You can use the A/B testing feature when you want to get more traffic to your website contact forms or email forms. Create one version, and then head to the A/B test section. That way, you can send out the same messages with slight changes to see who responds to which one most.
Here's a quick Poptin review by the CEO of Shapewear Wholesale:
Pros:
Great integration tools
Includes email marketing solutions
Great live chat support
Easy to customize and build pop ups
Fantastic value
Gamified popups included
Cons:
Limited templates and designs
Pricing
The pricing plans are based on how many visitors you have each month and the number of domains you need. As you go higher in the tiers, you can do more.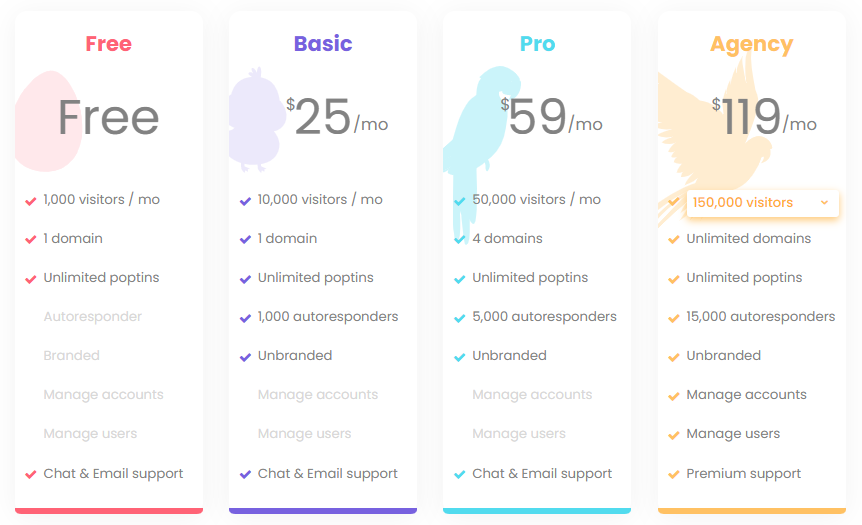 Why it's a Great Salesfire Alternative
Most companies can use the free version for quite a while, saving them money. However, Poptin also grows with you and has almost everything you want in a CRO tool.
2. Brizy
Another top Salesfire alternative is Brizy. This WordPress page builder allows you to create an entire website quickly. This includes email forms, website contact forms, and landing pages. However, since the sole functionality isn't on pop-ups, you may find it limiting.
Features
With Brizy, you get a variety of features, such as:
Permissions
Content management
Email integrations
Marketing tools
Site analytics
SEO
Hosting
HTML input
Drag and drop functionality
Domain name
Templates
As you can see, this isn't a CRO tool in the strictest sense. It focuses on creating a website that draws visitors in so that you can promote yourself. However, other Salesfire alternatives focus specifically on pop-up generation. While you can build an exit popup, it's not as easy as you might think.
Pros:
Inline editor
4,000 useful icons
Professionally designed blocks
Cons:
Few elements
Limited popup features
Pricing
Brizy offers a WordPress plugin version and three tier levels. Some people choose the yearly version, but you can buy a lifetime version with a one-time payment. If you know that's what you want, it could be the best deal.
Why it's a Great Salesfire Alternative
Brizy is a good alternative if you're building your website from scratch and want to integrate popups, email forms, and website contact forms. However, it's not a CRO tool because it doesn't focus on popup generation.
3. Wishpond
Wishpond is a full online marketing suite. You can attract visitors by publishing and building landing pages that convert into leads. However, it primarily focuses on email forms and website contact forms. You can create popups, but they are somewhat limited.
Features
The features available from Wishpond include:
Forms of all types
A/B testing
Custom JavaScript
CRM integrations
Website popups
Landing pages
Promotions and contests
Custom CSS
API access
Lead management
Email marketing
Marketing automation
Pros:
Offers smart behaviors for popups
Helps with abandoned cart issues
Can create landing pages and smart flows
Cons:
Requires more personalization features
Could be ineffective for some companies
Many execution errors
Pricing
Wishpond doesn't provide transparency with its pricing schedule. You must request a 30-minute demo with a specialist, selecting a time and date (weekends aren't available). Once you see how the CRO tool works, you then learn about the fees involved.
Other users say that it runs from $49 to $199, depending on your needs. Plus, you do get a 14-day trial period.
Why it's a Great Salesfire Alternative
If you want a do-it-all type of product, then Wishpond is a great Salesfire alternative. However, it makes you create discount coupons for every user, doesn't integrate well with Shopify, and has constant bugs. Therefore, this CRO tool is best for those who have a small budget and want to create fewer pop-ups.
5. Yeloni Exit Popup
The Yeloni Exit Popup CRO tool is a powerful lead generation plugin. You can convert abandoning visitors into subscribers with attention-grabbing forms. There are various targeting options, configurations, and widget designs to help you customize everything.
Features
Overall, the Yeloni Exit Popup plugin offers:
Multiple widgets – Choose action buttons or popups. There are multiple themes for landing page redirections, offers, social sharing, and more.
Widget configuration – You get various triggers, three exit popup options, and multiple themes.
Integrations – You can integrate with Sendy, Active Campaign, AWeber, and Mailchimp.
Chat integration – There is an option for Zopim Chat, so you can seamlessly talk to customers.
Pros:
Lightweight plugin that doesn't bog down the site
Doesn't show when users are navigating or on the scroll bar
Amazing support
Design services available
Cons:
Does have a premium plan but no information
Upgrade issues possible
Only alerted of payment requirement when clicking on certain options
Pricing
While the Yeloni Exit Popup tool is free, there is a premium version. It's unknown what the cost is. When you upgrade, you can show the widgets on specific pages, have responsive widgets for mobile, and more.
Why it's a Great Salesfire Alternative
Overall, the Yeloni Exit Popup tool is a lightweight plugin that doesn't slow down the website. It only shows up when the user plans to leave the site and does the job well.
5. Wheelio
Wheelio is a Shopify CRO tool app that takes customer engagement to the next level. It's used to create a sense of urgency and promote fun and excitement. Shoppers enjoy surprises!
Features
Overall, a popup should create urgency, and Wheelio helps you do that. Plus, it works, even if the user enables AdBlocker.
It's more of a gamified popup solution than an exit popup product. However, most users prefer pop-ups that are like games. They don't seem so intrusive and can really make them feel that FOMO experience.
Pros:
Intuitive interface
Easy to use
Offers many integrations
Cons:
Must pay separately to integrate with more apps
Pricing
The pricing schedule is based on how many impressions you make each month. For example, 30,000 impressions costs $14.92.
Why it's a Great Salesfire Alternative
Those who want gamified pop-ups are sure to appreciate Wheelio. It lets you customize everything and promote fun and excitement for users while on the website.
The Bottom Line
With so many Salesfire alternatives, it's hard to pick just one. Remember, popups can convert if you do them properly. Therefore, you need the option to create various pop ups based on your needs.
Poptin is the best CRO tool out there. You can create pop-ups for your email forms and website contact forms. Plus, it's a great gamified pop-up generator and can make an exit popup stand out.
Sign up for free and try Poptin today!