Everyone can benefit from using email marketing tools. They're helpful because you can create unique emails that beg to get read. You can also automate much of the process, which makes it easier to follow-up and sends timely emails when the need arises.
With so many options out there, it's hard to figure out which one is right for your email marketing efforts. We're going to give you a few SendBlaster alternatives to make it easier.
What Does SendBlaster Provide?
SendBlaster is different from the others on the list. With it, you download the software to your computer and use it from there. Since you're not online, it can be a little easier because you don't have to use the internet to create.
Why People Switch from SendBlaster
Though SendBlaster is a software you download, it can cost a lot more. Plus, you need a license to put it on multiple computers, and it isn't possible to collaborate (see what others have done).
The SendBlaster alternatives we discuss today are all cloud-based or over the internet. These email marketing tools make it easier to create and send emails.
1. ActiveTrail
ActiveTrail is a more intuitive email marketing platform that helps you automate email sending. However, you can also create landing pages for your website, make online surveys, and send SMS (text) messages.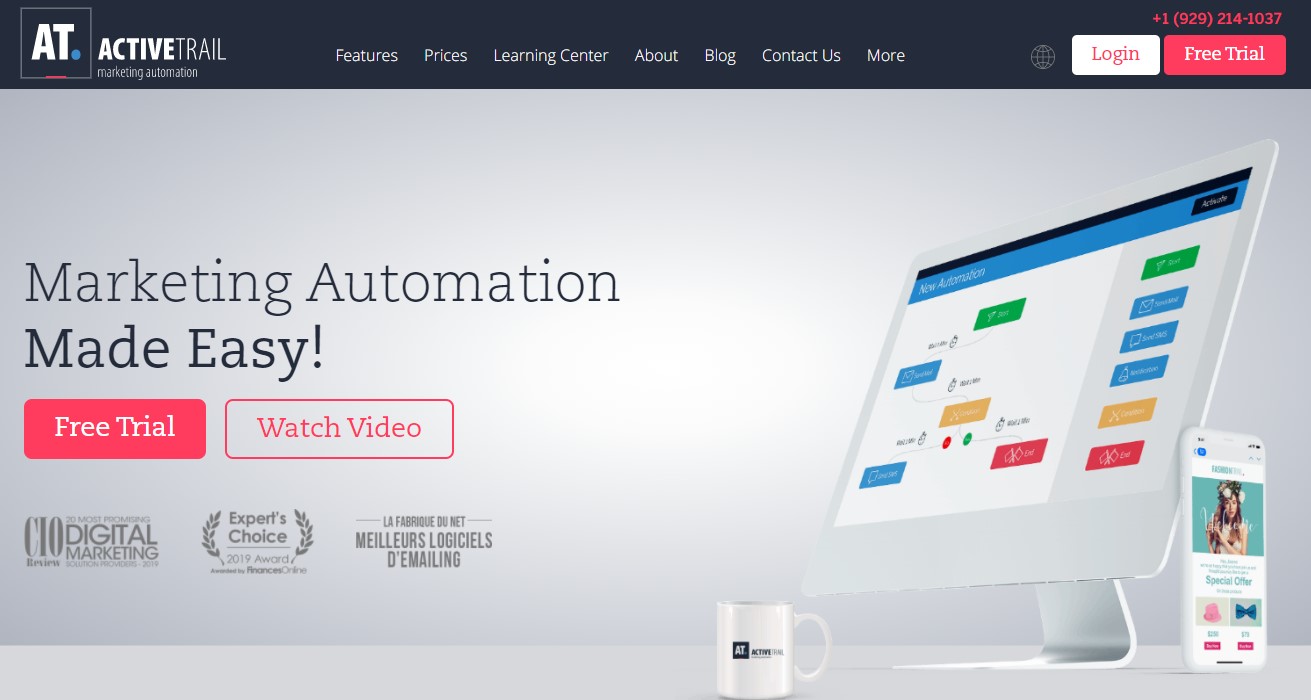 Features
With ActiveTrail, you get marketing automation with autoresponders and behavioral triggers. You can create workflows with drag-and-drop blocks. 
Drip campaigns are also available, so you can capture leads with a dedicated system. If that weren't enough, you also have access to tons of templates to create emails and newsletters effortlessly. As far as email marketing tools go, this one is ideal.
Pros:
Easy to navigate and affordable

Relevant integrations available

Testing and optimization options
Cons:
Must use API for e-commerce workflows

No help connecting the outside APIs
Pricing
As far as SendBlaster alternatives go, ActiveTrail's pricing structure is much simpler and less expensive. The Basic plan is $9 a month for 500 contacts and includes unlimited sending, landing pages, automation, reporting/analytics, and so much more.
Plus is the next package, and it's $14 a month. You get the many benefits of Basic, but you can also have 10 users and have enhanced security features. This includes secured imports from FTP and two-factor authentication.
Premium is the last option, and it costs $351 a month. You get all the features available. This includes priority support, unlimited users, training for the team, help with setup and migration, and a dedicated account manager.
Who Is This For?
Primarily, ActiveTrail is suitable for digital marketers who require an all-in-one system for contact management, email marketing, and marketing with other channels.
2. SendX
With SendX, you get affordable email marketing software with tons of features. The simple structure is designed for busy people to boost efficiency. Email marketing tools like this work well for everyone.
Features
With SendX, you have a platform suitable for growth and marketing automation. They work together so that you can grow your business. It's easy to design landing pages, embedded forms, action popups, and emails.
We like the user interface because it's easy to navigate, and you can test widgets to ensure they look great on your website without having to leave. Plus, it's easier to convert visitors to buyers or subscribers with the embedded forms and popups. If that weren't enough, you get tons of email templates to use for free!
Pros:
Easy-to-use interface

Can create landing pages, email campaigns, and more

Includes over 25 pre-built triggers/actions (automations)
Cons:
Can't handle complex automations

Can only have 15,000 subscribers total
Pricing
The pricing structure for SendX is simplistic. For 1,000 subscribers, you pay $9.99 and then $19.99 for 2,500. Then, it bumps up to $39.99 for 5,000 subscribers, $59.99 for 10,000 subscribers, and $79.99 for 15,000 contacts. 
You get all the features available, regardless of your subscriber count. Plus, you can send unlimited emails each month.
Who Is This For?
SendX is primarily suited for busy marketers and business owners to create emails quickly. However, it's also designed for professional bloggers, course creators, e-learning companies, SMBs, and B2Cs.
3. Cakemail
When you want an easy-to-use email marketing solution, Cakemail has you covered. It can streamline your email marketing efforts, and you don't need to be a designer or have the technical experience to use it.
Features
You're going to appreciate all that you can do with Cakemail. It's easy to import your contacts from somewhere else, and you can also create amazing email campaigns. Consider adding custom items to your messages so that people want to click on them to learn more.
There is a way to create a shopping cart so that customers can buy products from the email directly. This is great if you're an e-commerce store owner. However, creatives can also use it to make emails that wow and impress.
Pros:
Easy to use

Free trial available

Beautiful templates for emails and newsletters
Cons:
Limited language choices

No training features

Costs a bit more than other SendBlaster alternatives
Pricing
Everyone gets a free trial for 30 days so that they can learn about the email marketing tool and see if it's right for them. After that, you are billed based on how many contacts you have.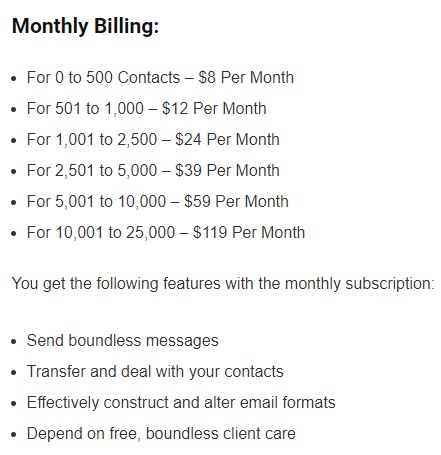 For up to 500 contacts, you pay $8 a month, and then it goes to $12 a month for 1,000. From there, you spend $24 a month for 2,500 contacts and then $39 a month for 5,000. At 10,000 contacts, you start paying $59 a month, and then it goes up to $119 for 25,000 contacts.
Who Is This For?
Cakemail is ideal for small businesses and start-ups. If you've never used email marketing tools before, it's a great way to ease into it.
4. Vision6
Vision6 is an email marketing solution to help companies track, send, and create email campaigns. Since there are plenty of features to enjoy, it's sure to be a favorite among many entrepreneurs. 
Features
You're going to appreciate the customizable templates and the drag-and-drop editor. These make it so much easier to create emails quickly and efficiently.
It's easier to connect with your audience and convert your leads to paying customers. Send out automated anniversary emails, loyalty program incentives, or welcome emails. Plus, you can even redesign the interface to include custom colors and your company logo.
If that weren't enough, you also have the single-sign-on feature, so administrators can provide the right access to other employees. This also helps you manage your campaigns through a centralized dashboard.
Pros:
Reporting/analytics tools available

Multiple channels available (social media, SMS, etc.)

Easy to use platform
Cons:
Hard to understand HTML formats

Some WYSIWYG issues
Pricing
With Vision6, the Starter package is $9 a month for 250 contacts. You get the core features, but there are also unlimited audiences and users. You can only send 2,500 emails a month, but you do get transactional emails.
Next, you have Business, which is $29 a month for 250 contacts. Here, you get everything from Starter. There are also unlimited email sends, increased speeds for sending, priority support, and you can talk to a deliverability expert.
The last plan is Pro-Marketer, and it's $99 a month for 250 contacts. You get everything from Business, as well as phone support and advanced automation.
Who Is This For?
As far as SendBlaster alternatives go, Vision6 is suitable for non-profit organizations, freelancers, and SMBs. 
5. Mad Mimi
With so many email marketing tools out there, it's hard to find the right one. Mad Mimi is different from the other SendBlaster alternatives because it's modern and brightly colored. When it's time to create an email, you're going to be in a great mood!
Features
Mad Mimi is a great email marketing solution because it offers list management, email design, analytics, and tracking. You can design emails with the HTML email templates available. Plus, with list management features, you can upload your mailing lists or create them for yourself.
We like the analytics tool because you can accurately track various metrics. These include bounce rates, unsubscribes, deliveries, click rates, open rates, and forwarding rates.
Pros:
Affordable

Simple to use

Integrations are plentiful
Cons:
Limited autoresponder functionality

Only one 'template' to use
Pricing
When you work with Mad Mimi, you should be aware that all of the features are available for each tier level. The only real difference is the speed at which they send. For example, Basic is $10 a month for 500 contacts, and the emails sent at the normal speed. At Pro, which costs $42 for 10,000 contacts, your emails send twice as fast.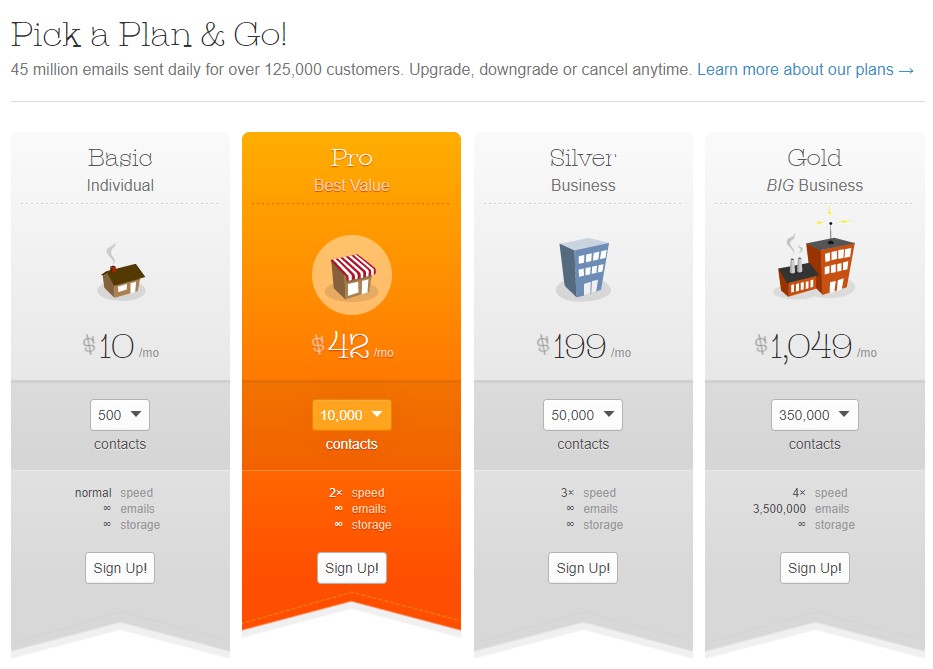 Next, you have Silver, where it's $199 a month for 50,000 contacts. Emails are sent at three times the normal speed. Then, you have Gold for large companies. It's $1,049 a month for 350,000 contacts, and you get speeds that are four times faster.
Who Is This For?
Since Mad Mimi is so cheap (on the low-tier plans), it's ideal for SMBs on a budget. Corporations may also find it useful if they don't need to create complex campaigns.
6. iContact
When you want plenty of features, iContact has you covered. It uses a jargon-free approach to email marketing tools, so it's great for anyone who wants to get going fast. You don't have to spend hours on a campaign to make it amazing.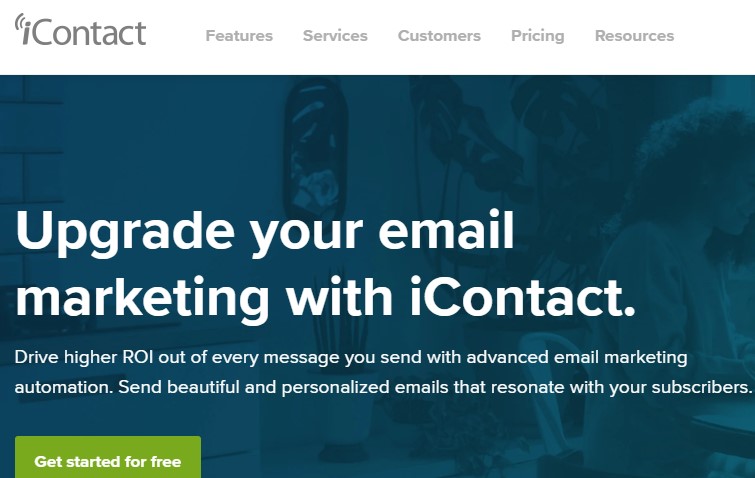 Features
You're going to appreciate the drag-and-drop editor, which means you don't have to know HTML coding. Email creation no longer has to take hours.
Plus, you also get A/B testing. It's much easier to decide which email does better, and you can mimic those features the next time. You can conduct tests with your subscribers to see what they like most.
Automation is the key to all email marketing tools, and this one has it all. Depending on the pricing plan you choose, there are welcome series and so much more. With automation, you set it up and can forget about it. The system determines when to send follow-ups for you.
Good read: 4 Popular iContact Alternatives: An In-Depth Analysis
Pros:
Easy to understand navigation

Various support choices

Personalized interface
Cons:
No email scheduling available

Only basic segmentation

Slow loading speeds
Pricing
The Base plans offer a stock image library, customizable templates, and the welcome series automations. You pay $15 a month for 1,500 subscribers, $25 a month for 2,500 subscribers, and $45 a month for 5,000 subscribers.
There are also Pro plans available. Pay $50 a month for 2,500 subscribers or $90 a month for 5,000. You get everything from Base. Plus, you get the birthday and anniversary automations, win-back series, and landing page creation, among others.
Who Is This For?
Primarily, iContact is suitable for people who want things done fast, so beginners are sure to appreciate it. However, the feature range is just good; it might not be ideal for those who need to make complex campaigns.
Conclusion
Everyone can appreciate email marketing tools because they make your job that much easier. However, it's important to select the right one. Most people prefer cloud-based solutions instead of software downloaded to each computer. It's often easier to get the job done when you're online. Plus, you can send the email right from the program.
Though SendBlaster is a great choice for some, it doesn't give you everything you need. Therefore, it's important to consider these six SendBlaster alternatives. Each one is different, so you've got to read about each one and decide if it's right for you.
Typically, this is easier when everything is laid out for you. This review showcases the top six choices for SendBlaster alternatives so that you get the right email marketing solution. Whether your budget is large or small, you're sure to find something that meets all of your needs.
The good news is most of these solutions offer a free trial. That way, you can test it out to make sure it's right for your business.
Now is the time to focus on email marketing tools that are going to make things easier for you. It shouldn't take hours to create an email campaign, and now it doesn't have to!
Find out more about email marketing here: