Are you tired of spending countless hours putting together proposals for your clients? As a freelancer, agency, small or big business owner, creating proposals is an essential part of winning new business. However, it can be a time-consuming and tedious process, taking you away from the other important aspects of running your business.
Luckily, proposal software can streamline this process and help you create professional, effective proposals in a fraction of the time.
With so many options available, it can be challenging to choose the right one for your needs. You may be confused about what to look out for when choosing proposal writing software or concerned about integrations with your existing productivity tools.
That's why we've put together a list of the 8 best proposal software tools that every business should be using. Whether you're a freelancer, agency, small or big business owner, there's a solution on this list that will help you create compelling proposals that win new business.
So, let's dive in and explore the top proposal software tools that can make your life easier and your business more successful!
This proposal writing software is great for creating all kinds of business proposals. Its robust features and functionalities make it a great choice for freelancers, but it is definitely useful for businesses of all sizes. It enables you to create impressive professional proposals fairly quickly. Compared to other platforms, it's 3x faster.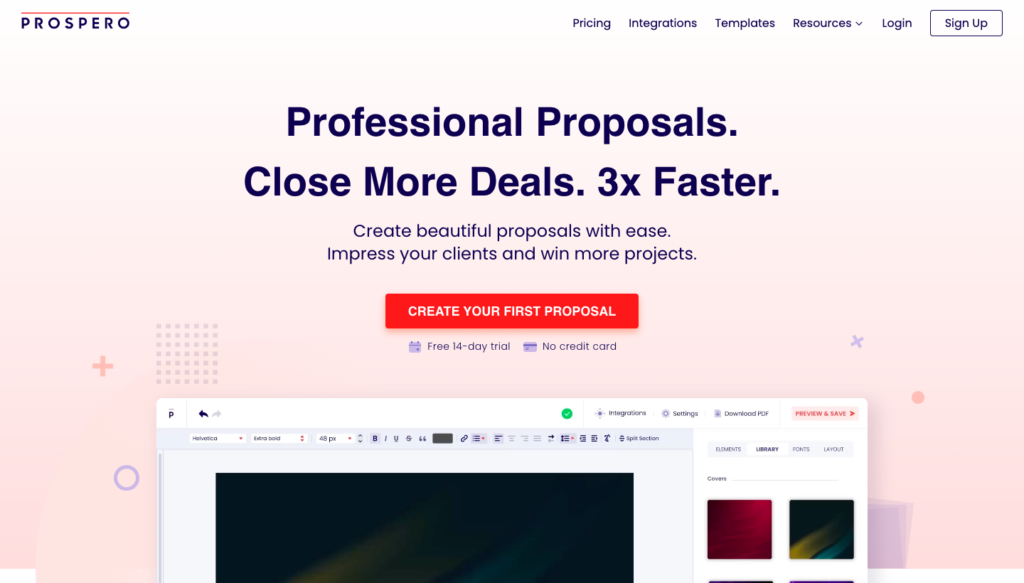 This is especially important for freelancers who are neck-and-neck, in competition with other freelancers who are going after the same prospects. Your odds of winning a client increase when you have a tool that not only generates professional proposals in minutes but helps you personalise your expertise and business offerings to your client's needs.
Prospero offers built-in content generation reuse tools. This includes ready-made content for designers, developers, consultants, agencies, service workers, video artists, and writers. It also allows you to turn your proposal into an invoice at the click of a button.
With Prospero, you'll go through a fast and simple process. You can select and customize any of the 35+ proposal templates across industries. There is also ready-made content from the library that you can use for your brand. When you create your proposal, you can even set an expiry date so your client knows that your offer is time-limited, which may help to evoke a sense of urgency.
For better proposal management, Prospero offers powerful features and UI for your team members to send, track and monitor proposals. Some of the data you'd be able to monitor are the number of times your proposal has been opened by the client, how long the client browsed through the file, the actual status of your proposal, and email notifications so you can still get looped even when you're on mobile.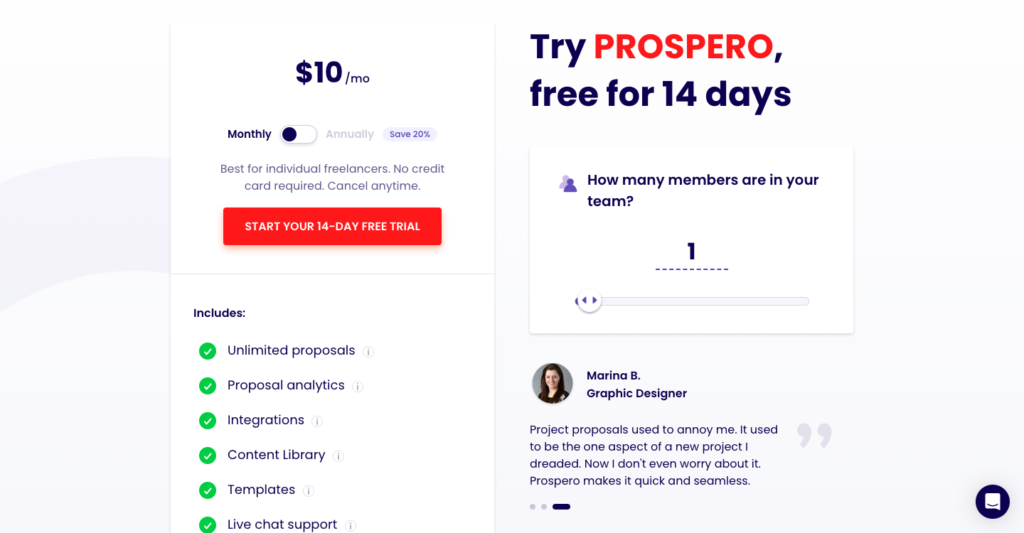 Another significant feature that Prospero provides is the assurance that your client can seamlessly sign the proposal without using any third-party tools. They can directly sign the proposal digitally from any device, either they type, upload, or draw the signature. What makes it unique is that you can also get notified via email when a client signs the proposal.
When signed, you can let your potential clients choose the plan that's right and more fit for them. You can close more deals for better customer support by getting in touch through WhatsApp, call, or email.
What about getting paid? Prospero integrates with third-party integrations to create invoices, get paid, design automation funnels, and more.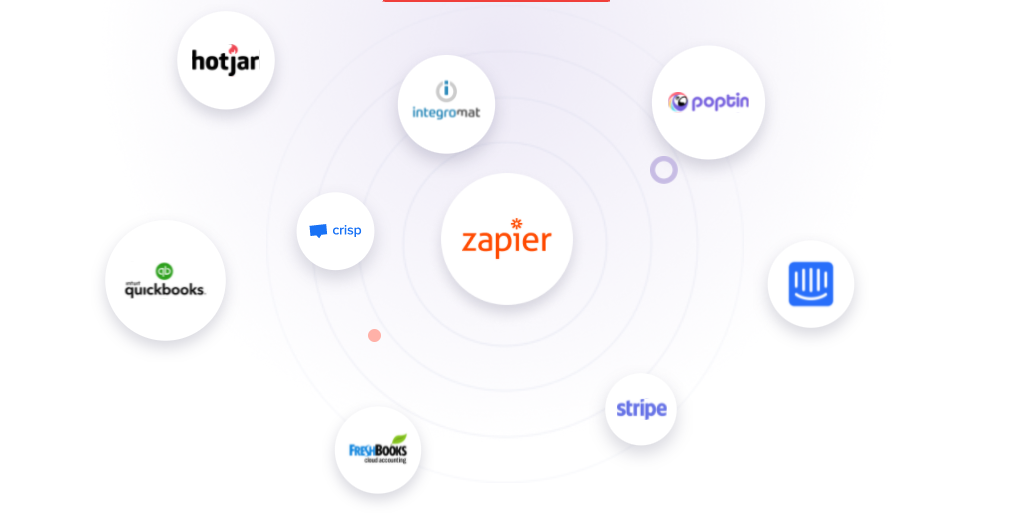 Prospero is by far the cheapest paid platform in the bunch at $10/mo or $8/mo when paid annually. Once you sign up, you get a free 14-day trial!
2. PandaDoc
When you need to quickly write up and send a proposal, PandaDoc is the tool to use. It enables you to streamline the creation of your proposals and quotes so it's in the hands of prospects within minutes.
Some of the best deals happen on a whim and you need a powerful tool that'll deliver every time. It comes with automation, analytics, and team management features that make this possible. From the platform, you're able to manage roles, enable payments, and workflows.
You can create multiple workspaces to stay on top of your teams, content, and access permissions. Then there's an audit trail you can use to monitor the progress of your proposal.
There are three plan options available starting at $19/month per user up till enterprise, which requires you to contact them for a quote.
3. Better Proposals
Great proposals don't just happen – they're by design. That's what makes this tool impressive. It comes with over 60 templates you can use to create a professional-looking proposal.
You're able to import your logo and images and easily tweak the design to match your company's colors. Then you can use the Preview-as-you-go to see how the client will see it. Some of the CRMs you can integrate with Better Proposals include Pipedrive, Salesforce, Zoho, Highrise, Base, Nimble, Capsule, Hubspot and Stripe.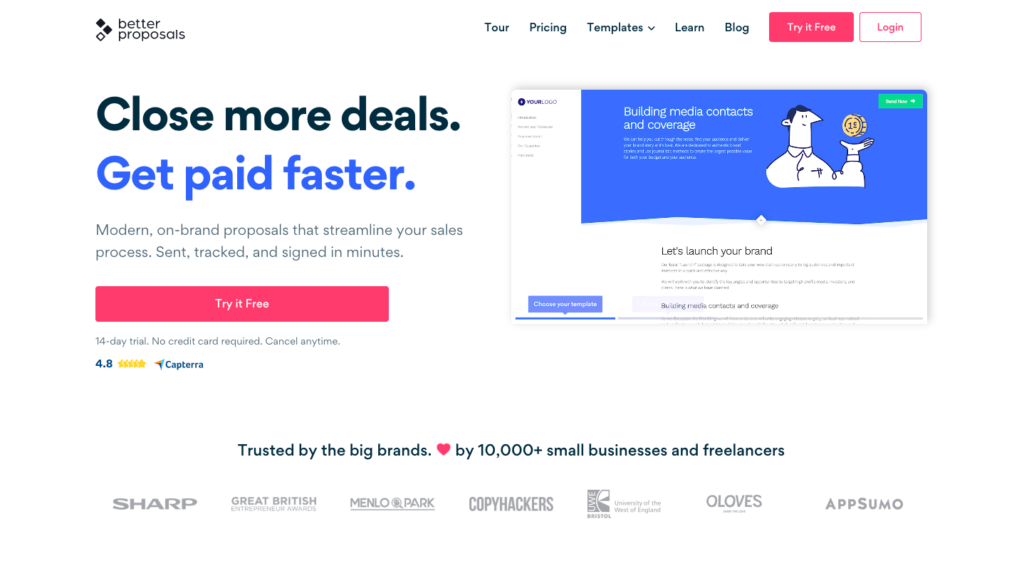 Besides making visually-appealing proposals, you can also use this tool to implement video into your proposals. You have the choice of using Wistia, Vimeo, or YouTube to embed your videos.
Of course, you can digitally sign documents online, as well as connect payment portals like PayPal, Stripe, and GoCardless for quick payment. Then if you prefer face-to-face interactions, you can use the live chat feature. There are also a number of other new features worthy of noting, including online brochures, client sign off sheets, and contract templates.
As for the cost, there are three plan options to choose from: $19/mo, $29/mo, and $49/mo.
Organization and sales automation is key whether you have a sales team or a one-person team. With Proposify, you can revolutionize your sales process. You can quickly create proposals and get them in front of your clients in ample time.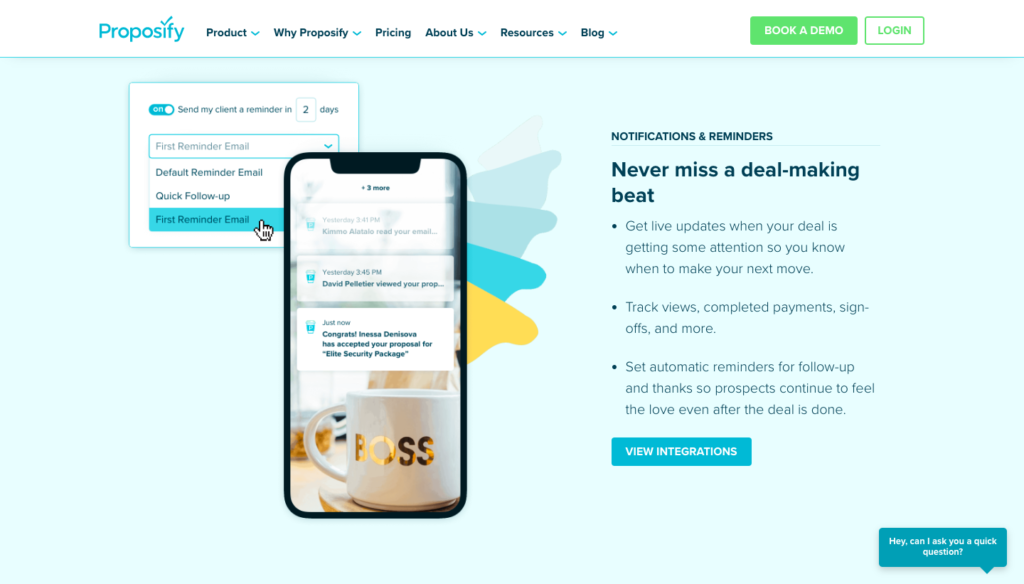 You're able to design the proposals easily and quickly before deals go cold. You can also organize your teams to ensure careful collaboration. You can enable the individuals you want to have access to the proposal and manage their roles from your dashboard.
This way, you can control who can make edits or who is view-only. The platform tracks all changes, comments, and shares until the client signs the proposal – which they can do right within the software.
The pricing for this platform is geared towards teams and businesses starting at $49/per month.
This is a less friendly option for small businesses and freelancers looking to scale their business with proposal writing software.
5. GetAccept
In your role, it's about closing as many deals as possible. If this is your top priority, then GetAccept is noteworthy. It allows you to upload and send out sales documents with a single click.
This can greatly increase your chances of winning proposals, such as within construction, freelance writing, and design industries. In these fields, you're up against fierce competition, which means you need to be quick.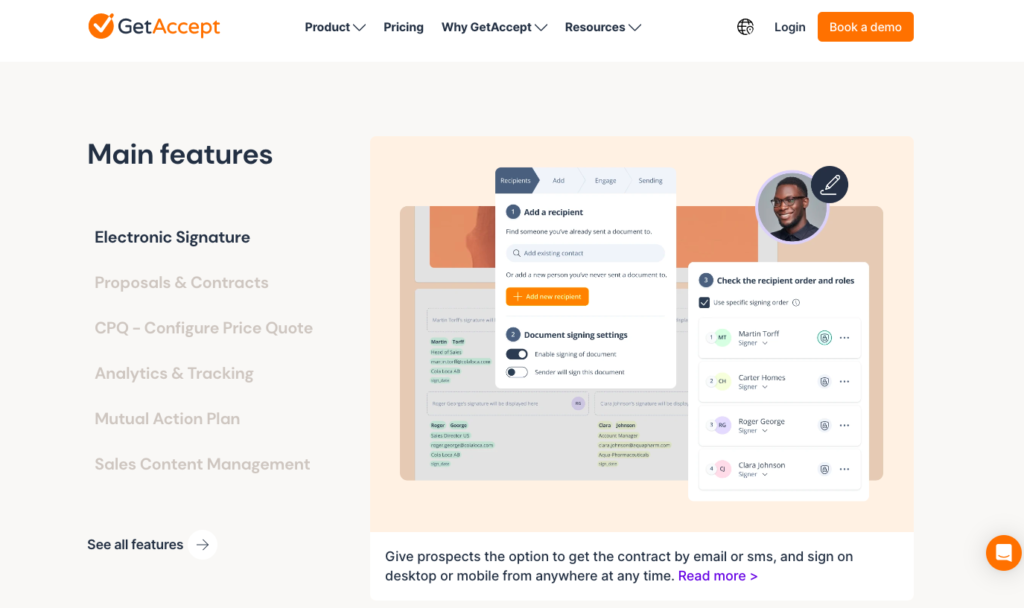 However, this shouldn't mean dumping out poor-quality proposals. With GetAccept, you can go over and beyond with your proposal concept. For instance, you can integrate an introduction video and/or have a live chat session with prospects.
Everything's documented and tracked so you can analyze the process and results. You'll know when the client opens proposals and which parts got the most attention. This can, in turn, help you improve your future proposals.
The pricing for GetAccept starts at $15/month per user and scales up to getting a quote for much larger enterprises. They also offer a free plan with limited features
6. Nusii
When it comes to flexibility and ease-of-use, then Nusii is a great option. It allows you to create an unlimited number of proposal templates. This can come in handy if you're in a line of business where you're sending out numerous bids weekly or even daily.
This proposal software will let you reuse these templates to push out more proposals faster. You can also use the analytics to determine which proposals are generating the most profits for your business. This allows you to pinpoint your best clients.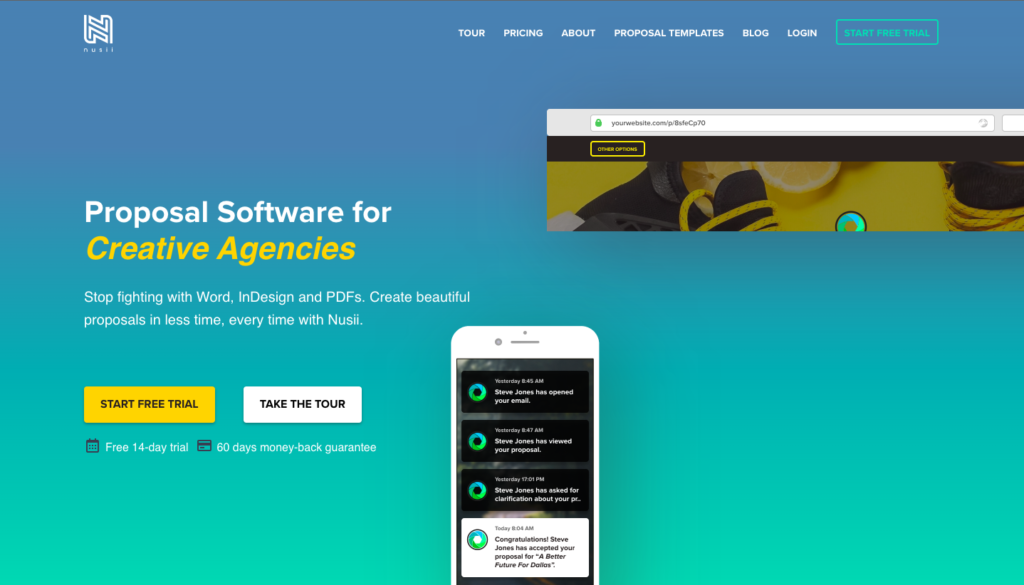 For your recurring customers, you can use this platform to create documents and reports to keep them in the loop about your projects and collaborations.
It's a user-friendly tool that comes with great features, like tracking and notifications. This way, you know immediately when the prospect opens or even accepts your proposals.
Nusii offers a free 14-day trial after which you can select from any of their pricing plans starting at $29/mo for freelancers, $49/mo for professionals, and $129/mo for businesses.
7. Fiverr Workspace (formerly And Co)
This is another platform that's ideal for freelancers. In fact, it's developed by Fiverr – an online platform widely used by freelancers. Fiverr Workspace is a simple tool you can use to create branded proposals in just a few clicks.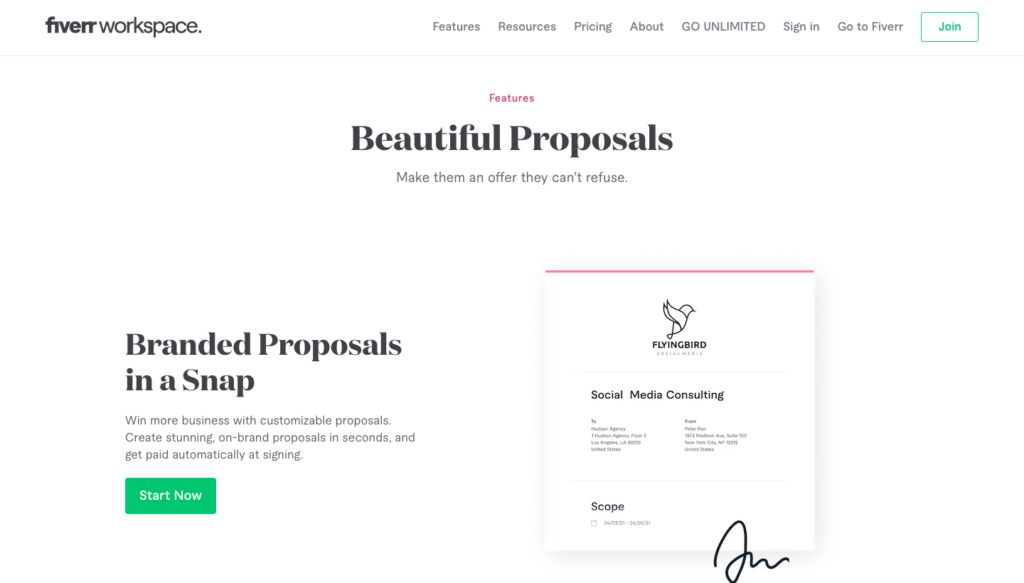 You can easily add images and custom slides to help sell yourself or your business to prospects. The recipient can then e-sign and pay your deposit right from the proposal.
The software also allows you to embed a standard freelance contract. This can help streamline the process so you can begin your project immediately after the prospect signs the contract and proposal.
Fiverr Workspace offers a free plan with limited features at no cost and an unlimited plan starting at $24/month.
Here's an all-in-one software you can use to handle all aspects of the proposal process. This includes crafting engaging proposals and contracts using templates vetted by lawyers for designers, developers, photographers, consultants, videographers, and writers.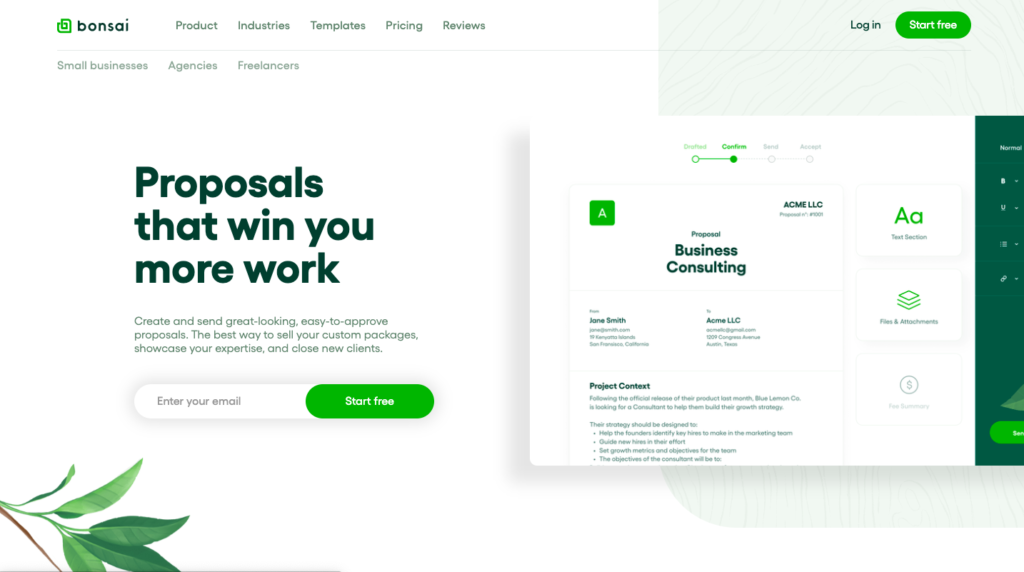 You can update the contract terms easily and do all the signing online.
You'll receive live notifications for each interaction and can auto-create professional invoices. After the client signs the proposal, invoices are automatically created and sent for you. This way, your projects stay in motion.
Bonsai starts at $17/month and scales up to $52/month for their business plan.
Get Professional Proposals in the Hands of Prospects Fast
At the end of the day, proposals are what keeps your business growing and expanding. You can use them to win new clients or even beneficial partnerships with other business owners.
However you use proposals and for whatever reason, you need a tool that'll allow you to handle all aspects of the process. With these tools, you can easily create professional proposals and contracts and get started on projects quickly.
Check them out today to see which work for your business needs. Then if you need help getting more prospects, why not implement popups into your website? We invite you to try the user-friendly Poptin platform for free today!