Popups are a simple yet effective way to increase conversion rates and improve your overall business success.
Today, many online marketers use them for different purposes, but essentially they are used to catch and maintain visitors' attention in the hopes of getting more sales.
Statistics say that a number of people who see a pop-up for the first time decide to do business with the brand in question with a conversion rate of 11%, so it seems like they are certainly a good opportunity that you better not miss.
When looking for an ideal pop-up builder, you need to look for specific features that can help you accomplish your business goals with minimal effort.
So, pay attention to these 8 essential features you must look for in a pop-up builder and find out which are the items that are mandatory when it comes to a good marketing and sales strategy.
1. High conversion rates
Conversion rates are reflected in the ability of a specific pop-up to convert visitors into customers, that is, to in some way encourage and make visitors buy your product or service.
Your visitors' intention needs to be challenged by something in order for them to decide they want to spend their time and money on you.
For sure, you have been asking yourself what are the best strategies to create highly converting pop-up windows as there are many options and tips on the market on what should be done to achieve exactly that.
Here are some of the crucial things that you can do to make highly converting pop-ups:
Keep it simple and clear 

Use images that point to a certain fill-in form

Provide additional context to your message

Add a certain flavor/humor/personality to it

Offer something valuable to your visitors

Add relevant CTA buttons that match the offer itself

Choose the right timing for your pop-up to appear
By being short but sweet, your pop-up provides exactly as much information as it takes for a reader to receive the message and to understand it clearly to take action possibly.
Images that point to a particular form indirectly confirm what the visitor should do and what is expected of him.
When it comes to additional context, it usually means that your pop-up, that is the message of your pop-up, should only build on the already established value of your website content.
Context should be relevant and useful to your visitors.
If you want to be singled out from the rest of the competition, you need to leave a specific impression on your visitors by incorporating a perfect dose of humor and personality in your pop-ups. 
They need to be interesting enough and unique in order for the prospects to stay a little longer on your e-commerce website.
Offering something of value to your visitors is a crucial thing when talking about attracting attention.
These could be coupon codes, discounts, special offers, run contests, content downloads, and similar.
As shown in the example below, you can offer them a coupon in return for their email address and in that way work on your email list.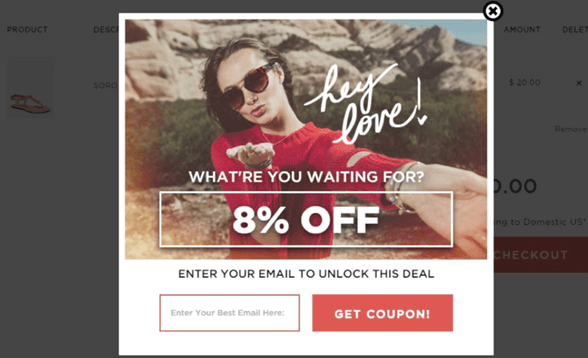 Source: ZooShoo
They need to be incentivized to take action.
Also, you need to be careful when adding CTA buttons because they need to match the offer itself and are usually highlighted compared to the rest of the pop-up.
When creating CTAs, use active verbs and be short and clear, too.
Choosing the right timing for a pop-up to appear is another very important detail that we are going to explore further in the following paragraph.
Keep in mind that oftentimes you'll need to worry about creating the perfect funnel first to get all the steps right and with Systeme, that's not something to worry about.
2. Advanced triggering options
Triggering options are very important because they decide when your pop-ups are going to appear on your website and show a certain message to your visitors.
According to the purpose and the location of the pop-up, you can choose a particular trigger, and it is best if a pop-up builder has several options to choose from and use.
The pop-up builder called Poptin offers several different triggering options that are very effective, and some of these are:
Exit-intent trigger

After X seconds

After X percentage scrolled

After visiting X number of pages

On-click

After X clicks
If you choose to set them manually, you can do it very easily as presented below:

You can also use the option of using the autopilot trigger, which means that the tool automatically chooses the right trigger based on your visitors' behavior. 
Additionally, Nikola Roza says that exit-intent pop-ups are said to be the most effective as they prevent your prospects from leaving your business website without making a purchase.
Finding the right measure is essential because you do not want to irritate or annoy your visitors before you even give them a chance to properly see what your website is all about.
Page scroll triggers are also very useful as they can provide them with some additional information that they might need at that moment and guide them further.
Once the visitor moves their mouse cursor up to close the page when suddenly a popup appears offering them a lead magnet that's hyper-relevant to the page they're on.
Don't you think there's a high chance of a click happening?
Of course, there is.
3. Advanced targeting options
Immediately after setting the triggering options, the next in line is the targeting options.
Targeting options help select the right and appropriate audience for your offers.
Poptin also offers numerous targeting options for your website, and some of these are:
Targeting by traffic source – it means targeting visitors according to the source they are coming from (whether they are coming from certain search engines,

social networks

, or similar);

Targeting by countries or regions – it means targeting them according to the country in which they are located;

Targeting by dates and time of day – these are important, for example, when it comes to certain time-specific products;

Targeting by particular website pages – it means that you can show pop-ups on specific pages by adding URLs; 
You can set it all up in just a few simple steps:
These options need to be modified and used properly to get the most out of them.
It is easier to just segment the audience and show the right message to the right people as it is both cost-effective and it gets you more qualified leads.
4. Highly customizable drag and drop editor
Drag and drop editor is a very useful tool that can help easily customize your pop-ups in order to make them more effective, beautiful, and suitable to your website's design and brand.
It basically allows you to drag certain elements and drop them wherever you want them to be to create the biggest effect possible. 
Customization options can be crucial for catching the eye of your visitor, and the right pop-up builder will have a large number of those available.
Having a drag and drop editor facilitates the whole pop-up creation process and makes it even more fun and interesting.
It also makes you look more professional.
When it comes to the visual look of your pop-ups, it is important that you can:
Change colors, fonts, sizes

Add or remove certain elements such as images, text, icons, logos, animations, videos, and more
You need to make your pop-up interactive and more professional which you can do by styling it to fit your brand perfectly.
Take a look at how Vogue does it with the matching colors and fonts and a beautiful picture: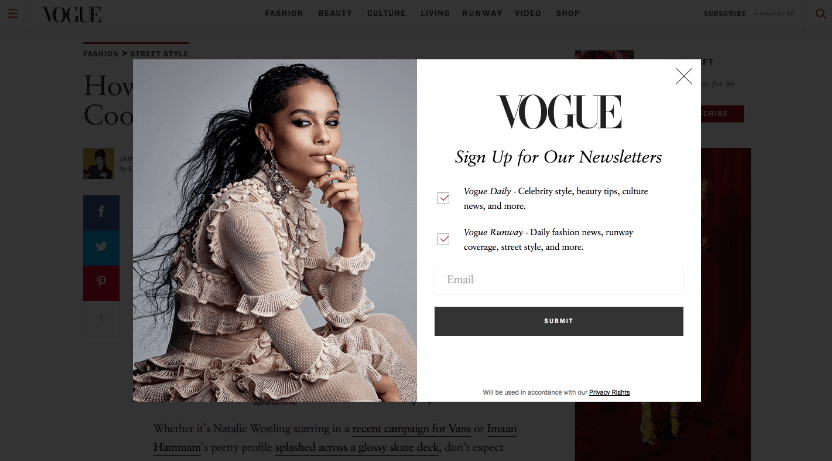 Source: Vogue
Branding can't be neglected because you need to appeal to your customers and to create an overall good impression.
5. No coding skills needed
You no longer need to be perfectly adequate in coding because everything is easy-to-use and ideal for anyone who is not technically equipped but is also dealing with an online business and creating pop-ups, for example.
By using a drag and drop editor, you no longer need any kind of expertise or knowledge to create amazing pop-up windows.
You can create them easily and with no effort whatsoever.
6. Beautiful ready-made templates
If you do not want to start the creation and customization process from scratch, with the right pop-up tool, you can use ready-made templates from the templates library.  
They make your job easier for you and help you create different types of beautiful pop-up windows quickly and easily.
Some of the most popular pre-made pop-up templates are:
Floating bars

Fullscreen

Slide-in

Social widgets

Countdown

Spin-the-wheel

Mobile templates
For example, the countdown template can be used to create urgency and to conduct a sense of necessity when it comes to a certain product or service as we can seе below: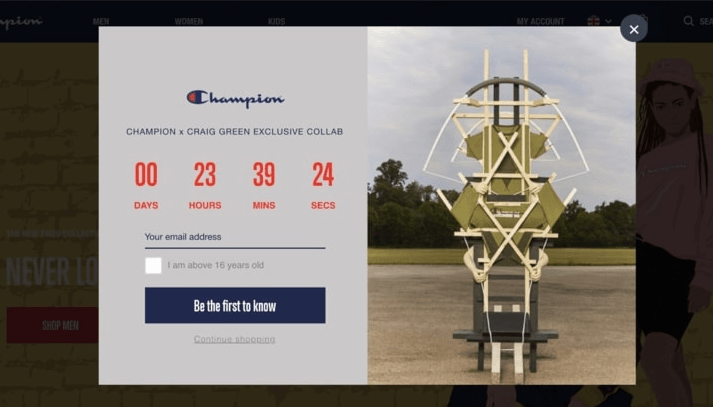 Source: Champion
As for the floating bars, these are located at the top or at the bottom bar and they remain visible as long as the visitor scrolls down or up your website page.
They do not interrupt your visitors or annoy them, they are just there as a reminder.
Spin-the-wheel templates are a new trend as they are very interesting to visitors and also highly converting.
7. In-depth analytics
In order to be fully informed about your visitors' behavior, needs, preferences, attitudes, and more, you need to track certain metrics.
You need to get to know your audience better for several reasons, and one of these reasons is to be able to modify your user experience in any way needed and as much as your abilities allow.
In-depth analytics would be able to show you whether the performance of your pop-ups is generally good or something needs to be changed.
By tracking the conversion rates of each pop-up, you get the whole picture regarding their efficacy. 
What can additionally help to find the right solution to your problem is A/B testing.
A/B testing is based on comparing two slightly different versions of the pop-ups to find the one that performs the best.
You can compare their timing, triggers, interactions, design, and see what you can do to reduce the bounce rates and make your pop-ups even more successful.
Another great tip is to integrate with Google Analytics and check your individual pop-up effectiveness and ROI.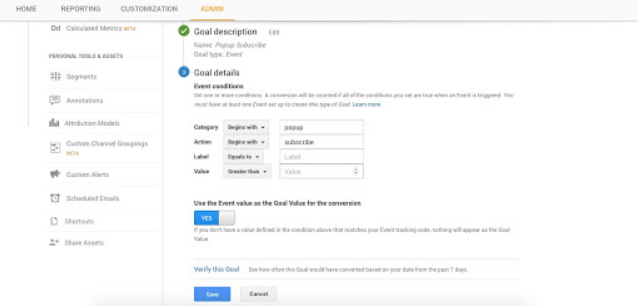 Source: GoogleAnalytics
You just need to set your goals, and you're good to go.
It will help you get to know and understand your customers on a deeper level and thus set your business on the right track.
8. Numerous integrations
Integrations facilitate the connection between your software and third-party apps to enable all the processes to function smoothly and at the same time.
They increase the overall productivity of your business and allow you to work on multiple fronts.
By using integrations, that is working with the help of different online marketing platforms, email marketing, or CRM platforms, and similar, you get the additional help that you need to gather as much information as you can.
In addition to providing additional info, integrations help automate certain tasks to get everything done rapidly and with minimal/no errors.
The Bottom Line
There is a great number of different pop-up builders on the market today, and your job as a marketer is to find the best tool there is.
To increase your conversion rates and create the most effective pop-ups for your e-commerce website, your pop-up builder needs to be able to help you with numerous tasks.
These tasks can easily take place if your pop-up builder has certain features.
The ability to provide high conversion rates, customize your pop-ups and style them to fit your website's design, use different ready-made templates, track analytics, and more – these are all crucial features needed to create the best pop-ups.
Also, you shouldn't neglect to trigger and target options as they control when your pop-ups will appear and to whom.
One of the tools that can help with both is Poptin. It helps you create engaging pop-ups that you can set to appear at certain moments to stop, intrigue, or remind your visitors. You can also choose to whom these windows will appear and how frequently.
Take these 8 important features you must look for in a pop-up builder into consideration and choose the right tool to elevate your business!