Every brand comes up with different strategies to make its efforts successful. Success for brands eventually leads up to increased conversion rates and high rates of return for their investment.
Brands use various marketing strategies to enhance their website visits and by persuading users to perform the desired action.
Desired actions are not restricted to making payments or purchasing a product, it also includes email subscriptions, social media likes, download of a lead magnet in your sales funnel, and participation in a contest or giveaway.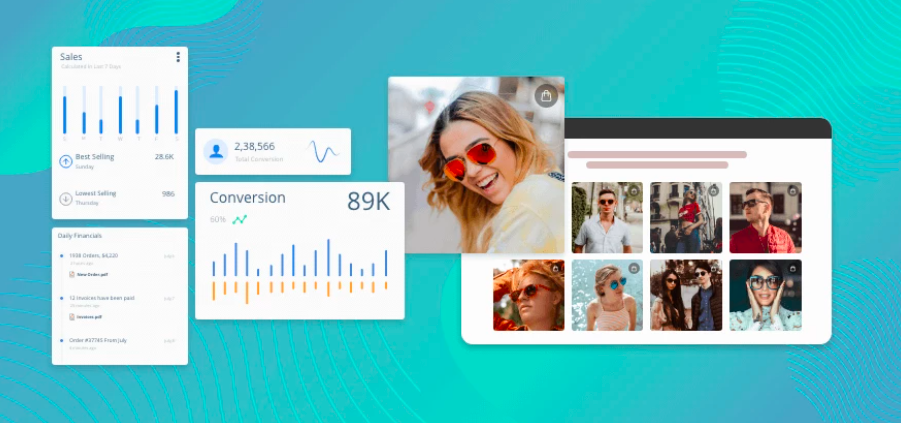 How to Improve your Conversion Rate?
Before getting into how to improve conversion rate, let's get a better understanding on how conversion rate is calculated. The conversion rate is calculated by dividing the number of interactions/views by the total number of conversions.
Once you have invested time and resources into building your website and marketing campaigns, it is time to improve the conversion rates. Optimizing your existing customer base is more cost-effective in the long run than spending money to gather new customers who do not already know your brand's existence.
Here's how you can optimize your conversion rates :
1. Boost customer reviews to improve authenticity
One basic shopping behavior of customers includes checking reviews before making a purchase to see what the product looks like in action and whether it meets their expectations or not.
Collect review and rating and embed them in the brand's website in various ways. For example software, manual coding, like Taggbox, etc.
Displaying only positive reviews on your website without citing any faulty ones may impact your brand negatively as it does not portray authenticity in customers' eyes.
Brands can increase the number of customer reviews using after-sale email campaigns which include call-to-action questions and direct links for reviews and feedback.
Brands also use influencer marketing to a great extent for gathering more reviews by sending samples to influencers and requesting honest feedback in return.
Some brands do not ask for reviews for the fear of getting negative feedback.
As long as the brand is providing quality products and services, they don't have to worry about getting a few negative reviews. However, if the website is facing many negative reviews it can only improve itself.
2. Utilize website pop ups
Statistics show that pop-ups boost your conversion rates by 3.09% however if used smartly this can go up to 10%. Businesses have the ability to target any segment of their audience using pop ups. All that is needed is setting proper and well thought targeting settings.
Exit pop ups appear right before a visitor is about to leave your website, which is played as one last card to keep your audience hooked. Exit pop ups are considered more efficient than normal overlays.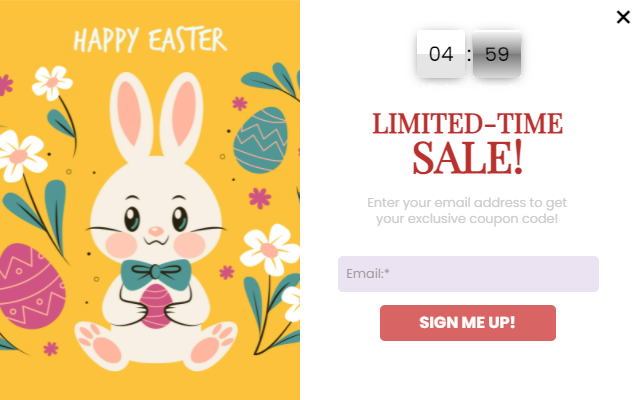 Setting proper targeting rules for your pop ups can boost your conversion rates more than other elements in the list. That's how effective popup marketing is!
3. Intriguing visuals help with engagement
Visuals play an important role in customer engagement and conversion rates. Brands need to portray their product and services in a professional manner as it will attract customers more than brands who do not post engaging photos on their social media or website.
Getting attracted to professional and aesthetic visuals is a common human behavior. If two brands are selling similar products, it is likely that the conversion rate of the brand with engaging and professional photographs would have a higher conversion rate.
To develop engaging photographs it is important to display clear images which cover all angles of the product to give the customer a better understanding of the entire product.
To create eye-catching images brands can use lifestyle images that actually portray the item's purpose and how it is used in a creative way.
4. Clear Call To Action to provide a path to customers
Similar to traditional sales environments, brands need to ask for sales online as well in the form of Call to Action questions.
Even after providing valuable content about the need and purposes of the item brands need to add a clear call to action portraying what they require the customers to do.
Example: If a business requires its customers to subscribe to their monthly newsletters, they need to put "Click here to subscribe" with a link that redirects them to the subscription page.
Or if you need to direct your social media users to visit your website you can add a "link in bio" option on your social media which will make it easy for your customers to visit your website.
5. Provide clear information about your customer service for authenticity
Customers often look for good after-sale services and customer support qualities in a brand before making a purchase, having a strong customer service base gives a company an upper hand as people buy from brands that guarantee their products and are easily reachable.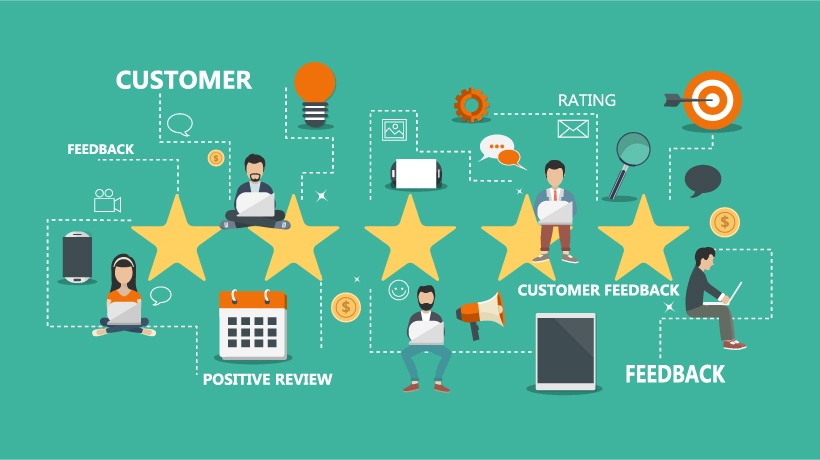 If your brand provides a return or money-back policy, make sure it is displayed prominently on your website. Put the company's contact information on the website footer itself, this way it gets easy for the customers to get in touch with you.
Another good method for providing effective customer service is using chatbots, it is an expensive way but would also get you high returns as well.
However, it is understandable that many brands do not require chatbots, this is where providing customer support information on the website comes into action.
6. Professional copywriting helps create persuasive marketing campaigns
A person who understands the sales and marketing field can help the brand build more persuasive marketing campaigns which leads to an increase in conversion rates.
Independent copywriters can provide you with a different perspective as to why people should purchase your product.
Copywriters have knowledge and understanding about what attracts the customers and how to make your brand stand out in the market. They can complete the tasks in less time and help build powerful yet persuasive marketing campaigns and advertisements to enhance conversion rates.
7. Detailed product description enhances the authenticity
Many brands spend a lot of time designing their product pages. A detailed product page with all the relevant information and specifications about the product helps build an understanding in the customer making them sure of what they are buying.
Providing information about the technology used in the manufacturing process of the product also helps in enhancing conversion rates. Providing detailed descriptions of the products and their quality encourages buyers to spend that extra money on quality.
8. Use Follow-Up Email Campaigns to avoid cart abandonment
Customers add items to the cart but end up leaving the website without any intention of coming back.
Cart abandonment is a major risk for eCommerce websites which can be eliminated by sending a follow-up email about some additional discounts or free shipping costs that help enhance your conversion rate to an extent where providing these discounts outside current capacity does not affect the overall business prospect.
9. Use colors to attract visitors with vibrancy
There is not a particular color that helps people to click on CTA buttons however, they do play a crucial role. The secret is to select that one color that will give your visitors the nudge to click on call-to-action buttons.
Make your CTA buttons stand out by giving them a vibrant and different colour which is not used frequently in your website layout.
Adding contrast to your pop-ups, banners, and CTA buttons is important. Make sure you use colors that are readable. Transform your content and let your colors help you with conversion rate and website impressions.
10. Add Trust Badges to your web pages
Some brands have seen as much as a 58.29% uplift in conversion rates because of trust badges. When a business gets a great review on websites like TrustPilot, Glassdoor, Capterra, or Yelp they get in touch with them and request them to add a widget to their website showcasing the review badge.

If you have some big brands in your clientele, mentioning their logos on your homepage can boost sales by building trust. Visitors develop a sense of trust right from the start and get the motivation to move further on the website.
Trust badges are similar to word-of-mouth marketing in this digital world. They not only impact your band conversions and trust but also help your homepage look and feel attractive while offering reliability and authenticity to your visitors.
11. Develop relevant and attractive images
As we all know adding real images builds trust among website visitors. Well, this is not the only benefit you get with impressive images.
While breaking up the monotony of website text content, relevant images offer your visitors a push towards conversion.
Visual content is a great way to show what you are saying through texts, images have the potential to boost your conversion rates by over 40%, give your web pages the perfect feel and boost brand reputation.
Conclusion
Marketing campaigns not only retain existing customers but also drive new customers to enhance the website traffic. Every business's objective is to increase its bottom line, and such marketing campaigns drive traffic to its website.
After utilizing all the resources to optimize the conversion rates it becomes even easier for brands to achieve their goals and grow their business.
Conversion rate optimization practices provide you with clarity and relevancy, apart from this these practices take care of customer purchase anxiety, distractions, and urgency to offer you better results.