Pay-per-click advertising is one of the most powerful digital marketing techniques available to online businesses.
Over the years, this strategy has been deployed in many forms such as Google search ads, social media advertising, and email marketing, to positively drive online sales of various products and services.
Thanks to innovation, PPC may have found a new purpose – eCommerce discounts sales promotions. In other words, online businesses now use pay-per-click strategies to promote eCommerce discounts on their products and services, which is absolutely creative.
And with the number of eCommerce digital purchasers projected to rise, you can reach more new customers with PPC ads.
Unfortunately, many businesses promote the wrong types of discounts via PPC, resulting in little or no boost in sales.
But today, we'll showcase some of the most effective discounts to test with.
Note: eCommerce discounts are only as good as their pricing strategies. So, to achieve the best outcomes, make sure you get that right.
Benefits of eCommerce discounts
If you're on the fence about exploring eCommerce discounts, let alone promoting them with PPC, the points below should change your mind.
1. Builds Trust as a Form of Social Proof
Every day, we see social media users brag about high-quality things they purchased at a discount. This serves as social proof for the brand. Consider the following example:
This post clearly indicates that the consumer purchased a high-quality garment for a low price, which may persuade other social media users to shop from the store, or at the very least, trust them to consistently produce decent products.
This is the kind of brand awareness and social proof your brand needs.
Good read: Top WordPress Testimonial Plugins
2. Creates Urgency
Most discounts include an expiration date, which adds to the sense of urgency and scarcity. Nothing motivates buyers to buy things faster and in larger numbers than the fear of losing the option to get them at a lower price. This can help you sell out faster and expand the reach of your business.
You can create a countdown pop up on Poptin for free to achieve this.
3. Exclusivity
Customers who are eligible for particular discounts, such as lifestyle discounts, feel valued and noticed by the company.
It contributes to a sense of exclusivity and special access to brand offers, increasing their trust and patronage of your brand. Those who don't qualify will be motivated to try harder by purchasing more of your products in the hopes of qualifying next time.
Why do eCommerce discounts work?
Before we get into the nitty-gritty of the different types of eCommerce discounts you can promote using PPC, it's crucial to understand why these discounts work in the first place, and there's just one primary reason.
People Love Cheaper Things
Certain customers are unable to purchase your products due to financial constraints. So, if such customers come across the option to purchase such things at a reduced price, trust that they will take advantage of it without feeling cheated.
Those customers may even come to admire your brand for making your products and services affordable.
What're the most effective eCommerce Discounts to Promote With PPC?
1. Black Friday / Cyber Monday Discount
Customers eagerly anticipate Black Friday and Cyber Monday, which are undoubtedly the most popular days for excellent bargains.
Furthermore, eCommerce sales on these days have been progressively increasing over the years, with Black Friday sales going from $6.2 to $8.9 billion from 2018 to 2021 and Cyber Monday sales increasing from $7.9 to $10.7 billion.
With the huge strides and achievements in the eCommerce sector so far this year, these figures are certain to soar this year, and PPC marketing can position you to benefit.
To achieve this, use PPC ad extensions to promote your Black Friday and Cyber Monday deals, build PPC landing pages, and optimize your PPC search advertisements.
Popular eCommerce platforms like Shopify provide you with apps and strategies to make the best of Black-Fridays and Cyber-Mondays.
2. Percentage Discount
The idea behind percentage discounts is to give a set percentage off a product or order based on the price. For instance, you may give 10% off orders over $200, 12% off orders over $300, and so on.
Here's a premium example:
3. Dollar Value Discount
The sole difference between a dollar value discount and a percentage discount is that the discount is a dollar amount rather than a percentage.
It's basically giving your consumers a $10 discount on a $100 purchase, a $15 discount on a $150 transaction, and so on. You can also make the dollar value of the discount fixed, such as offering $10 off any purchase above $100.
This type of offer is an excellent way to entice new clients to your business. It is also arguably more effective than percentage discounts since it can generate up to 170% more revenue and have up to a 72% higher conversion rate.
The dollar value discount is exactly the kind of deal you'd like to promote with PPC.
4. Welcome Coupon
You should advertise welcome coupons via PPC if you want to convert first-time visitors to consumers. Because it allows these new clients to try out your products and services for a lower price, they'll be motivated and even excited.
Check out Doordash's advertisement for a 50% off coupon code for first orders.
The benefit of welcome coupon offers is that they do not reduce the worth of your products over time because they are only used once.
Coupons are often effective in reducing cart abandonment, and you can make the most of them with the use of high-quality coupon generator plugins. Note that coupon codes have their pros and cons and you must strike a balance to reap the benefits.
5. Referral Discounts
Referral discounts encourage word-of-mouth marketing, so promoting them with PPC is a smart move. Consider it a discount program for existing clients depending on the number of new consumers they refer to your business.
The best thing is that the benefits of this offer apply to both existing and new clients.
Check out Airbnb's referral program:
6. Free Shipping
High shipping prices are a prominent cause of cart abandonment, thus using an effective marketing system like PPC to promote free shipping discounts would be a tremendous help to your brand.
Furthermore, the fact that 66% of buyers expect free delivery on every online transaction and an even greater 80% expect free shipping after acquiring products of a given price range makes PPC advertising free shipping a smart choice.
Another obvious reason to promote free shipping is due to industry competition or, in some circumstances, the dominance of eCommerce behemoths like Amazon.
As you may be aware, Amazon offers free shipping as well as other perks, so you may try to level the playing field by advertising free shipping on the most, if not all, of your products.
Check out this free shipping Facebook ad by MediEye Massage: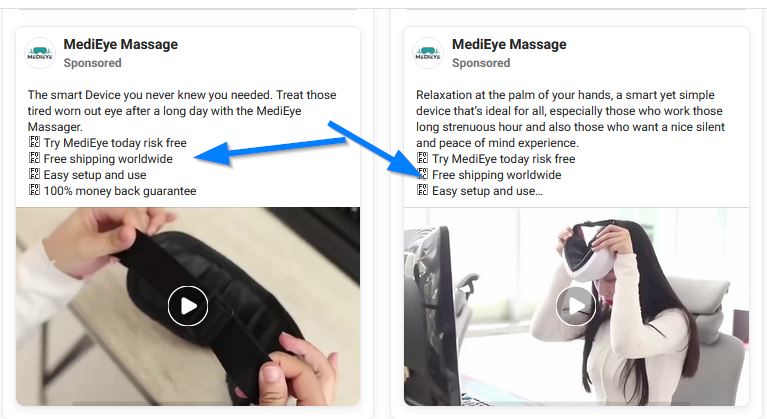 7. Free Trial
"30-day free trial" are four marketing words that could help you sell more online products or services.
The current status of the economy, combined with widespread skepticism, can make it difficult for new customers to invest in new, untested products and services.
This is why you should try establishing trust by offering new clients free trial discounts. You might also give existing clients free samples of new product features or services.
Consider how Writesonic, an AI writing service, presents its free pricing discount to new users. This way, its potential customers will be able to test their services without risking their funds.
Another example is YouTube music. A free trial on this music streaming app allows users to explore the host of features available, including creating playlists of different music genres.
For many music lovers, creating a playlist takes time, so they may find it difficult to switch to another music streaming app even if they wanted to.
8. BOGO Events (Buy One, Get One Free)
Bogo events are not new in the eCommerce industry. They're a way of getting customers to buy your product with a promise of giving them a similar item for free or at a discount.
Check out this buy one get one at a 50% discount ad by One-Tap Survival
9. Seasonal Sales
Seasonal sales occur during special events during the year such as Christmas, Labour Day, Halloween, Easter, Thanksgiving, and Columbus Day.
These special holidays signify a period of celebration, and as such, many online businesses tend to sell their goods and services at discount prices.
Here are some 2021 Columbus Day Sales as highlighted by GQ:
Check out this Labor Day sale by ColourPop Cosmetics too

You could also explore the other discount options such as BOGO and free shipping on seasonal sales to generate more sales traction.
Bonus: Buy Now Pay Later
The BNPL initiative is best-suited for customers on a tight budget and it is a form of discount since it is a flexible payment system that allows customers to complete payments for a product or service at a later date. It also allows customers to pay for items purchased installmentally.
This discount form is made possible for online businesses, thanks to financial companies such as Klarna, AfterPay, and Zip, and has been adopted by multiple online businesses such as Fashion Nova, Lime Pro Gaming, and Steve Madden.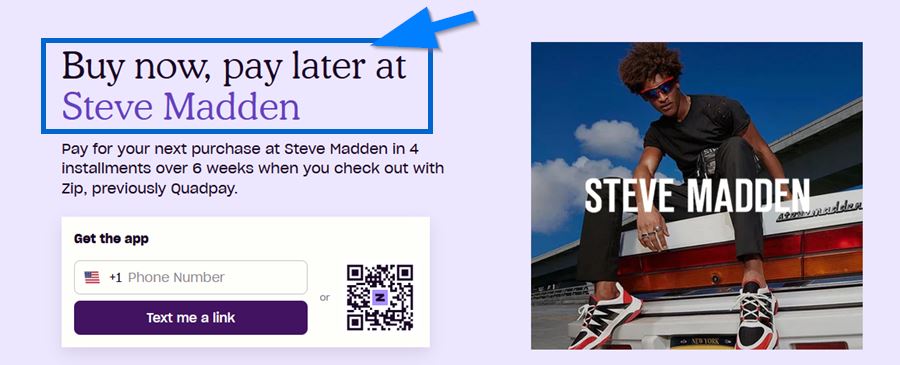 Your chances of success with this strategy get even better if your goods and products are majorly for Gen Z and Millennials because almost 75% of BNPL customers are from both generations.
Low-budget customers love payment flexibility and you can be sure that they'll seize your buy-now-pay-later offers, but only if you market them properly via highly effective advert systems like PPC.
Wrapping Up
eCommerce discount strategies work when promoted via platforms like pay-per-click. You can take your profit margins and sales to new heights by exploring this simple, yet effective eCommerce marketing strategy.
FAQs
What is the most effective eCommerce discount?
There are so many effective discount strategies, including referral discounts, dollar value discounts, free shipping, welcome discounts, and free trial.
How do you promote a discounted product?
For a large number of customers and potential customers to know about discount offers on certain products, they need to be promoted via the right channels.
Some of these channels include pay-per-click (PPC), SEO marketing, network marketing, email marketing, digital adverts, value-added resale, newsletters, and hashtags.
How do you promote eCommerce discounts and coupon codes?
To effectively promote discount codes, you need to set yourself apart from the competition and other industry players. You can use exit intent pop ups too!
To do this, you need to make use of single-use promo coupons, deploy gamification techniques like mystery rewards and first-to-claim, and personalize coupons to make customers feel special.
Author Bio: With 10+ years of eCommerce & marketing experience, Bhujal is passionate about helping businesses get more revenue and profit through customized strategies. Bhujal lives in Toronto, ON, and writes about online business ideas and scaling your eCom business at mydigitalkube.com