To enhance this pool of possibilities, businesses employ a variety of lead generation tactics. However, because your competitors are also looking for leads online, capturing the same people's attention will be difficult.
Prospecting for sales manually takes time away from other sales operations that may boost revenues. Lead generation software, often known as lead gen software, automates and fine-tunes the prospecting process. It enables your marketing team to develop campaigns that generate higher-quality leads.
What Are The Features of Lead Generation Software?
Here are the five most important qualities when searching for a lead generation system.
User-friendly interface
Even the most sophisticated software will be useless in your hands if you are unable to utilize it. Marketing teams are marketing specialists, not web developers. Look for lead generating software with an easy-to-use interface and various training alternatives. Then anybody on your team may utilize it without experiencing technical difficulties.
Integrations
Because you're undoubtedly already utilizing business apps, any lead-generating software you choose should have integrations. This allows you to communicate data between your lead-generating system and your CRM, email apps, and other business-related platforms.
Analytics
It is critical to have correct and up-to-date data while developing improved company procedures. Any lead creation software you choose should include complete analytics and reporting capabilities. That way, you can keep an eye on the figures at all times. This enables you to make data-driven decisions for improvement and identify areas where you are falling short of your objectives.
Automation
By responding to leads, evaluating data, and prioritizing leads, automation saves a significant amount of time. It is not necessary to automate every task on your to-do list. However, having the choice implies having greater influence over how your teams use their time.
Customer relationship management
CRM tools — customer relationship management — are likely to show up in your search for lead generation software. CRM frequently includes lead creation because it's all part of nurturing clients in your sales pipeline and establishing a loyal customer base.
The Best Lead Generation Tools for SaaS Companies
Lead generation tools are divided into multiple categories.
The following are the most popular forms of lead-generating tools that firms might employ:
On-page lead generation entails driving leads from the website using opt-in forms and promotions.
Email Marketing – Campaigns are used to nurture leads to increase engagement.
Email address finders – Find prospects, convert them to leads, and add them to an email list.
Prospects and outreach – Collect contact information from visitors and reach out to possible leads.
Tools for customer relationship management – Leads are linked and monitored.
Advertising tools – Ads are essential in boosting website traffic and keeping visitors interested until the end of their purchasing cycle.
Tools for communication – Live customer support tools assist companies in generating leads.
Let's dive deeper into each SaaS lead generation tool.
1. Prospecting and Outreach Tools – SalesIntel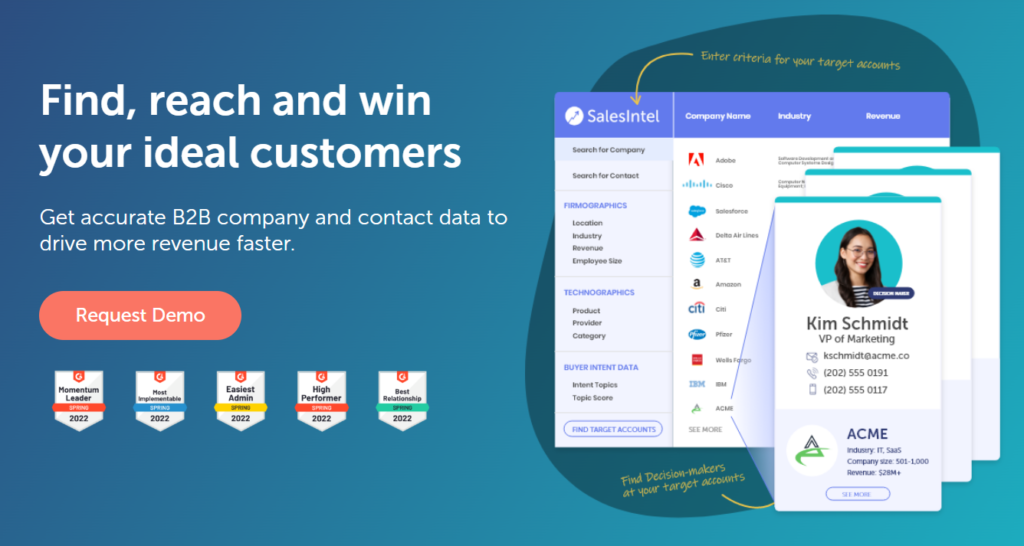 SalesIntel enables you to access millions of decision-makers and hyper-target organizations based on technology, company size, geography, buying intent signals, and other factors.
SalesIntel assists you in developing your ideal client profile and locating prospects in the United States, United Kingdom, Australia, and Canada.
With buyer Intent data, SalesIntel assists representatives in targeting clients actively engaged in the purchasing process and ready to acquire today. You can obtain direct work mobile dialing through the platform.
Features for lead generation include:
Targeting with extreme precision
Contact administration
Integrations with marketing automation and CRM systems
CRM data export
Data on technographic, firmographics, and buyer intent
Data auto-enrichment
Chrome add-on – RevDriver
All these features and data sets make SalesIntel one of the best ZoomInfo alternatives for sales prospecting.
2. On-Page Lead Generation – Hubspot

Hubspot's marketing software is a one-stop shop that enables businesses to improve visitors, collect more leads, and promote them via email and advertising. While it is more costly, Hubspot offers many features that make it valuable.
You may use Hubspot to create effective marketing campaigns, attract visitors, and convert them into customers. You can use capabilities to create automated processes, manage social media accounts and email campaigns, and focus on saas lead generation. It's an excellent option for small enterprises.
Lead generation features include:
3. Advertising Tool – Google AdWords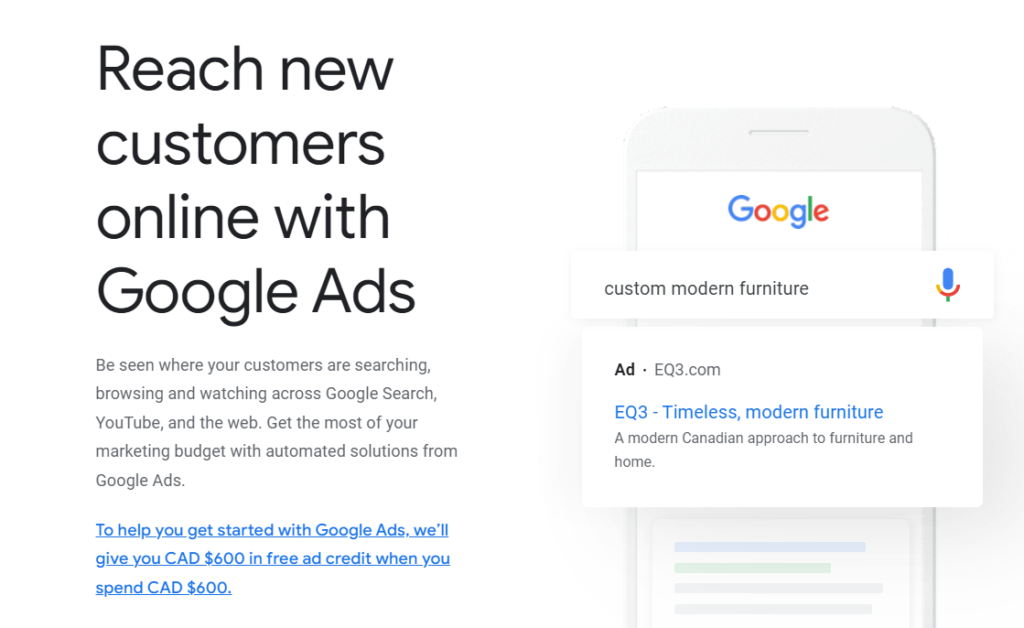 Why not run advertising while your target audience is near? For search engine ad placement, Google Ads is the greatest option. It enhances the chance of website visitors landing on your page, improving the possibility for conversion rate.
It's an excellent, affordable solution for small enterprises with limited advertising resources. The advertisements are paid per click.
The following are some lead generation features:
Targeting hyper-specifically depending on your ICPs
Optimize your bids on a micro level to enhance ROI
Keep the audience interested with remarketing advertising until they complete the form and reach the decision step.
4. Email Extractor – Chrome Extension RevDriver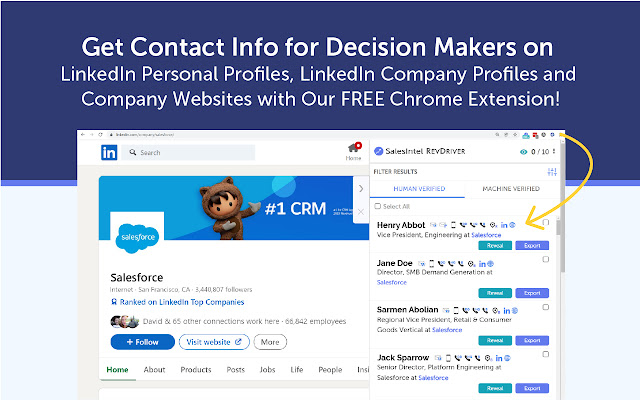 RevDriver provides rapid access to the most trustworthy company and contact information when exploring a website. It's a free Chrome addon that lets you prospect in real-time. As you prospect on LinkedIn and corporate websites, you may easily collect data about persons and companies.
RevDriver analyzes the websites you're looking at and intelligently recognizes the company and contact information on the page.
Features for generating leads
Prospecting in real-time
Email addresses have been verified
Phone numbers with direct dialing
Data on company technology
Buyer intent data Firmographic data
CRM data export
5. Smart Pop Up Tool – Poptin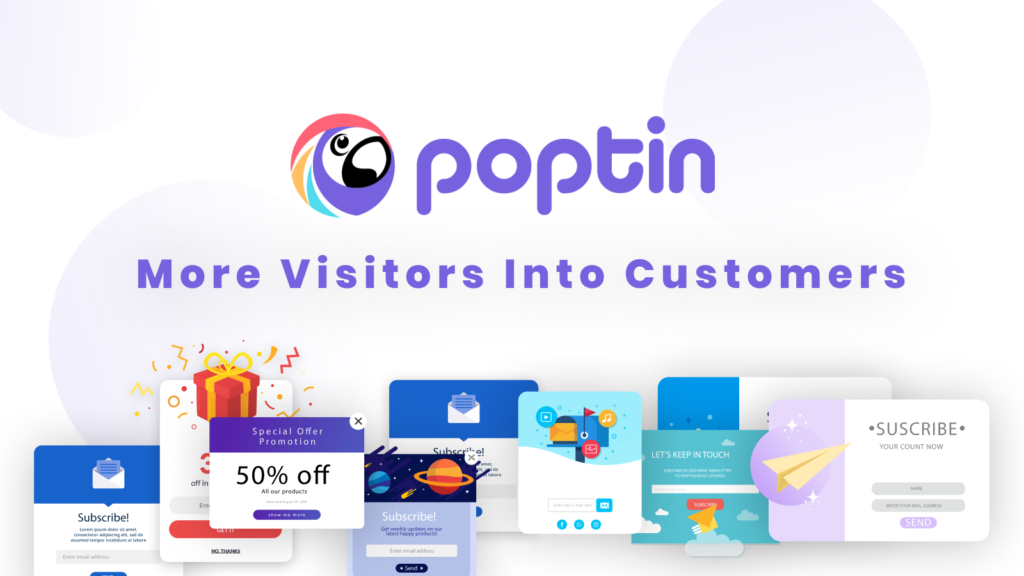 Several websites used the unpleasant entering web pop up in the early days of online marketing. It took up the full screen before the website visitor could read the material. Visitors would exit without viewing the website; significant traffic was lost as a result of entrance pop ups. This caused hesitation in installing web pop ups. However, there are a lot of smart pop tools that help you convert website visitors into leads.
Poptin allows you to develop powerful website pop ups and forms in minutes and enhance your website's conversion rate. You do not need to build anything from the start. Make use of Poptin's editable pop up and email form templates. Poptin's user-friendly pop up builder allows you to create popups and forms in minutes, with no code necessary.
You can use the power of easy-install pop ups and contact forms using WordPress, Wix, Shopify, or any other CMS platform. Engage your visitors effectively by displaying behavior-based pop ups at the appropriate moment.
Never let your website visitors go without taking any action. When visitors are about to leave your site, surprise them with intriguing offers via pop ups to promote greater conversions.
6. Quick Landing Page Builder – SeedProd

SeedProd is the market's finest landing page builder. You can create gorgeous landing pages in just a few minutes using a drag-and-drop builder (and no coding).
You may design numerous pages for your site using a beginner-friendly drag-and-drop builder. SeedProd has you covered for sales, maintenance, webinars, and optin campaigns. You don't even need to bother about building adaptable and mobile-ready pages with 150+ landing page templates. All of the legwork has already been done for you.
SeedProd ups the ante in the conversion game by connecting with several email service providers and protects your pages from spam, bots, and other false entries.
7. Communication Tool – Drift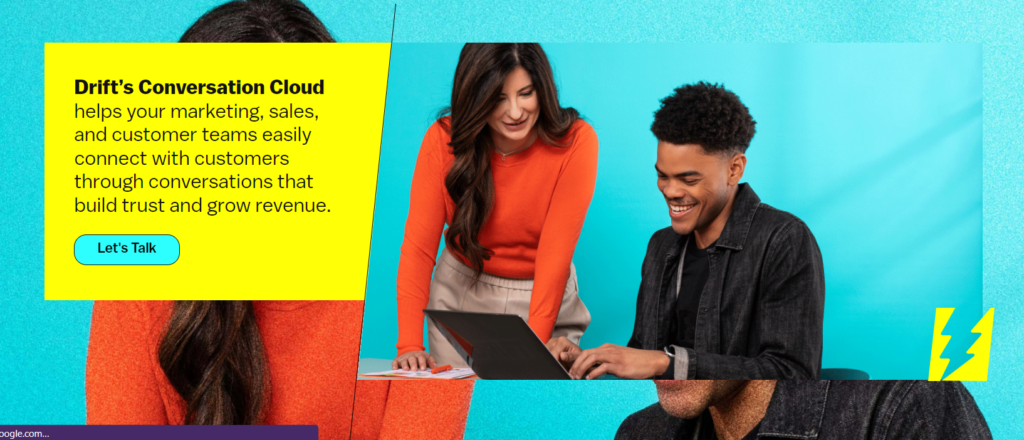 Improve the customer experience to create more leads and increase your business's exposure. Drift is your lead generation platform that connects customers and merchants while elevating their expertise.
Drift created the Conversational Marketing category to primarily engage customers in real-time. With conversational marketing, you can engage potential customers in real-time dialogues and provide them with the information they need to purchase.
The following features generate leads:
Account management with a focus on insights
Using visitor intelligence to speed up transaction cycles
Real-time personalization for relevant discussions
8. Search (SEO) Marketing Tool – SEMrush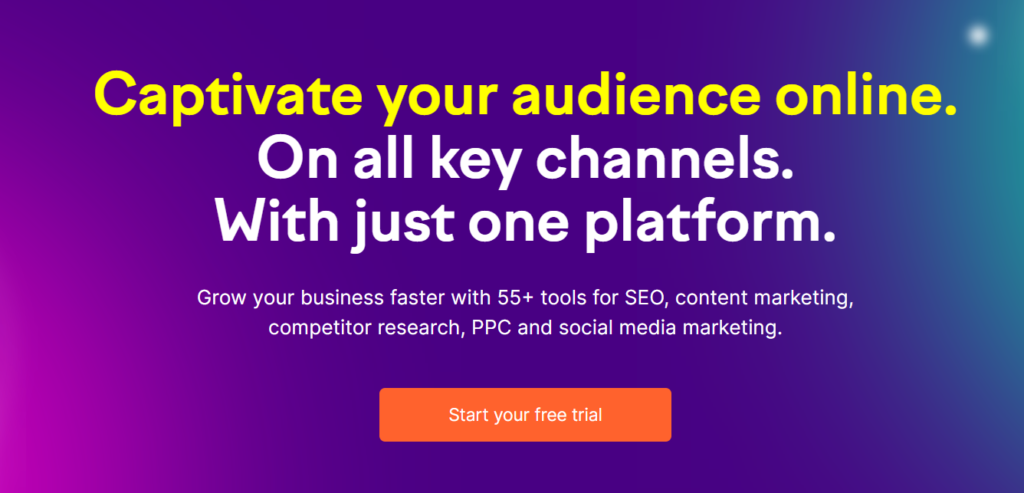 SEMrush is a good SEO tool and lead generation tool that enables marketers to extract essential information about their target audience through link-building and site inspection tools. Only one account may use the key features. SEMrush is well recognized for doing a health check on websites with specific keyword intent to enhance research possibilities, such as the Site Audit capability.
Lead Generation Benefits:
Extensive competitor research
Analytics for on-page SEO performance
Analysis of competitors for winning tactics
9. Calendar Scheduling Tool – Calendly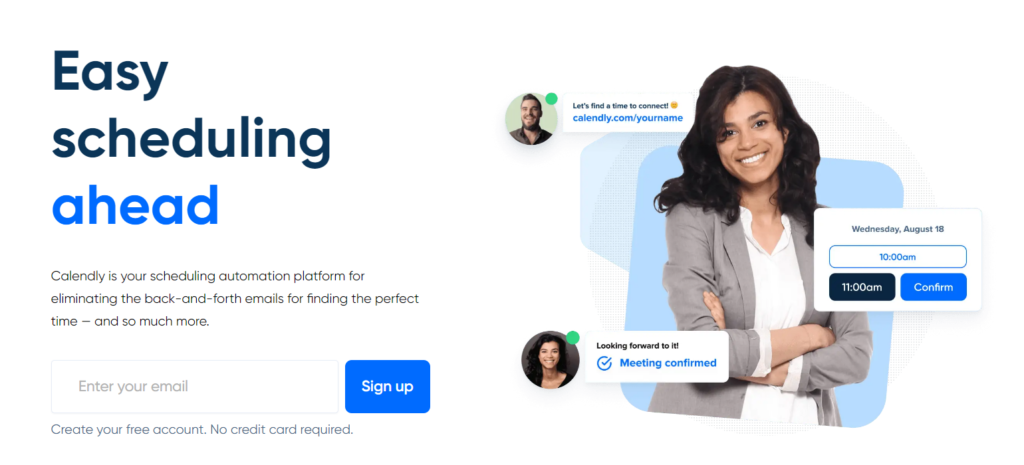 Calendly allows businesses to plan meetings, sales calls, and other events. It is an excellent tool for generating leads for entrepreneurs, small enterprises, and sales teams. As the name implies, you may choose a timetable that best meets your email marketing needs.
Lead generation features include the following:
Booking is made easier by synchronizing the calendar.
The power of automation in follow-up.
Payment integrations using Stripe and PayPal.
Email Address Finder – Clearout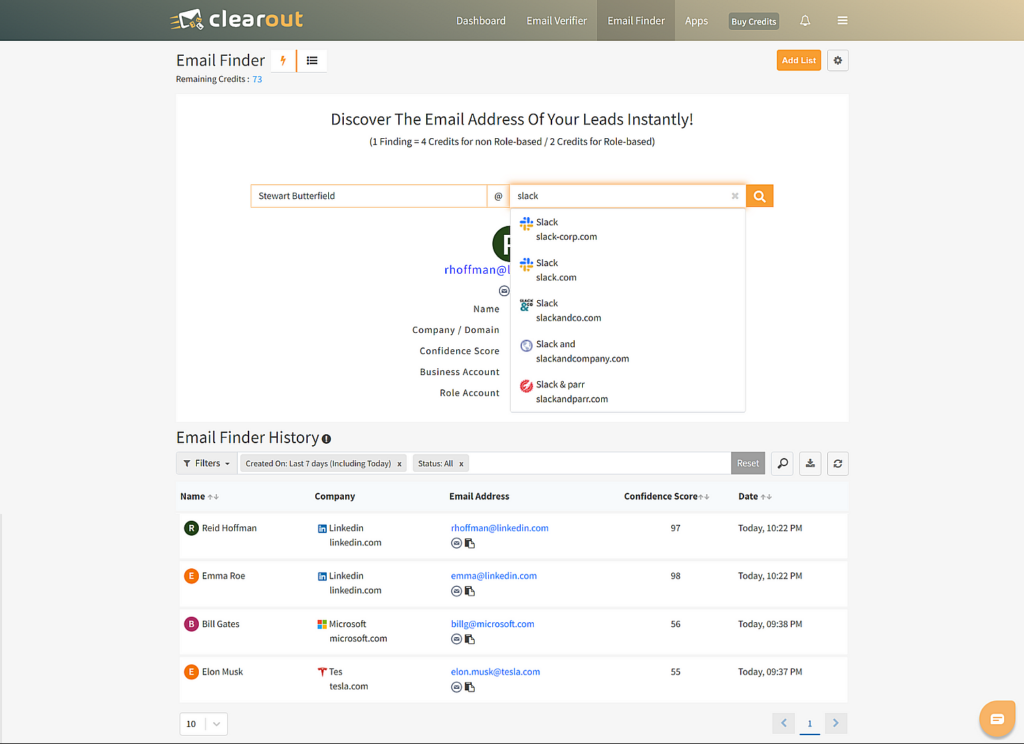 Clearout Email Finder helps you find the email addresses of leads using their name and company domain. It is one of the best tools when it comes to finding verified email addresses.
It's the best choice for lead generation companies as it provides a confidence score for each email which helps them optimize their cold email ROI by targeting real and engaged leads only.
Lead Generation features include:
Bulk Email Finder
Deliverability Confidence Score for each email address
Team Account for Sales Leaders
Integrates with top Sales CRMs
Analytics Dashboard
Recently launched – LinkedIn Email Extraction
Takeaway
Only the best combination of SaaS lead generation tools can attract, nurture, and convert leads into customers. Because the market is always changing, your buyers must adapt as well.
You must be open-minded while considering recommendations that can help your company change. You can achieve all of this while simultaneously building an active buying community with the correct lead generation approach.