Running a website can be complex, but retaining clients and leads can be even more challenging without the right tools. A popup is one such element that can drive conversions to your site while providing consumers with additional page information. 
Pop ups are innovative if you want a viewer to subscribe to your newsletter and return to your website at some point.
Adding a popup to your webpage helps retain subscribers, allowing you to grab more email addresses.
Luckily, there are many pop up builders you can rely on if you want to introduce a similar form to your website.
What is a Lightbox Popup?
A lightbox popup is a unique form that appears on top of the website you're scrolling through. The form is usually brightly lit, with the background darkened, making it stand out to viewers.
These pop ups are created to assist with opt-in campaigns when you want to offer consumers something, such as a newsletter or discount information. 
Lightbox pop ups include a call-to-action (CTA), helping your website gain more leads.
Such forms can grab consumers' attention and influence them to sign up.
Lightbox popups can prevent exiting visitors from leaving.
Why Are Lightbox Pop ups Beneficial?
Lightbox popups are not a static form of advertising but a dynamic way to engage a user at a specific point in their journey. 
Pop ups can be triggered by a user's behavior, such as when they leave the site or access a specific page. This allows marketers to customize their message and deliver something pertinent to the situation.
Additionally, they offer a high degree of customization and can be tailored to fit different websites. 
With their ease of use and customizable nature, lightbox popups have become an essential tool for digital marketing.
On top of that, they are simple and easy to set up and configure, making them ideal for all types of businesses.
Here are 10 lightbox popup ideas you can check to understand popups more.
10 Lightbox Popup Examples to Try
The following section will cover the ten best lightbox popup examples from reputable websites and a bit of explanation to help you understand them better.
#1 JewelStreet – Image Lightbox Popup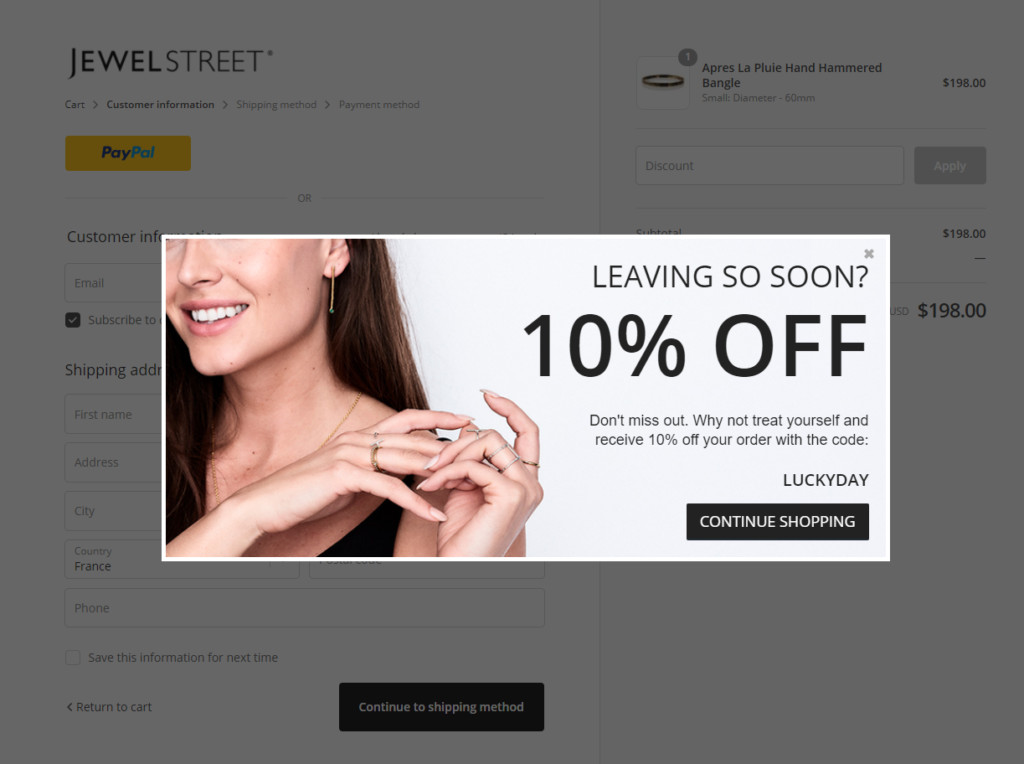 This exit-intent popup comes with a bright image with a call-to-action that prevents visitors from leaving the website. You can customize the popup with any promotional message, typically for discounts and coupons with future orders. 
Benefits:
The popup contains large fonts with an attractive promotional text.
A button on the bottom redirects visitors to the desired page. 
Bright visuals prevent untimely cart abandonment. 
#2 Talulah – Email Lightbox Pop up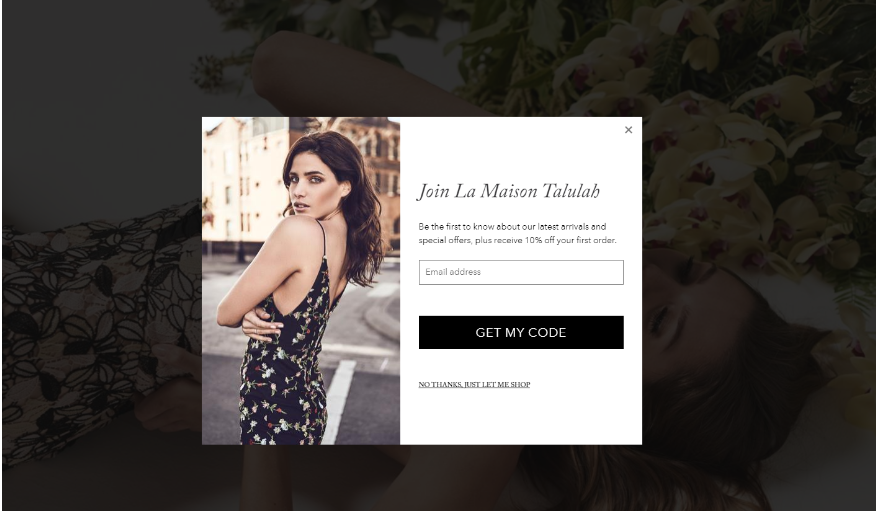 Popups can make exiting visitors sign up for attractive promotional emails recommending monthly discounts or coupons. Talulah is a fun email popup from which e-commerce websites can get inspiration to collect addresses and sign up for special codes with price markdowns. 
Benefits:
The 10% discount on first-time purchases is an exciting way to make exiting customers purchase.
Adding a professional image of what the website sells can make visitors browse the website again for the specific product. 
#3 Not Pot – Newsletter Lightbox Pop up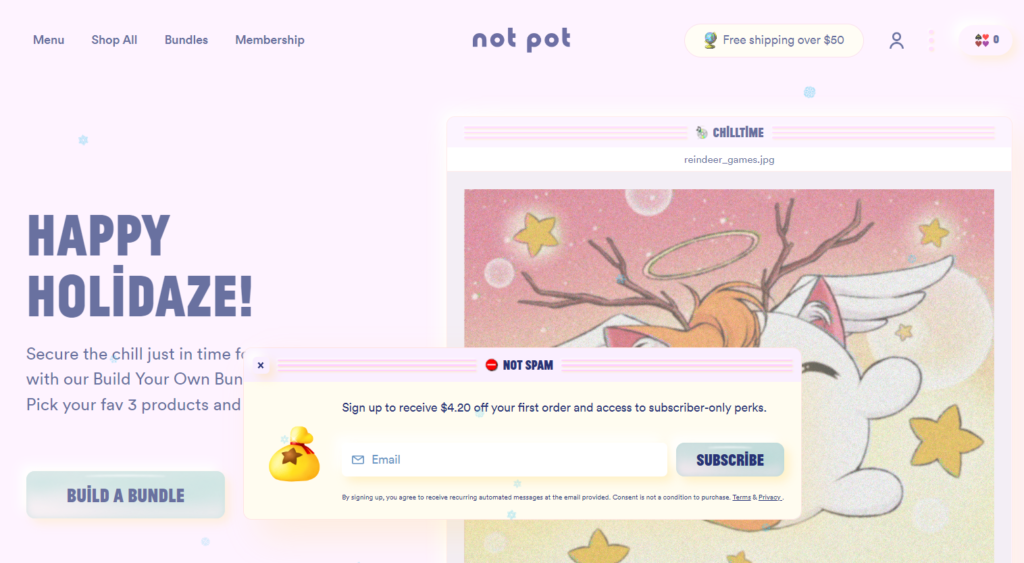 A great way to retain customers on your website is to cue landing lightbox popups the moment they enter. This pop up also blurs and dims the background, so visitors can see the message presented.
Benefits:
This popup features an attractive message which urges customers to subscribe to the website.
Clear discounts stated for account holders on first-time orders prevent untimely cart abandonment. 
#4 Tom Ford – Mobile Lightbox Popup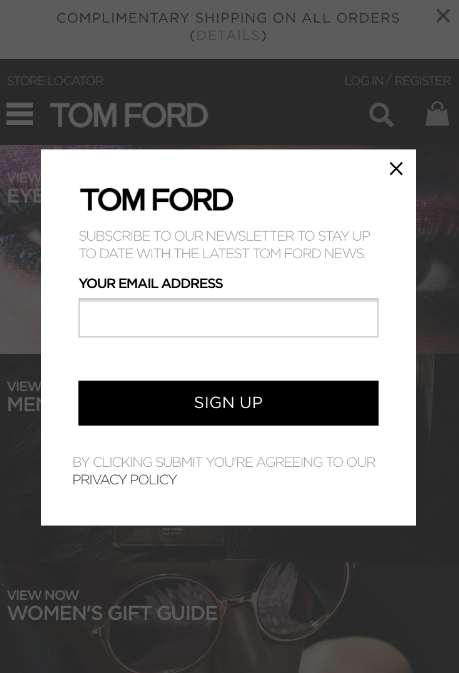 The most important thing to do when creating any website is to ensure it's responsive on all devices. As a result, the lightbox popups cued should also be compatible with the application. 
This Tom Ford mobile lightbox popup is optimized for easy viewing on mobile screens while also being visibly brighter to capture attention. Customers are urged to sign up for a newsletter by inputting their email addresses only. 
Benefits:
The mobile responsiveness attracts visitors viewing the website from different devices.
Dimming the background makes the popup visibly brighter for customers.
#5 Olive Your Heart – Mystery Lightbox Pop up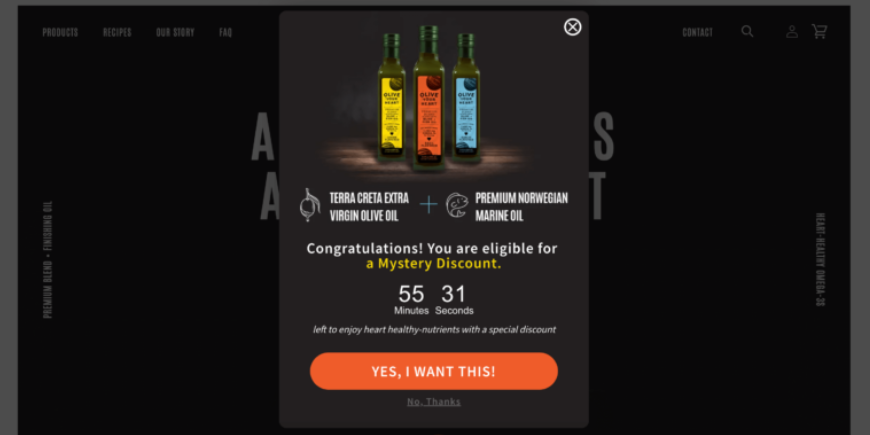 The entire purpose of a popup, is to prevent cart abandonments and retain customers on the website. This lightbox popup is a great way to attract visitors and make them click on specific discount links. Time limits and countdowns make the ad more enjoyable too!
Benefits:
Fun, mystery discounts can make customers click on website links.
The countdown urges visitors to check out the deal instead of directly leaving the site.
Bright images of the products give customers an idea of what to expect from the lightbox popup.
#6 Koffee Kult – Email Lightbox Pop up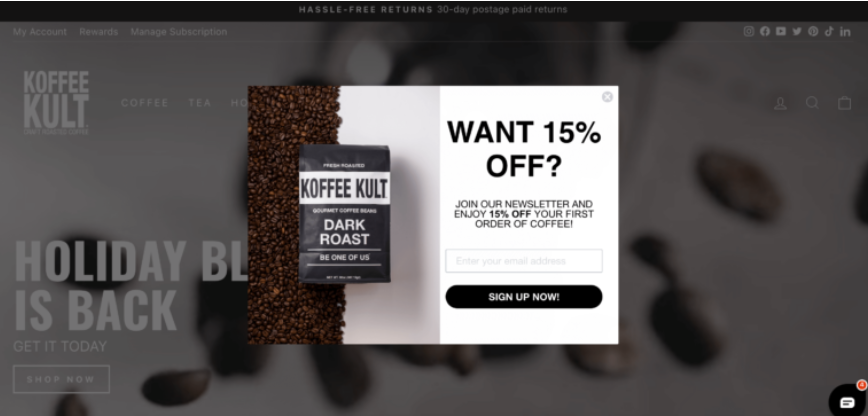 Adding product images to your lightbox popup and then pairing them with a clear call-to-action makes your website and services look desirable and exciting. Exit-intent popups can be beneficial if you want to reduce cart abandonments on your website. 
Benefits:
Bold fonts clearly show what the advertisement is about.
The bright product image on the popup can attract exiting customers. 
#7 GORP – Upsell Lightbox Popup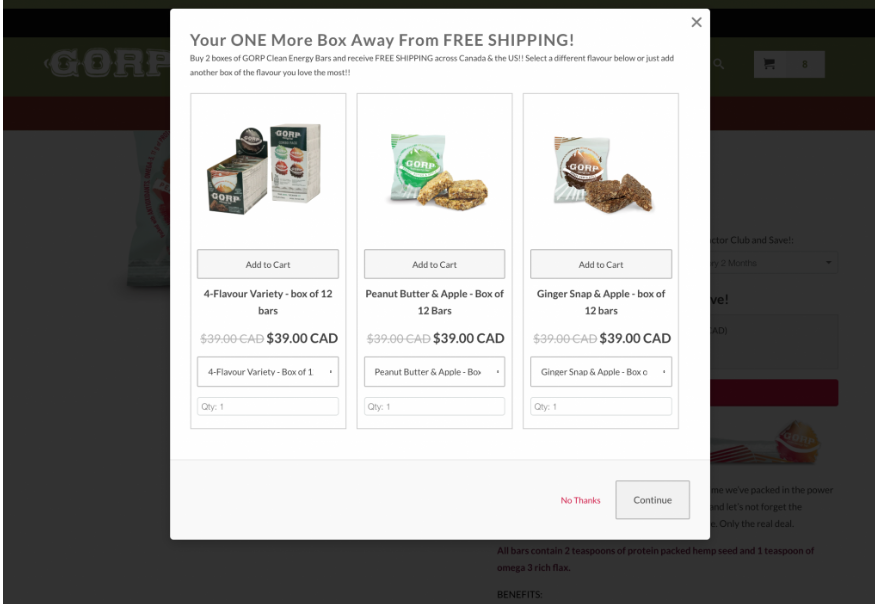 This lightbox popup by Gorp is a fantastic example of how you can entice customers into purchasing products from your website. The template features three expensive products with clear markdowns for a limited period.
On top of that, a redirecting button and the option to not move on to the next step provide customers with flexibility.
Benefits:
Price markdowns on popular products can make customers purchase more.
The countdown feature prevents visitors from leaving the website.
Large fonts depicting the "Free Shipping" option make the advertisement all the more enjoyable. 
#8 Exito – Video Lightbox Popup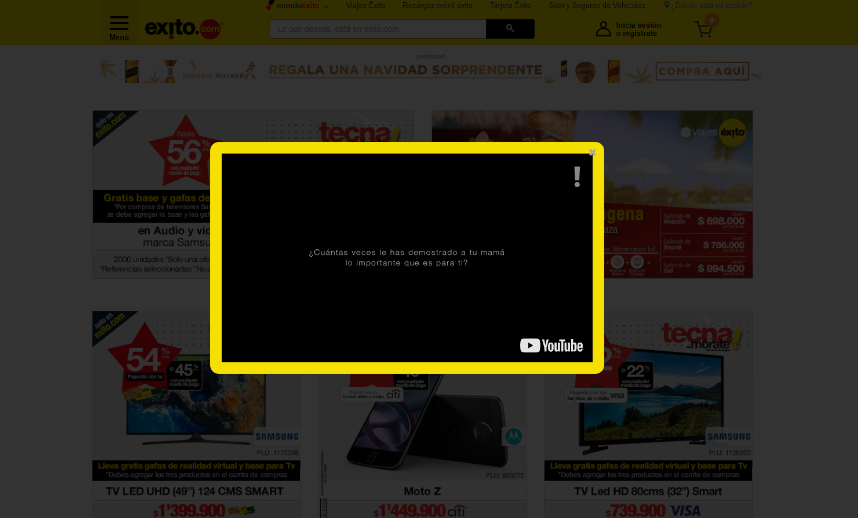 First-time visit lightbox popup, such as this Exito one, are a fun way to ensure customers don't miss out on specific discounts and promotions. Triggering a lightbox popup on entry can attract visitors and usher them into signing up for campaigns. 
Benefits:
The yellow border on this lightbox popup is bright and attractive.
Entry popup gives customers a clear idea of the campaign from the start.
#9 Gaiam – Discount Lightbox Pop up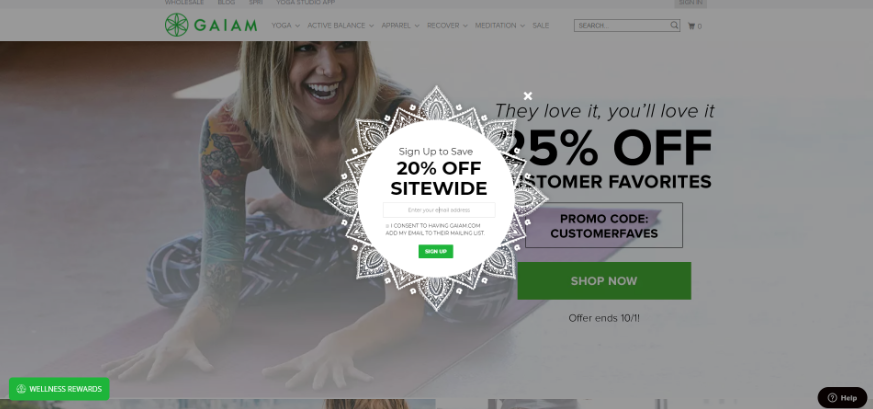 One of the best ways to make your website stand out is to think out of the box, especially when triggering lightbox popups. 
This popup features a rounded center with a clear promotional message instead of a typical square. On top of that, the Mandala effect on the edge gives it a Boho look, which represents the Shopify store perfectly. 
Benefits:
Unique lightbox popup template.
The Mandala effect for the borders represents the website's Boho ideals.
Promo code presented on the background in large fonts prevents cart abandonments.
#10 Grenco Science – Email/ Social Media Lightbox Popup 
Not being able to promote your website on social media platforms would be a massive loss for most e-commerce store owners. To prevent that, consider opting for a similar lightbox popup as this Greco Science one. 
Such popups feature transparent call-to-action, discounts, and buttons that redirect visitors to their social media handles. Choosing between an email newsletter and following social networks helps customers make the best pick.  
Benefits:
Social media handles are provided.
Bold and bright fonts are used for the call-to-action text.
Attractive discounts are mentioned with first-time purchases.
How to Create a Lightbox Pop up
Different builders allow you to create and edit customizable popups. However, Poptin makes the process a piece of cake. 
The drag & drop feature on Poptin allows you to create fun and attractive popups in a few minutes. 
You can also find many unique templates on the website, making it easier for you to get started. Edit elements and add personalized images to make your lightbox popup stand out. 
The editor has features you can tweak, including background color, button effects, setting borders, text shadows, etc. See the complete list of features here.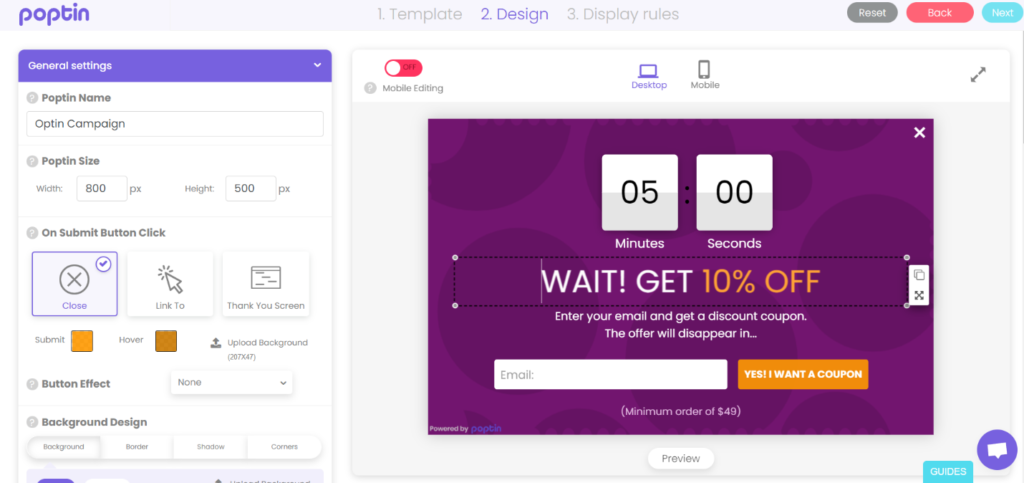 Poptin has multiple forms for different popup purposes, such as
Lightboxes
Fullscreen
Floating bars
Social widgets
Top and bottom bars, and more.
Different timer triggers also ensure your popup forms appear at the right time.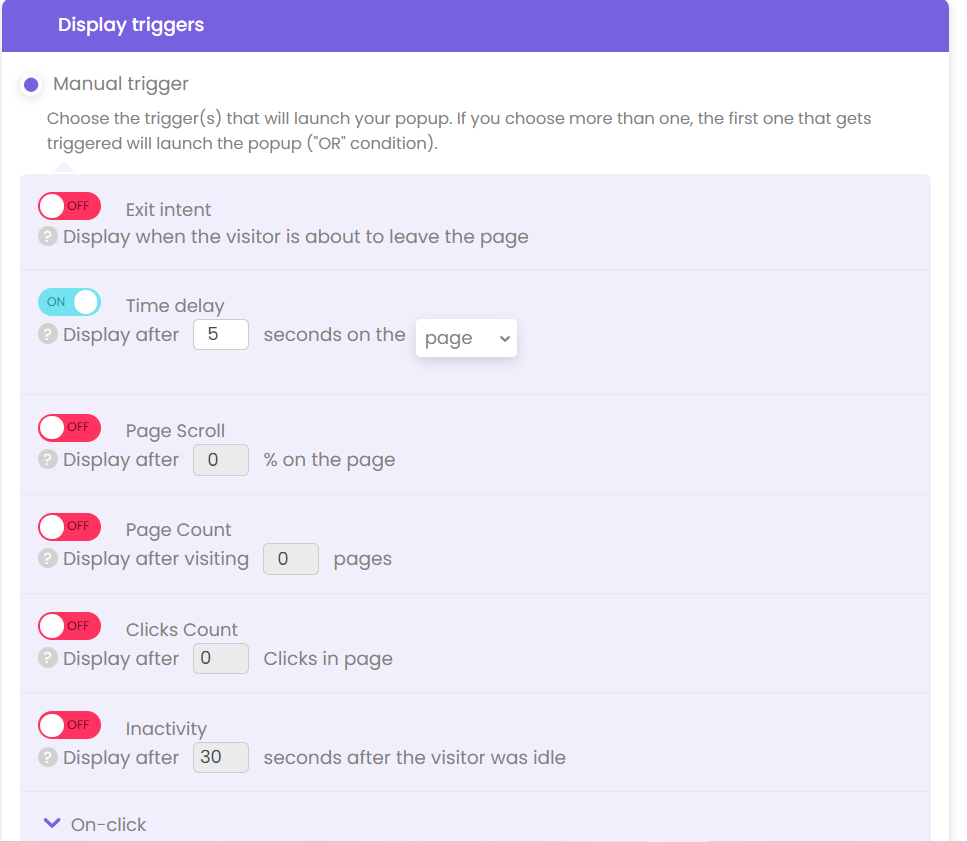 Next, set your display target so you can reach your desired audience successfully every time.

The best part of Poptin is how affordable the builder is, making it an outstanding tool for small businesses and freelancers.
Get Started with Poptin 
Lightbox popups provide a new way to engage with customers and potential customers. They are easy-to-use, customizable tools that allow you to quickly and easily present your company's message.
With the ability to customize each popup to fit your exact needs, you can create a unique experience that will engage customers and leave them wanting more.
However, none can challenge the seamless technology that Poptin uses to help users create pop ups. Poptin is designed to provide customers with a streamlined and visually appealing way to interact with visitors on the web.
If you want a long-term solution to all your popup needs, give Poptin a try. Convert cart abandonments into leads through engaging lightbox popup templates.