Any online store's advertising strategy must include a product recommendation.
You can increase your sales and revenue if you offer the right product to your customers at the right time.
The presentation of personalized product recommendations can be done in many ways.
In this article, we'll discuss some of the most efficient ways to use product recommendations to increase customer satisfaction and boost your sales.
What are Product Recommendations?
If you're a new eCommerce website owner, you may be a little hazy on what a product recommendation is and what purpose it serves.
Before jumping into our list of examples, we thought it would be helpful to first look at a simple definition.
Product recommendations are suggestions that brands will make based on what they believe the users might like and wish to buy.
In a physical retail store, experienced salespeople typically provide these product recommendations in person.
A representative may recommend that you buy something based on what has been selling particularly well, even though it doesn't quite meet your criteria.
However, with an online business, recommendations are determined by data and algorithms.
Online product suggestions can be offered through a multitude of channels and platforms, including via email, social media, and on-site. They can be generalized or tailored to be more effective.
Generalized recommendations typically include popular items, fresh arrivals, daily specials, and more. They are influenced by social proof and crowdsourcing suggestions.
Here are our top 20 product recommendation examples:
1. Daily Deal Recommendations
Changing the product recommendations on your website every day will let your customers know that you're active and have new discounts. Shoppers have an incentive to constantly visit your website because they want to check out the daily specials.
Inform your customers right away if your deal is only good for one day. The added sense of urgency will encourage them to make a purchase right away.
This is how The Paper Store displays its daily deals: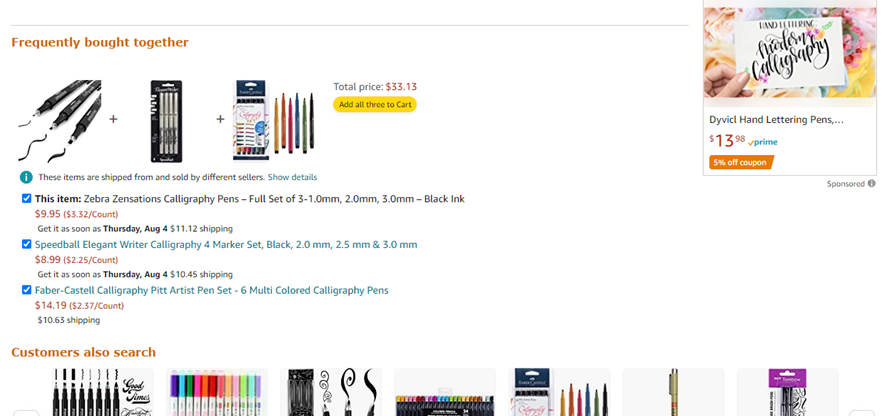 2. Promote Discounts
The truth is that over 59 percent of online buyers look for coupons before making a purchase, and 64 percent of them wait until an item is on sale before making a purchase.
By sparing your customers the hassle of finding your promotions themselves, presenting these deals on your site in the form of a popup can help increase sales.
Here's how Famous Footwear displays their product discounts and coupon codes: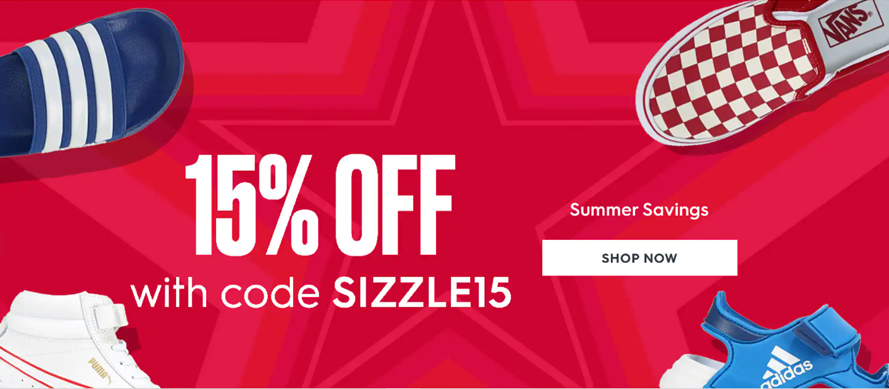 3. Review-based Recommendations
Showing potential customers items that have received high ratings from other customers will encourage them to make a purchase. Customers trust what other people say about the item more than product descriptions because they tend to be unbiased.
Look at how Famous Footwear recommends its top-rated sneakers:

4. Shopify Product Recommendations via Pop Ups
Poptin has another feature that allows business owners to present the most pertinent campaigns to the appropriate audiences at the right time.
With Poptin's product recommendations feature, you can offer recommended products via pop ups based on your customer's products in the cart, last item clicked, or any specific product you want to promote.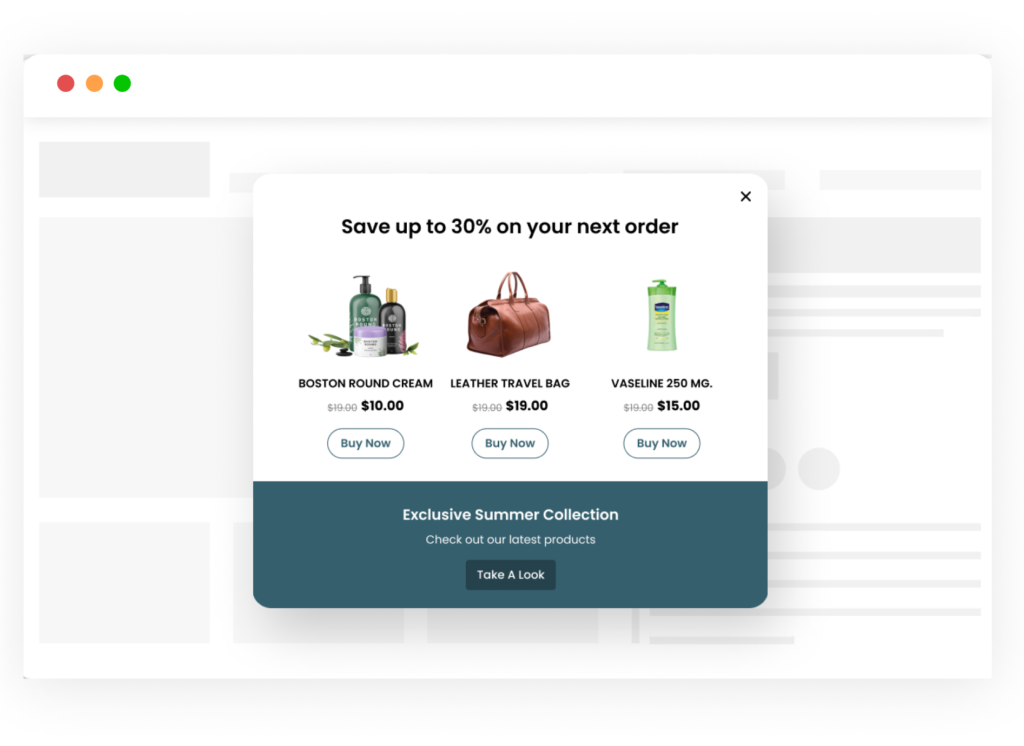 It enables you to have overall control over how you want to communicate with Shopify customers and site visitors who have shown interest to your products and have added something to their cart.
Go to your Shopify store and try Poptin for free!
5. New Arrivals
Showcasing new product additions can also keep customers engaged. It will also alert them to new products, so they can shop the latest fashion or purchase the latest innovative electronic device before their peers. This can boost customer satisfaction and keep shoppers coming back for more.
This is what The Handbag Store does to promote its newest handbags.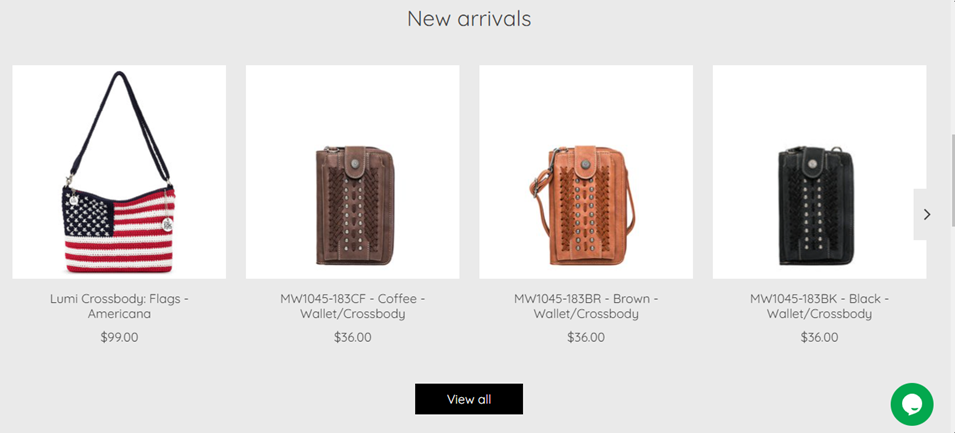 6. Shopify Cart Targeting
To efficiently increase sales and conversions for your eCommerce website, target your customer's Shopify carts with attention-grabbing pop up ads depending on the qualities of your specified products, cart value, and the quantity of items in the cart.
You can find a dropdown menu when using Poptin's Shopify cart targeting feature, so you can choose whether or not to display your pop ups to consumers that don't fit your predetermined criteria.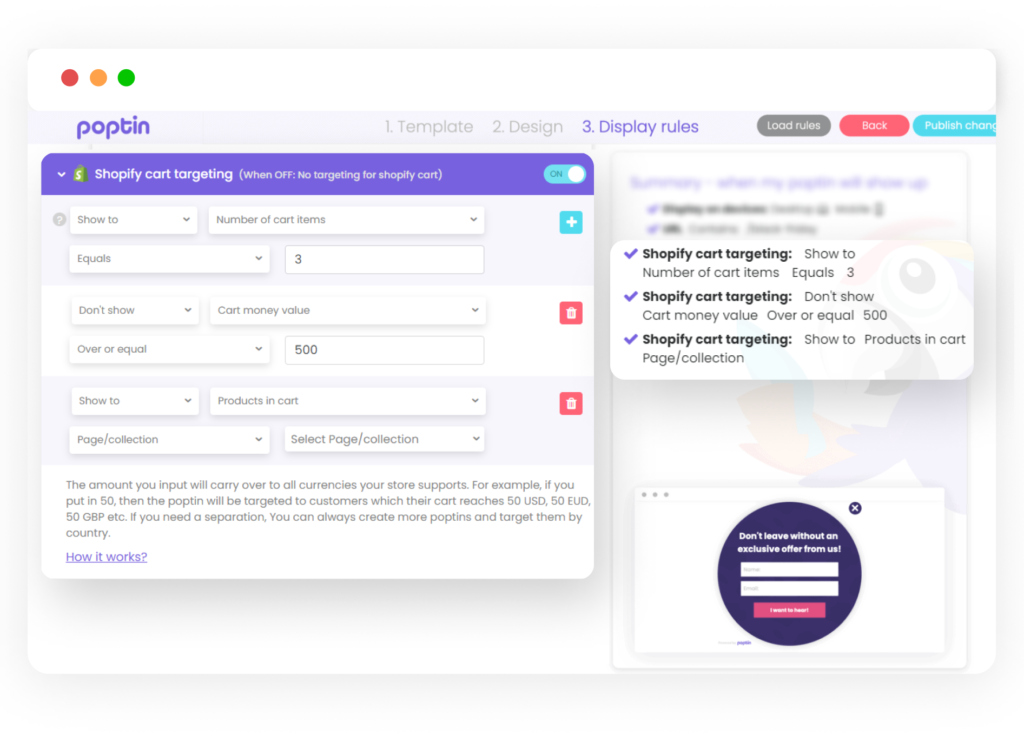 Offering discounts, free delivery, promotions, and even upselling to expand your earnings is possible when you set the appropriate rules for your pop up recommendations.
7. Personalized Product Recommendations
Product recommendations made specifically for you are quite powerful.
To make meaningful suggestions that are tailored specifically for your customers' requirements and preferences, focus on their purchase and search history. This will increase the chances that the shopper will make a purchase.
A nice way to do this is to use exit-intent popups to encourage users to stay on your site.
Here's an example of a personalized recommendation on the Famous Footwear online store: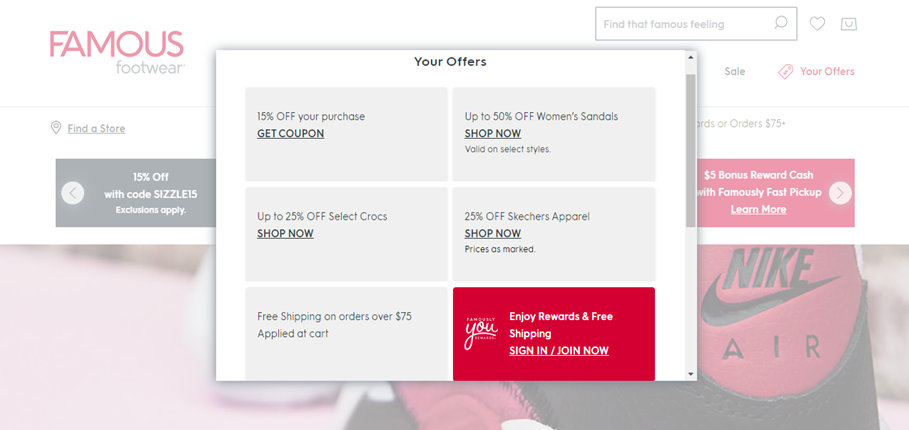 8. Similar Product Recommendations
Our next product recommendation example is similar product pop ups. The chances are, if a customer is looking for a specific product, they will appreciate recommendations for other products because it shows them that they have options.
It's a terrific opportunity to suggest related products in case they're not completely pleased with the one they're looking at.
Look at these dress recommendations from Michael Kors: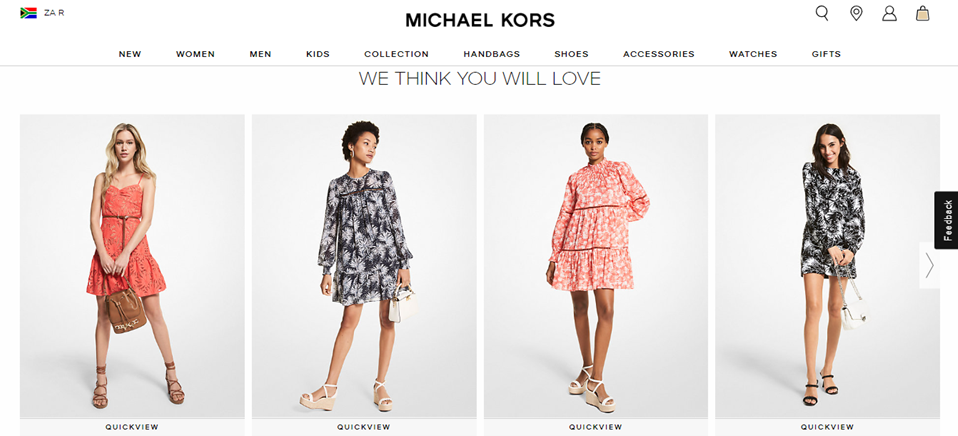 9. Combination Deals
Bundle deals are collections of similar items and accessories that are sold as a set at a reduced cost. This can help customers save money, keep them coming back, and increase their overall spend on your online store.
See how Amazon does it: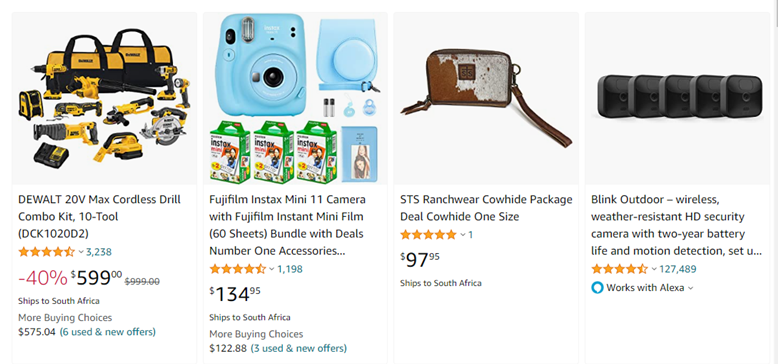 10. Email Recommendations
Email can be thought of as an expansion of your eCommerce marketplace because you can suggest products the same way you can on your website. Different users will respond to customized emails in different ways.
A site visitor may have had a strong interest in a certain product, in which case you could create a custom, recommendation-based email marketing campaign to encourage him or her to make a purchase.
This is a product recommendation email from American Swiss: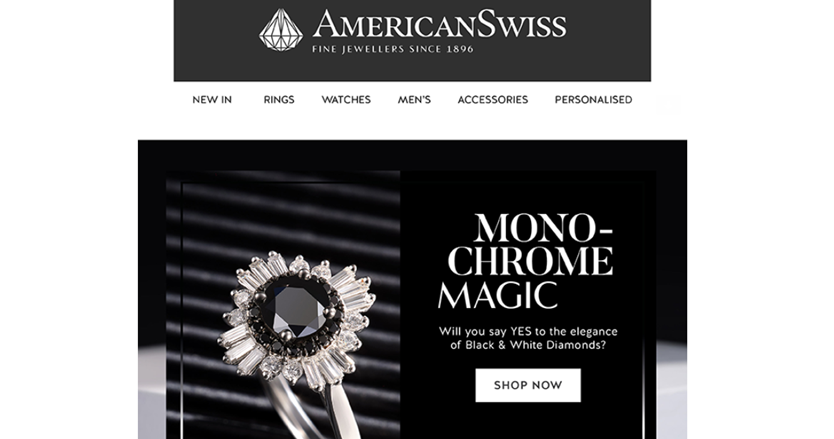 13. Facebook Recommendations
Social media is a powerful tool for promoting your products and showcasing personalized recommendations based on the consumer data that Facebook collects. The truth is that your target audience is likely spending a lot of their time on this social media channel.
In fact, according to Facebook's 2022 report, 1.96 billion people use the platform every day, which gives you ample opportunity to boost your sales through product recommendations.
12. Mini Cart
Another way to recommend other products is by adding a slide-in for product recommendations on your mini cart pop up. This mini cart gives your customers a chance to see their carts quickly and easily instead of being taken to the cart page.
To encourage customers to add additional accessories or related items to their mini cart, you may also include specific recommendations.
Here is a mini cart recommendation from Macy's for a toddler T-shirt: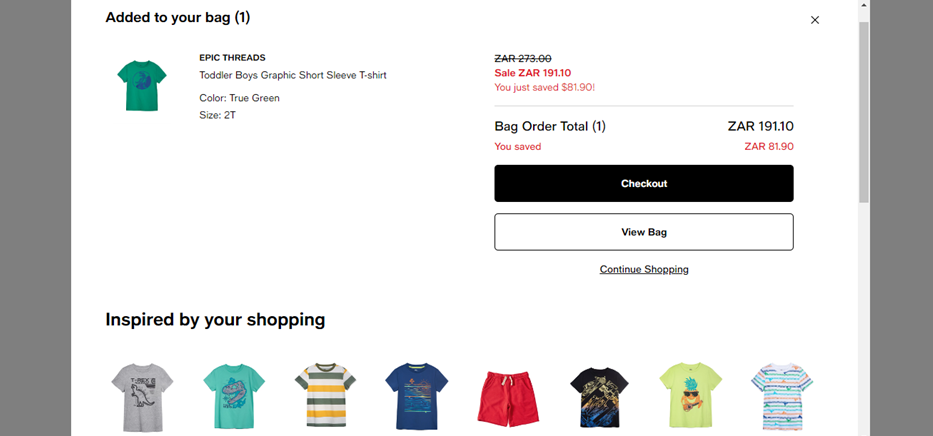 13. "Don't Forget" Recommendations
Since buyers have already made up their minds about what they want to purchase, it is unproductive to advertise comparable products on the cart or checkout page.
However, it's worthwhile to showcase some relevant, inexpensive goods and accessories. Consumers will be more willing to add a cheaper, relevant accessory to a high-value purchase than to buy a different, more costly item.
Amazon recommends related products on its Checkout page to help customers find additional items they may need.

14. Recommend Items That Are Frequently Bought Together
Making recommendations for goods that are frequently purchased together is an effective cross-selling strategy.
Before you can employ this tactic, you'll need to analyze the cumulative purchases that your customers tend to make.
Do they purchase two or three skincare products from the same range or do they often pair a particular dress with a pair of shoes?
With this knowledge, you can recommend products more effectively and boost your sales.
Amazon uses this technique effectively to help customers find related items.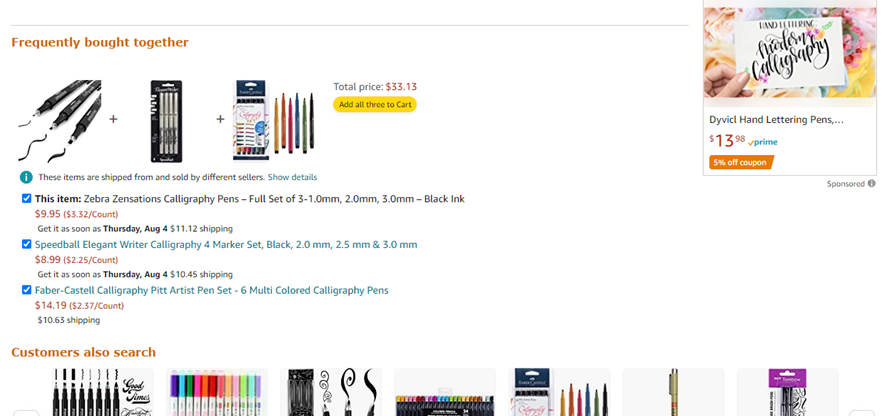 15. Customer Tag Targeting
With the tag targeting feature, you can divide your customer base and develop customized ads for each group! To increase your store's conversion rate, create compelling pop-up windows and email forms.
If you want to maximize their impact, display these windows only to those who are most likely to be interested in the deal.
You can accomplish this by adding client tags from your Shopify account, which will then instantly show up in your Poptin tag options.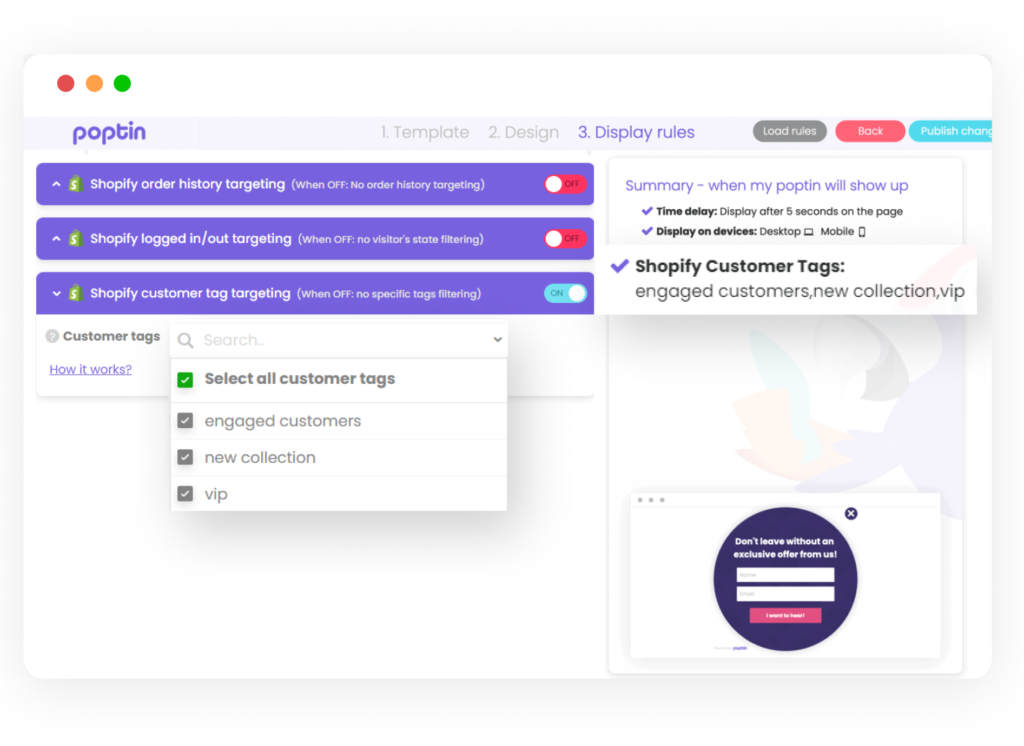 Here are some targeted offers from Avon:

16. Recommendations Based on Order History
You can also use pop up recommendations to reach users based on their previous orders. Display appropriate special offers, discounts, and coupons.
Poptin's order history targeting feature on Shopify keeps tabs on the items your shoppers have purchased, their overall spending, their discount orders, their order status, their payment preferences, and fulfillment history.
Use this type of targeted increase your sales, decrease cart abandonment, and improve overall conversion rates.
Here are some personalized offers based on order history from Michael Kors: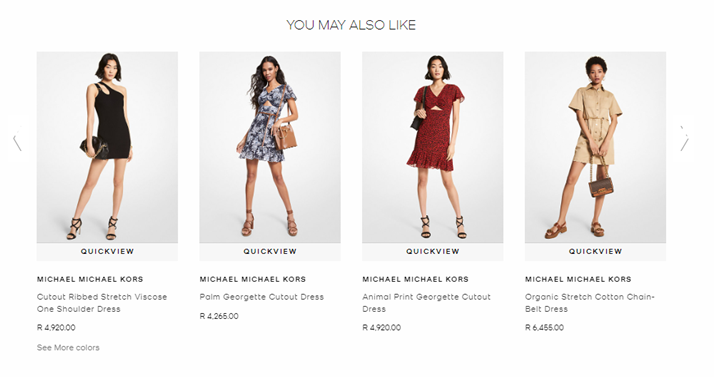 17. Feature Products
It is important to focus on your homepage if you want people to know what your online store is all about. A great way to do this is to include a feature product.
Since your homepage receives the most traffic, it only makes sense to highlight your top-performing or most lucrative products.
See how The Handbag Store highlights one of their best-selling lines below.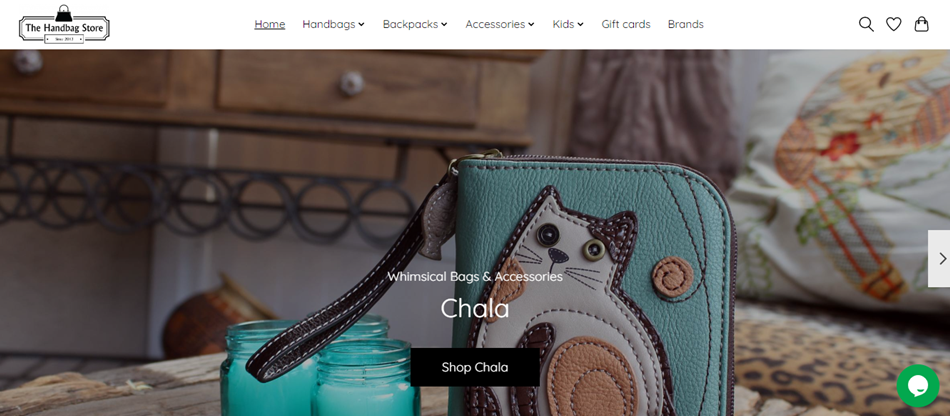 18. Competition Popups
Another effective way to promote a product is to showcase it on a competition pop up. It's a great way to make a product more desirable or to let customers see a new range. Competitions also help to improve customer engagement and boost sales.
Look at how Guess uses a popup to display its three-piece travel set: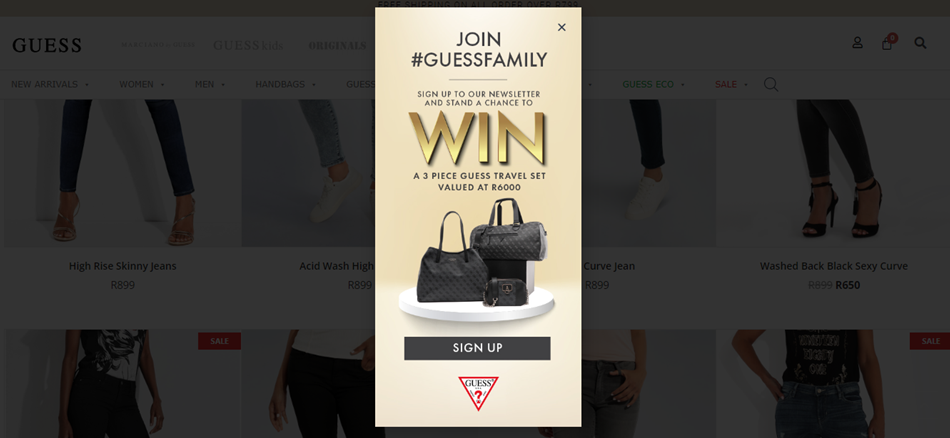 19. Dynamic or Interactive Recommendations
With the use of interactive recommendations, numerous products can be displayed at once. The best-selling or most well-liked items will be displayed to site visitors in a scrollable display.
This offers a plethora of options to online customers while also grabbing their attention with movement and encouraging them to stay on your website and convert.
You can also add other features, like interactive pictures that change when a user hovers over it. Moreover, this is a fantastic way to capture your customers' attention and allow them to see different views of your products.
Forever New has an intuitive dynamic list of recommendations on its homepage: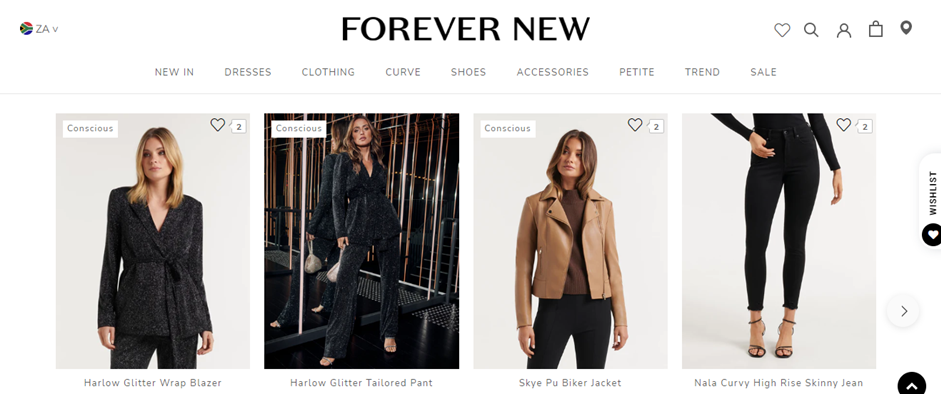 20. Category Recommendations
Another effective way to improve the customer experience is to add a category recommendation section on your homepage. This creates an easy way for shoppers to find what they're looking for.
It will also remind them if they need additional items (other than the products they originally came to buy) and helps to showcase your online store and what it offers.
Macy's uses a simple and easy to use category recommendation:

The Benefits of Product Recommendation
If you use these methods to recommend products to your customers, you can expect a number of benefits. These include:
Better user experience – This is because your site visitors can find the things they need quickly and easily.
Improved customer engagement – With interactive displays and products that catch their eye, your customers are more likely to remain on your website, look around, and maybe make a purchase.
An increase in sales and revenue – Statistics show that users who see product recommendations are 83% more likely to make a purchase than those who do not!
Better inventory management – Paying attention to recommendations will help you see your website's statistics, which can help you manage your inventory better, investing in the products that sell well and reducing the number of units purchased for products that don't.
Final Thoughts
Recommending products is at the heart of every eCommerce store's success. When customers shop online, they don't get to see items the way they would when shopping in-store.
This means that you'll have to ensure that they see the right products at the right time when they're on your online store.
These suggestions not only help in your shoppers find things they love, but also boosts your average order value and conversion rates.
Now that you have 20 ways to improve your product recommendations, it's time to get started increasing your revenue.
Give Poptin a try and create your own product recommendation pop ups! Sign up here for free.