Email marketing has come a long way. It's now possible to use some online or downloaded software to create remarkable emails that people want to click.
The good news is that email is still the best way to communicate with potential customers and loyal fans. However, there are so many options that it's hard to figure out which one you should use.
We've come up with the top UniSender alternatives to help you make the right choice. Read about each one to figure out the email marketing solution that's best for you.
1. Klaviyo
Klaviyo is considered a hybrid email marketing tool because it doubles as your real-time engagement engine. We like that it has an impressive list of integrations, so most e-commerce platforms are available.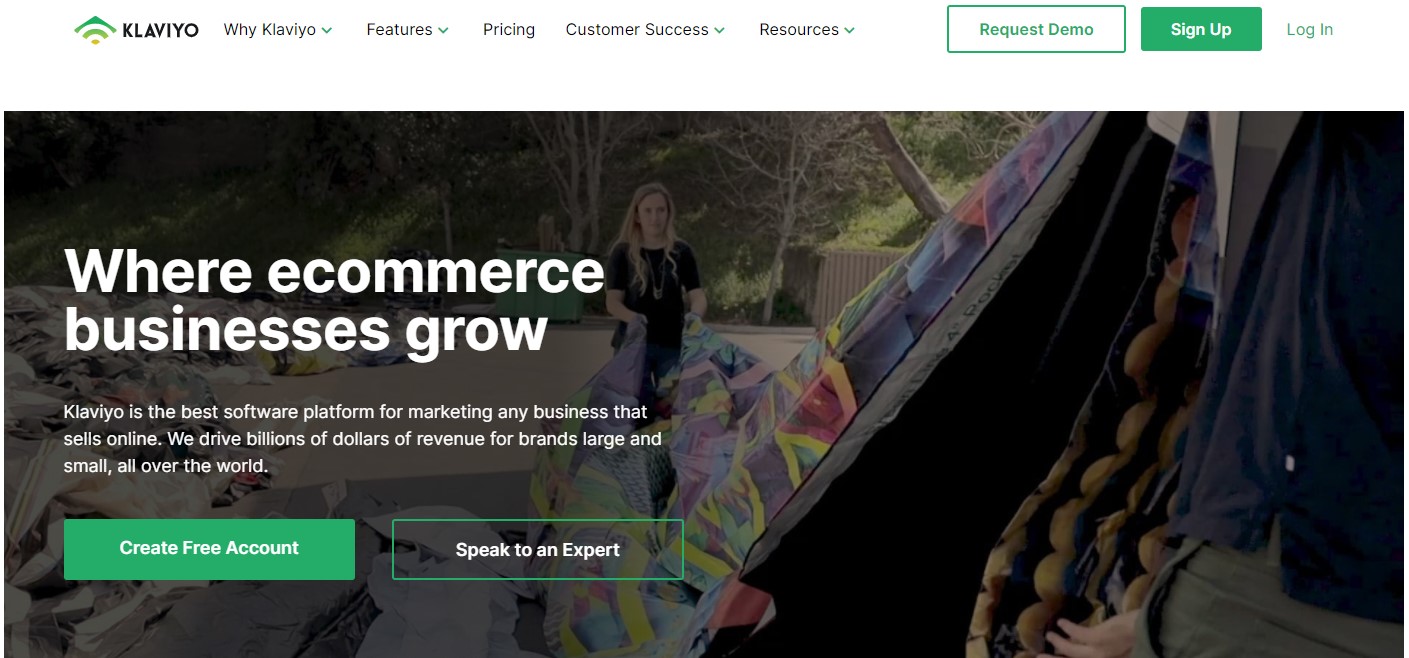 Features
The features available for Klaviyo are plentiful compared to its alternatives. You can collect and store essential data on your customers. That way, you can drive growth and show that you care.
You're also going to find that there are tons of personalization options and forms to create. This way, you can build your client base and keep everyone happy.

If that weren't enough, there are reporting and segmentation tools to help you analyze everything. When you're ready, social advertising, automations, and SMS features allow you to act according to what your customers want.
Everyone can get just what they need from Klaviyo, making it one of the top UniSender alternatives out there.
Pros:
Many integrations

Robust and time-saving tools

Easy to use
Cons:
Few advanced automation workflows

Rigid templates 
Pricing
The pricing structure for Klaviyo is easy to understand. For 500 contacts, you pay $20 a month for email marketing, which includes unlimited sends and support. For $5 more, you can add SMS messaging.

Who Is This For?
Klaviyo is designed for online businesses, which includes service providers and retailers. Small business marketers are sure to appreciate it, too.
2. Moosend
Moosend is a top choice for email marketing software because it's powerful and easy to use. Despite the many UniSender alternatives out there, this one is affordable and has the features you crave.
Features
Primarily, email marketing is the top feature, and you're sure to appreciate the drag-and-drop editor. However, you can also create landing pages (on the paid plan) and make newsletters that shine.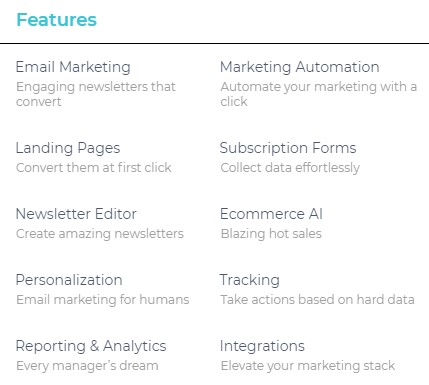 Every marketer knows how important analytics and reporting can be, and you get those tools to use. Plus, automation, subscription forms, tracking, and many integrations are available.
Good read: Moosend Alternatives in 2021: The 7 Best Competitors
Pros:
Excellent free plan

Integrations with Mailchimp and WordPress

Great support
Cons:
Must get a paid plan to use most features

Can be hard to set up
Pricing
With the Forever-Free plan, you get all the core features for free. This includes some reporting and analytics, a few forms, and the ability to send unlimited emails.
Pro is the next plan and costs $10 for 1,000 subscribers. You can have five team members, an SMTP service, landing page creation tools, and transactional emails.
Enterprise is also available for a custom price based on your subscriber count. With it, you can have 10 team members, a service level agreement, custom reporting, and help with migration.
Who Is This For?
Moosend is an excellent platform for experienced and beginner marketers. If you want a one-stop-shop for all of your email marketing needs, it's suitable for you.
3. Benchmark Email
Benchmark Email is focused solely on being easy to use and setup. It's a well-designed email marketing solution, but it does lack in segmentation and other features.

Features
It's easier than ever to generate leads with Benchmark Email. You can build lists with various subscriber forms that work seamlessly with surveys, polls, and websites. 
Everyone can create beautiful emails and complex campaigns with the drag-and-drop editor. Plus, there are a few templates available to get you started.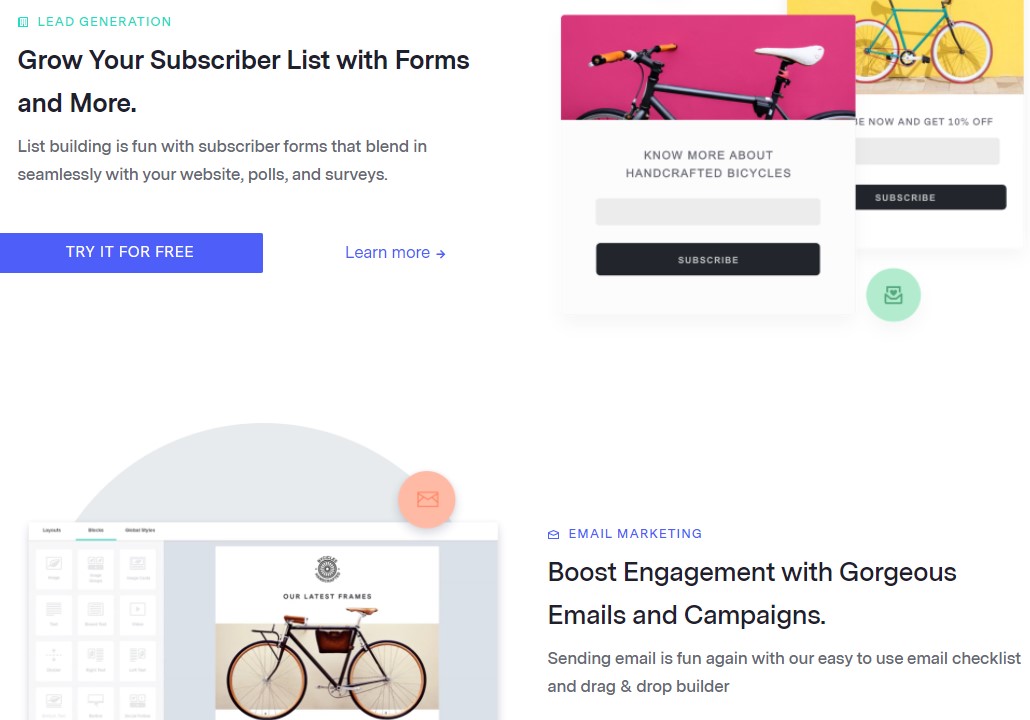 Automation is king when it comes to email marketing tools. You can send relevant offers to your contacts at the right time. The simple automation tools can help with follow-ups, so the sales roll in.
Pros:
Intuitive interface

Live chat support

Organized navigation
Cons:
Basic functionality for signup and landing page forms

Few advanced segmentation choices
Pricing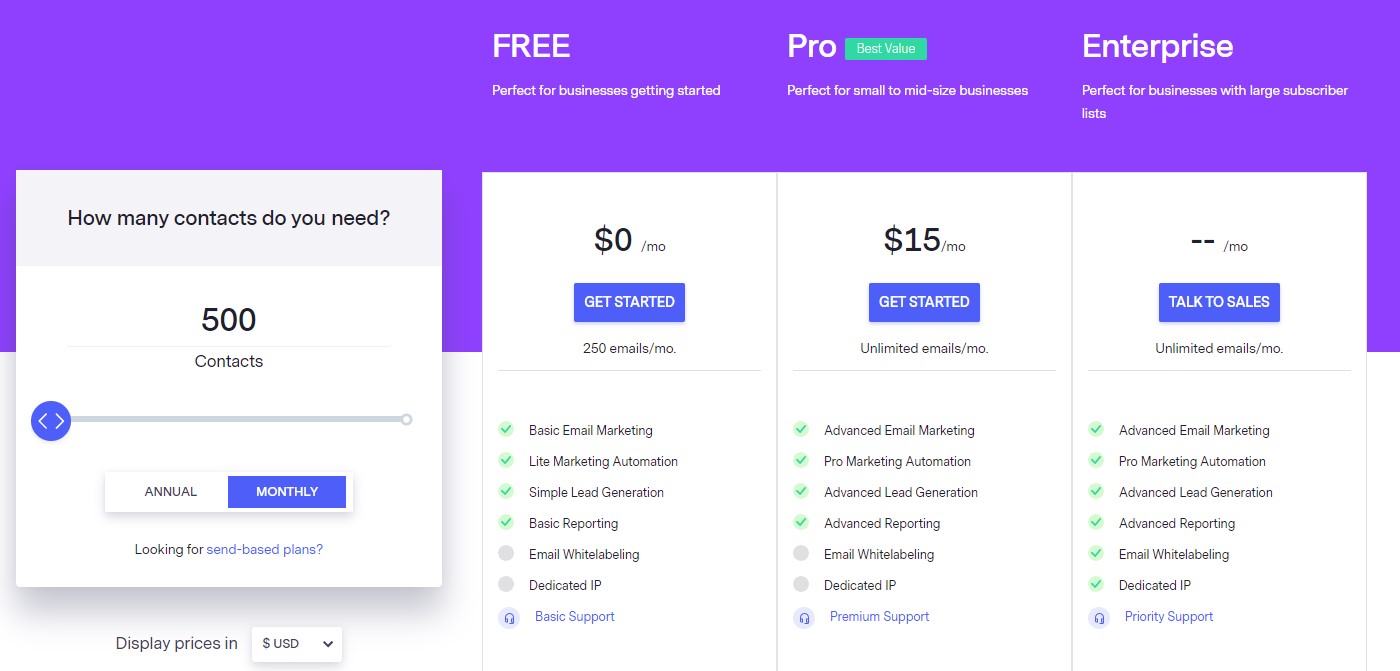 There is a forever-free plan when you choose Benchmark Email. It only allows you to send 250 emails a month, but you get basic reporting, lead generation, and a few automation.
Those who need to send more might like the Pro plan, which costs $15 a month for 500 contacts and unlimited sending. You get more advanced tools and lead generation. Plus, there are better automations.
Enterprise is customized based on your needs and contact requirements. With it, you have access to a dedicated IP, email white-labeling, and advanced automations and reporting features.
Who Is This For?
Primarily, Benchmark Email is suitable for those who want to create complex campaigns without the hassle. However, it does exclude some of the best features that other UniSender alternatives have, so be careful.
4. Constant Contact
For those who want UniSender alternatives, Constant Contact is something to consider. This email marketing tool blends usability and functionality effortlessly. You can set it up fast and get a tailored approach to sending emails.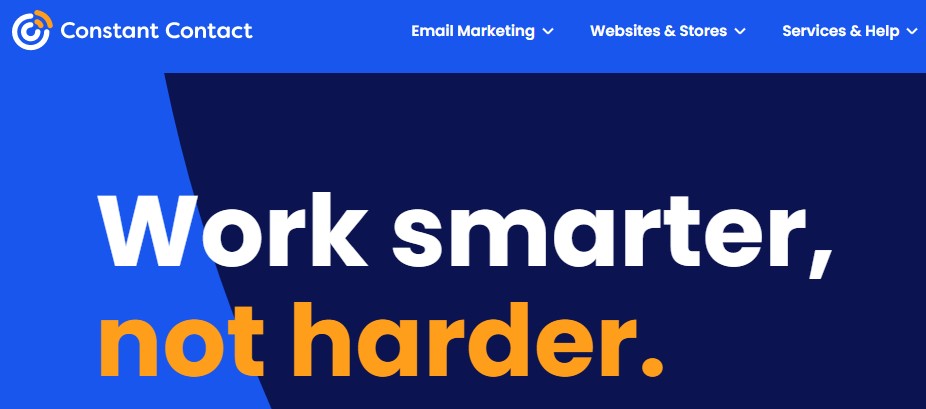 Features
There are tons of templates available to use with Constant Contact. This ensures that you create the right email for your group or needs. 

With the automations available, you can welcome new contacts, nurture leads, and engage with your audience more easily. Create the email, and it sends it when it's time.
Good read: 4 Constant Contact Alternatives with the Lowest Rates
Pros:
Community support

Excellent contact management

Intuitive interface
Cons:
Basic landing page builders

No segmentation options
Pricing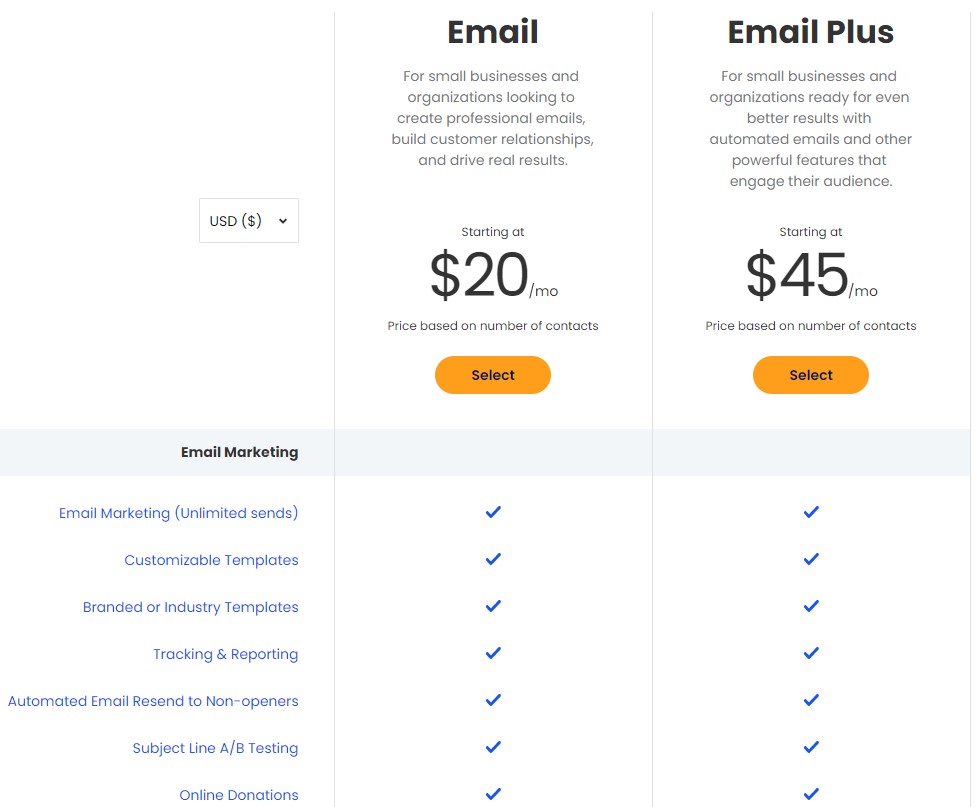 The Email plan costs $20 a month, but this is based on how many contacts you have. With it, you get e-commerce marketing, donation features, A/B testing, autoresponders, reporting, tracking, and various templates.
With Email Plus, you pay $45 a month based on the number of contacts. You get all the features of the first plan. However, you also get RSVPs, polls, surveys, coupons, and dynamic content.
Who Is This For?
Constant Contact offers many advanced features, so it is suitable for all types of email marketers. Plus, it's easy to use, so novices can get in on the action. However, expect to require a large budget to get the most from it.
5. GetResponse
When searching for UniSender alternatives, Getresponse might be the right choice. This powerful email marketing and e-commerce solution offer personalization and advanced segmentation. Plus, it's easy to navigate and ready for action.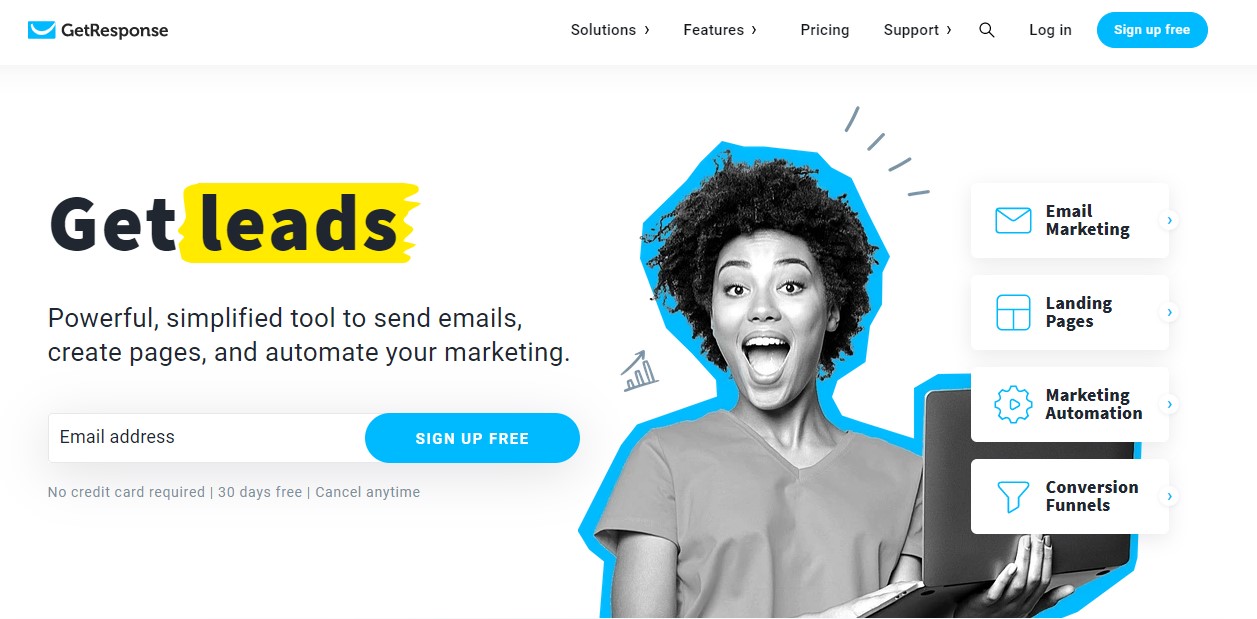 Features
Email marketing is essential, and with GetResponse, you have access to list management, transactional emails (for a small fee), and can create emails effortlessly. You also have analytics and autoresponders to help you along.
We like the funnel system, which walks you through each step of the process. It's a little different than other email marketing tools, so it can take some time to get used to it. Still, you're going to see more leads and sales with this option.
Good read: 4 GetResponse Alternatives for Small Businesses
Pros:
Sleek interface

Free courses for email marketing

Create marketing funnels
Cons:
Takes a while to set up

Limited customization for templates
Pricing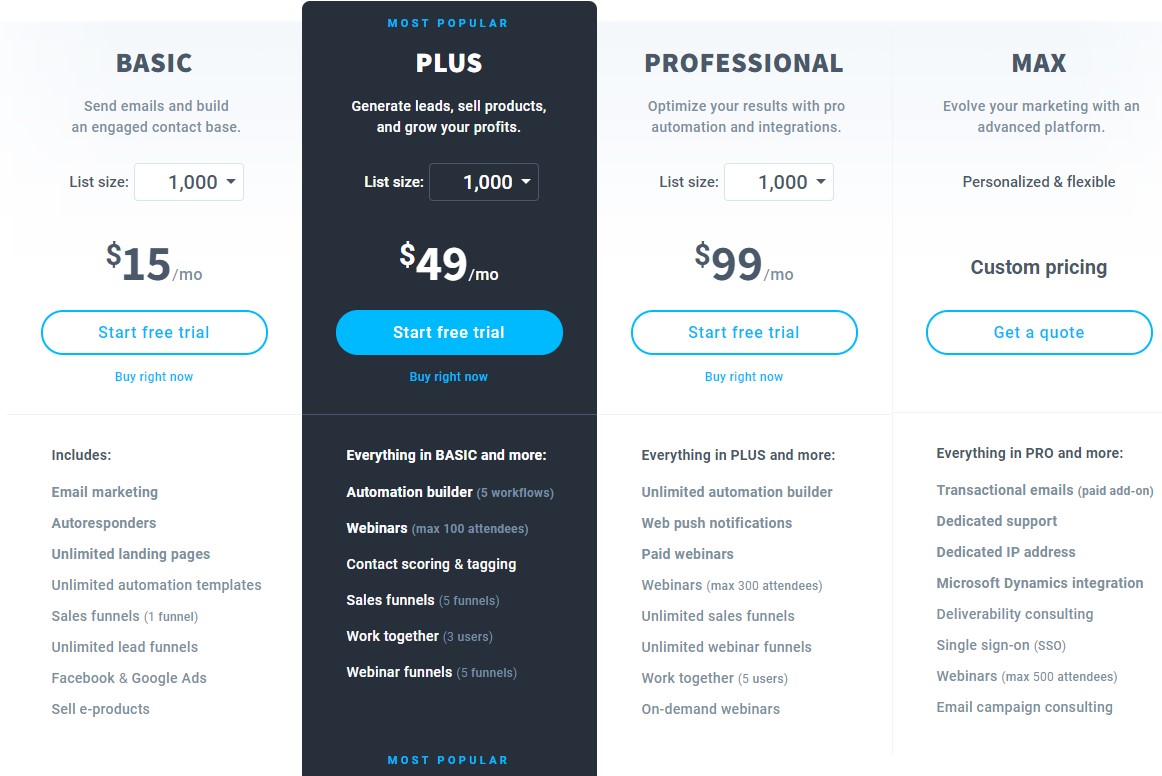 Basic is the first plan, and it is $15 a month for 1,000 contacts. You can sell e-products, have one sales funnel, unlimited lead funnels, and autoresponders.
Plus is $49 a month for 1,000 contacts. With it, you get everything from Basic, but you get five sales funnels, three users, webinars, and five automation workflows.
Professional is next at $99 a month for 1,000 contacts. Here, you get everything from the Plus plan, but you also get push notifications, unlimited automations, and can have five users.
Max is a personalized plan with custom pricing. You get every feature available, including consulting services, SSO, a dedicated IP address, webinars, and so much more.
Who Is This For?
Primarily, GetResponse is suitable for those who need help getting started. Even power users can breeze through because the steps are easy to follow. Plus, it grows with you and is ideal for e-commerce marketers.
6. Omnisend
Omnisend coins itself as an omnichannel automation platform for all your marketing needs. You can use several channels and automation workflows to seamlessly communicate with push notifications, SMS, and email.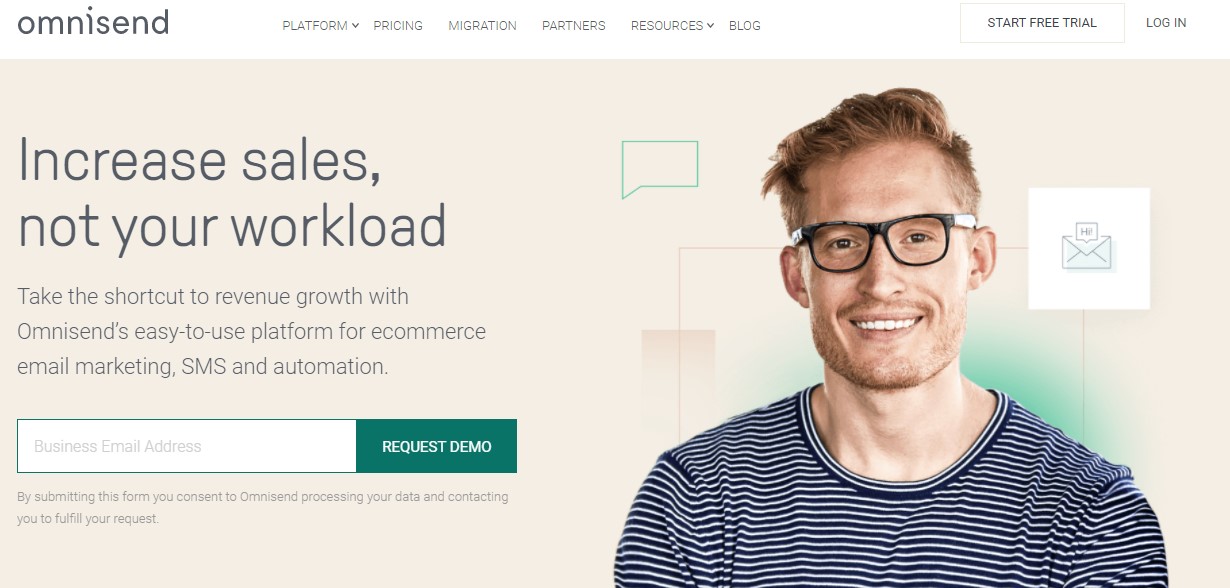 Features
It's easy to build amazing emails, and they're shoppable. This means that customers can click on a product in the email and be taken to the store to buy it. There are drag-and-drop editors and various templates.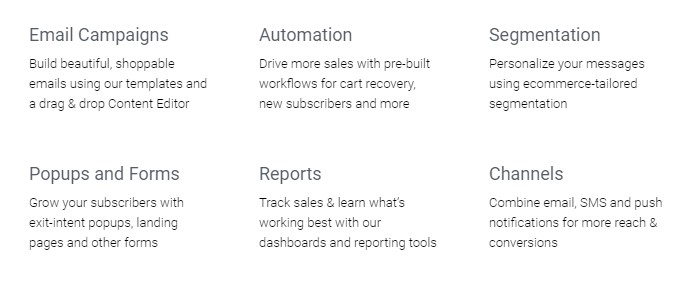 You also get automation and segmentation, which help to personalize the message and drive sales with pre-built workflows. 
Good read: Omnisend Alternatives: 4 Advanced Email Marketing Platforms
Pros:
Product Picker feature

User-friendly approach

Plenty of integrations
Cons:
Can't customize themes

Must input information when launching social media campaigns
Pricing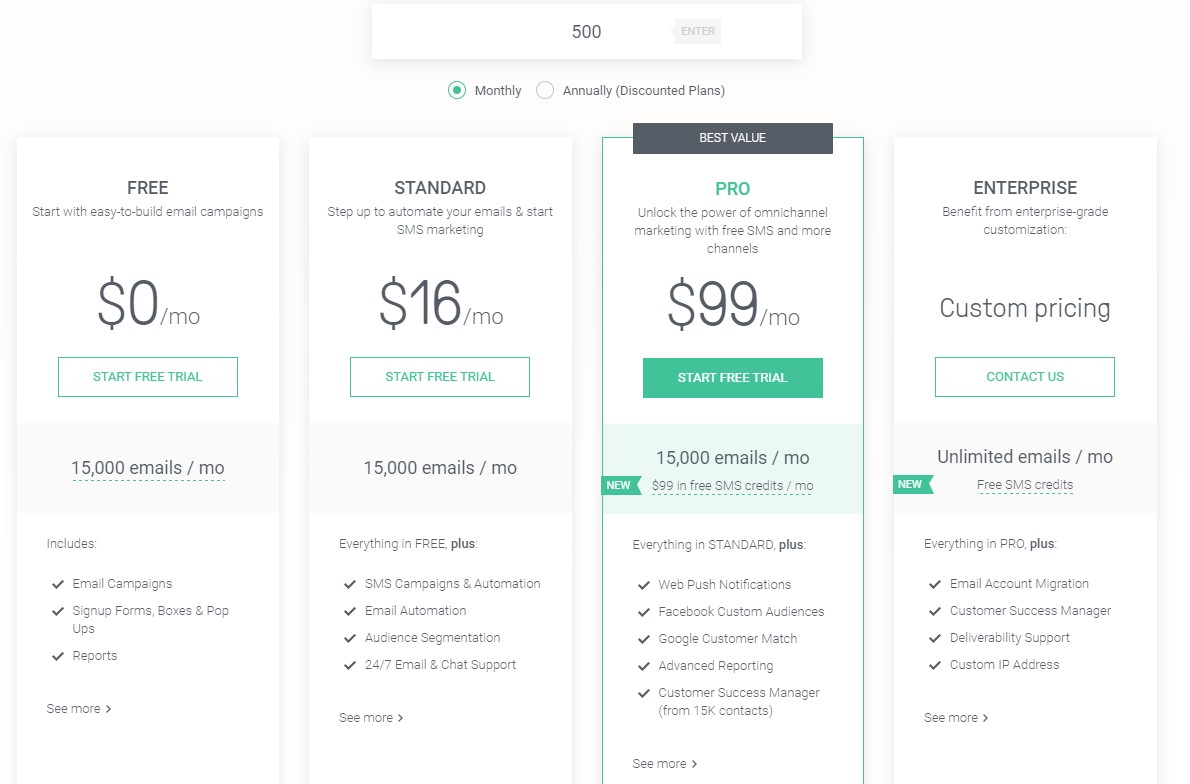 The Forever-Free plan allows you to have 500 contacts and send 15,000 emails a month. You get basic reporting, email marketing, and various signup forms.
Standard comes in at $16 a month for 500 contacts, and you can send 15,000 emails a month. With it, you get everything from the Free plan, including audience segmentation, automations, SMS campaigns, and 24/7 support.
Pro is considered the best value at $99 a month for 15,000 emails and 500 contacts. You get all the Standard features, but you also get advanced reporting, push notifications, Facebook Audiences, Google Match, and more.
Enterprise is the last option for a custom price based on your needs. You get all the features available, which can include help with deliverability, a custom IP address, and email account migration.
Who Is This For?
Omnisend is suitable for companies of all sizes. If you want to make the most of your email marketing and have a one-stop-shop for everything, this is the one to pick.
7. Sendloop
Sendloop is one of the UniSender alternatives that you're sure to like. It has a wide range of features, is easy to use, and works well for various companies and digital marketers.

Features
It's easy to use Sendloop, and you can be creating emails in just two minutes once you sign up. Plus, you can quickly import all of your contacts so that they're in one place and easy to organize.
You're going to be creating email effortlessly, even if you prefer HTML solutions. The drag-and-drop editor ensures that everything is made simple. Plus, there are templates to change and personalize.
Good read: Sendloop Alternatives: What You Need to Consider in 2021
Pros:
Cost-effective solution

Easy to use interface

Excellent integrations
Cons:
Few training options

Issues with reports and automatic log-outs
Pricing
The pricing structure of Sendloop is straightforward. You pay $9 a month and can send emails frequently (every day, bi-weekly, or weekly).
If you don't send an email that often, consider the occasional plan. Just pay $10 for every 1,000 emails you send. You can purchase credits and use them anytime.
Who Is This For?
Sendloop is ideal for almost everyone. This includes SMBs, e-commerce stores, and content creators. 
8. Email Octopus
As far as UniSender alternatives go, Email Octopus is a great choice. It's innovative and works well with Amazon SES. Since it's low-cost, it's suitable for any budget.

Features
You get plenty of pre-designed templates to make it easier and faster to create an email. Plus, you can customize it with the editor.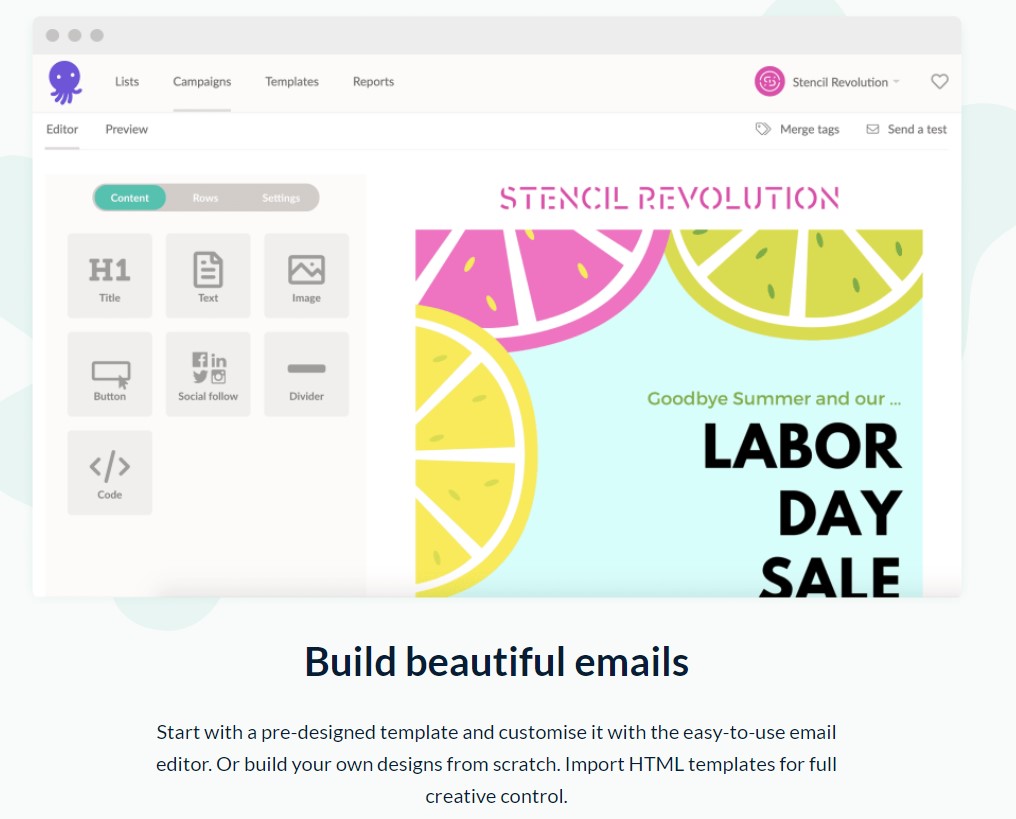 It's also possible to put your campaigns on autopilot. The automated welcome series helps you reach out to new subscribers. Plus, there are simple drip campaigns to promote brand awareness.
Good read: Grow Your Business Fast with these 5 EmailOctopus Alternatives
Pros:
Great deliverability rates

Easy to create your campaigns

Free trial available
Cons:
Needs better email templates

Can't use your smartphone to create/send
Pricing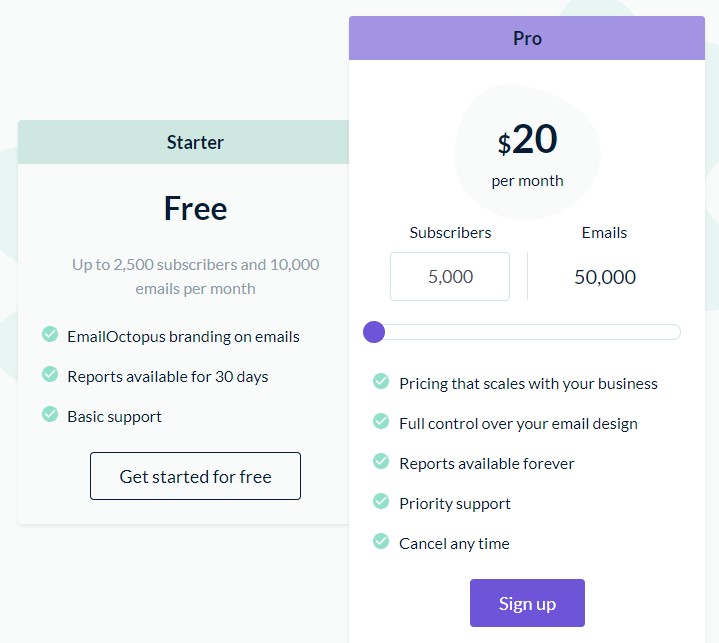 The forever-free plan allows you to send 10,000 emails a month and have 2,500 subscribers. This is quite generous, and you get basic support. However, Email Octopus branding is included in the emails, and your reports are only available for 30 days.
To remove the branding and keep reports forever, bump up to Pro, which costs $20 a month for 50,000 emails and 5,000 subscribers.
Who Is This For?
Email Octopus is suitable for SMBs that need to run effective campaigns and don't have a lot of time. However, it might not be ideal for complex segmentation and workflows.
Conclusion
Your goal for the email marketing software is to make a connection with your customers and give them value. With these UniSender alternatives, there's nothing you can't accomplish.
Choose the one that meets all of your needs and has the best price. All the information has been laid out for you, so it's all convenient.
Now is the time to take email marketing to the next level. You're bound to find one solution that is better than the rest, and it's made easier with this helpful comparison.