Many companies in today's world still use target marketing to focus their marketing efforts on specific groups of customers who are likely to purchase their products or services. Pop ups help such companies to quickly reach a large number of potential customers, thereby creating an engaging, memorable experience for customers while drawing attention to their brand and products.
Pop-ups are still relevant today because they offer businesses a cost-effective way to quickly reach a large number of potential customers whether they're testing the viability of a product or service, growing their subscriber list, launching a new business, making announcements about limited editions or creating an immediate presence in a new market. 
If you're looking to grow your business, here is a list of the 9 best pop up software builders on the market today. 
One of the best tools for creating great popups is Poptin. It has been featured on SEMrush, HuffPost, Noupe, and Product Hunt.
Poptin works with nearly any platform. Some platforms that Poptin works with are Wix, WordPress, Shopify, Magento, and Weebly. However, Poptin has many other platforms that it's compatible with.
It is great for marketing agencies, eCommerce, and B2B companies. Poptin offers great basic to advanced targeting tools to help you promote to the right audiences.
Poptin offers fully automated lead generation tools. You can choose to include welcome emails, thank you emails, coupon emails, or link emails through Poptin autoresponders. These lead-generation tools help convert visitors into customers.
One great feature that Poptin offers is its behavior triggers. The smart triggers offered with Poptin will show you when you'll have the highest chance for visitors to convert based on their behaviors. You can use exit-intent to help recover visitors who may abandoned their carts.
It has a simple drag-and-drop feature for creating your pop-ups. Your pop ups also have capture forms to collect customer information and feedback. You can also create pop ups to help curb cart abandonment.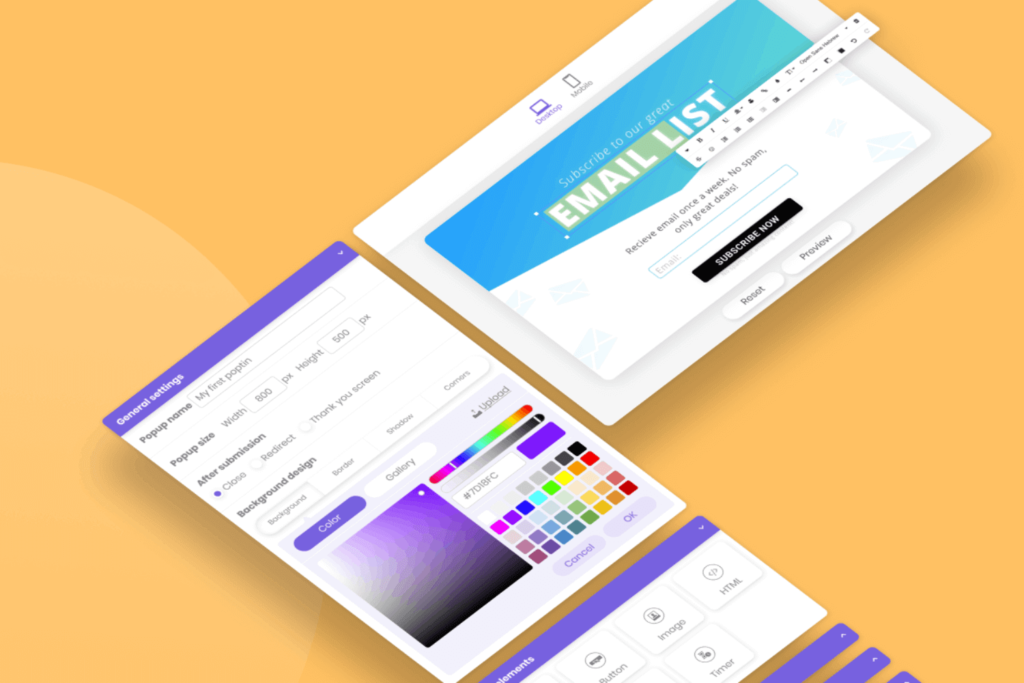 There is also an all-in-one dashboard to manage lead generation. In addition, Poptin offers over 60 integration options, A/B testing, and live customer support.
Some of the pop-up options offered by Poptin include full-screen overlays, social medial pop-ups, mobile pop-ups, and countdown popups. See full features here.
This platform is incredibly powerful and one of the best on the market for creating pop up ads that work. Poptin is one of the best on the market and deserves to be at the top of your marketing tool list.
Pricing
Poptin is a great tool known for its high-end features. Poptin offers four unique plans: Free, Basic, Pro, and Agency.
Free for 1,000 visitors per month
$25/ month – Offers most features for 10k visitors per month
$59/ month – Offers most features for 50k visitors per month
$119/month – Offers all features for 150k visitors per month
$215 – $999/month – For businesses and agencies with larger needs of 300k – 2M visitors per month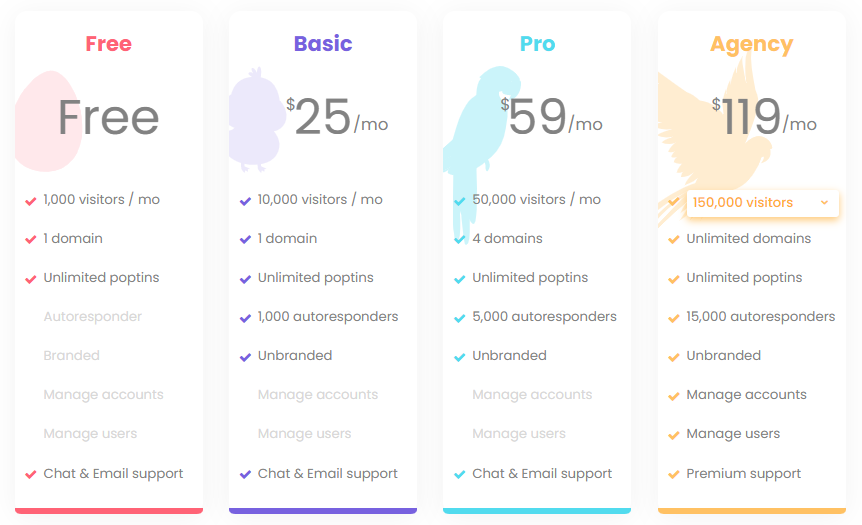 Pros
Free to use forever
Customizable popup and contact form templates
Autoresponders
Lots of third-party app integrations
Advanced targeting tools
Smart triggers
A/B testing
Built-in analytics
No coding required
Chat & email support
Cons
To know how Poptin can help your business grow, watch this 3-min video review by the marketing specialist of Oveo.io:
2. Picreel
Picreel is a popup builder software primarily designed for small or midsized eCommerce and SaaS businesses.
It offers a template library of over 100 designs. The templates help make starting easy. Picreel also has many features aimed at conversion. It is a great option if you're having trouble converting visitors into clients. The software uses surveys to get the best feedback for your ads.
You will also find that Picreel has over 700 easy to install integration features to use across many platforms.
Despite Picreel's great features, it can get pricey for anyone with a larger business. It also doesn't offer much besides pop-up ads.
Pricing
All pricing options come with a 30-day free trial.
$19/ mo. for 3,000 visits
$69/ mo. for 10,000 visits
$149/mo. for 50,000 visits
Enterprise options available pricing upon request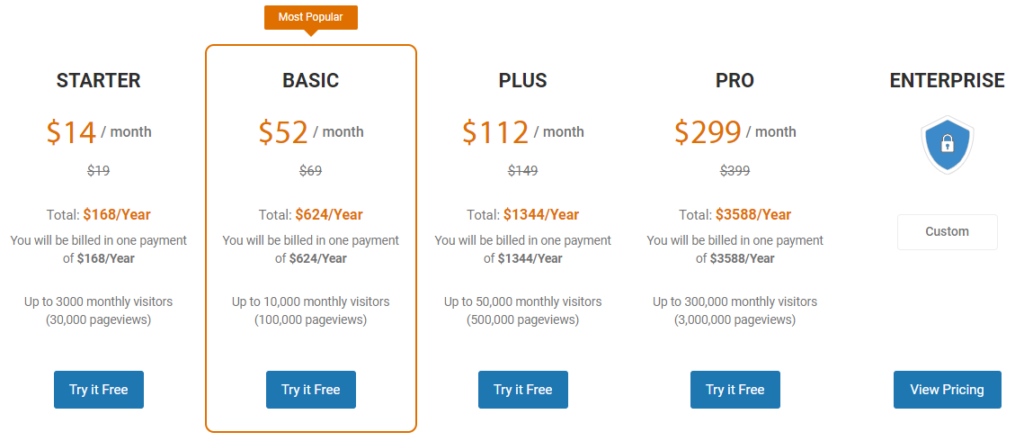 Pros
Template library
A/B testing
Surveys for feedback
Cons
3. OptinMonster
OptinMonster is a lead generation tool with a pop-builder. It is aimed towards large eCommerce stores. This builder is great for users who already understand how to build popup. However, it is not extremely user-friendly if you're just starting.
There are many great features that OptinMonster offers when it comes to its popup building software. It comes with ready-made templates that also have email capture options. This feature is great for converting customers and building a larger email list.
If you're looking for something fun and different with your popups, OptinMonster offers pop ups such as gamified wheels, scroll boxes, lightbox pop ups, and floating bars.
OptinMonster also has automated targeting for personalized campaigns. This software even offers geolocation targeting.
Finally, it also offers A/B testing and monitoring to help optimize your ad's performance.
Pricing
If you are looking to purchase OptinMonster, there are no free trials, and you will have to pay for an entire year upfront for the many lead generation tools it offers.
$14/mo. has only some of the popup types
$47/mo. offers all pop up types
Pros
User-friendly
Email capture forms
Ready-made templates
Cons
You must commit to an entire year without any trials.
4. Privy
Privy is a software that focuses on the email and SMS market and includes popup builders; it is a high-rated software great for small eCommerce businesses. It has over 18,000 Shopify reviews and is the most reviewed platform in the Shopify app store! This software is great for anyone getting started with pop-ads. However, it is not the most efficient tool for large-scale companies.
This software offers different popups, including a welcome discount, spin-to-wins, fly-outs, and exit-intent campaigns. In addition, you can use one of its many themed templates to design the perfect pop-ad for your business and customize each one to fit your liking.
This platform features many targeting options for personalized campaigns. It also has a drag-and-drop pop up builder so you can easily build your popups. Privy also offers A/B testing to make sure you know which ads work best and which need to be reworked.
Finally, Privy offers live support, free onboarding, and one-on-one eCommerce coaching.
Pricing
Privy has a great free option and one paid option. You will also get a 15-day free trial.
Free offer of 5,000 page views per month.
$20/mo. has advanced customer targeting features.
Pros
Unique pop up types.
It is highly rated on Shopify.
There are many support options for anyone unfamiliar with setting up pop up ads.
Cons
Not a great option for large-scale companies.
5. Wishpond
Wishpond is a great option for small to medium-size businesses. It is a great all-in-one marketing platform with a strong pop up builder.
This software offers lead generation and conversion features such as A/B testing for effectiveness. There are also templates for easy ad building. You will have full control over when, where, and how ads will pop up to your customers. Finally, Wishpond also offers forms for email captures.
Pricing
Wishpond is not extremely transparent with its pricing. However, it does offer a "Schedule Demo" button with all its features.
If you're looking to get a price for Wishpond, you'll have to schedule a meeting with an expert to get the right pricing for your business.
Pros
Great for smaller businesses.
A/B testing
Email capture forms
Cons
Not transparent with its pricing.
6. Optinly
Another great tool for pop up building is the highly-rated Optinly. Optinly centers itself around growing larger email lists. It is a wonderful option for anyone looking to grow their email list. However, it is also great for increasing sales and reducing cart abandonment.
With Optinly, you can choose when your ads appear. In addition, there are over 80 ready-made templates that are optimized to collect feedback and conduct surveys to keep your business growing.
Pricing
Optinly offers a free trial and free options for users and paid options.
Free has three popup types as well as PIxabay integration
$9/mo. you'll get more free templates and popup types.
$25/mo. Get the user more sites, templates and popup types, and priority support.
Pros
Highly rated
Great for growing an email list
Ready-made templates.
It is optimized for feedback.
Cons
Free or low-cost options offer very little.
It is targeted mostly towards growing email lists.
7. Popconvert
Popconvert is a pop-builder that promises 10 times higher opt-in rates. It is a great option for those looking to zero in on pop up. If your business aims to grow its targeted marketing department, Popconvert is a perfect option. Popconvert is geared towards large-scale businesses.
This software offers 100% customizable widgets. Its list of interactive popup widgets includes invitations bars, emergency bars, gamified pop ups, and initiation via notification. You will also get advanced targeting options and behavior triggers to determine when and who gets your ads.
Like many pop builder options, Popconvert offers A/B testing.
Pricing
Popconvert offers 100 free conversions or a free seven days, whichever comes first. It also offers a discount for annual purchases.
$9.42/ mo. to get up to 80 leads.
$24.81/mo. to get up to 250 leads.
$72.88/ mo. to get 1,500 leads.
$113.27/ mo. to get 3,500 leads.
Pros
Powerful tools for lead generation
Customizable widgets
A/B testing
Cons
Extremely costly
Not for small businesses
8. Sumo
Sumo aims itself as no-nonsense popup building software. It wants to offer powerful tools for those who are just starting or want to grow their email list without too much extra weighing down the program. Its no-cost feature is great for small businesses focused on growing.
With Sumo, you will access plugins with WordPress, Shopify, and Google Tag Manager. Set up with Sumo is fast and easy. Sumo also offers a whole family of other apps for your marketing needs.
Pricing
This software is always free for 10,00 email captures per month. However, Sumo offers one paid option.
$39/mo. to capture 30,000 emails per month.
Pros
Affordable
Easy to use
Powerful plugins
Cons
No other features besides popup email capture.
Must use other apps in the Sumo family to get more features.
Other Sumo family apps cost more.
9. Unbounce
Unbounce is an easy marketing tool that helps create landing pages and popups. It is a great option for large eCommerce businesses or anyone looking to create and launch popup quickly. With Unbounce's pop up features, you'll have more opportunities to convert visitors into customers.
This software makes marketing easy. You won't have to start with a blank page. It has an AI writing tool to help generate compelling copy for your ads. Unbounce is so easy it can help build and launch your ads within minutes.
You will be able to target the right audience with your pop ups. Unbounce swaps out keyboards based on your visitor's search terms.
Furthermore, Unbounce's pop-ads are great tools for testing new promotions. It also offers sticky bars for mobile. These bars will pop up and stick to the bottom of a page on a mobile site to help keep your ads on your customer's minds.
You can choose how often your ads appear and offer advancing targeting to ensure proper audiences view your ads.
Pricing
With Unbounce, you will receive a free 14-day trial. Unfortunately, after the free trial, it can get very expensive.
$90/ mo. 20,000 visitors per month.
$135/mo. 30,000 visitors per month.
$225/mo. 50,000 visitors per month.
Pros
No starting off a blank page.
Easy to use
Offer sticky bars
Cons
Conclusion
The best pop up building software is a powerful tool for anyone looking to grow and maintain their business. Popups are also great if you already have a business, but are looking to take your company to the next level with targeted ads and smart pop up features.
These are great tools to grow sales, convert visitors, or grow your email list. If you're looking for a free popup builder that is compatible with almost all major website platforms, go with Poptin. It has a long array of customizable templates to get you started, no coding required. It's so easy you can even create your own popup and contact form in minutes. Try Poptin today!