Content marketing is critical to the success of your business. You need great content to generate leads. That's not just one piece of content. That's a lot of content you need to create, repurpose, and update.
The important question arises, how can you organize your efforts when it comes to content marketing across platforms? Enter the content calendar. In this post, we'll learn what a data-driven content calendar is. We'll also look at how you can create one for your business.
What is a Content Calendar?
A content calendar is also called an editorial calendar. You will track the content you will post on your content calendar, where you will post it, and when you will post the content. For example, you might have content to publish on your blog, social media channels, guest posts, etc.
Your content calendar will also include notes on when you need to update old content, repurpose content, and schedule promotional activities.
All these activities should align with your content marketing strategy goals. These, in turn, need to be aligned with general marketing goals. Ultimately, the goal of all this content is to generate conversions.
Contrary to popular perception, a content calendar is not always a calendar. The format will be based on the volume of content you're producing, the time frame, etc.
Here are some of the common formats:
Calendar:

You can organize your content calendar on a Google sheet, a whiteboard, etc.

Spreadsheet:

Use Excel or Google Sheets functionalities to arrange your content. You can sort according to type, date, audience, theme, and buying stage. Share your editable spreadsheet with team members so they can view who creates or edits content at what time. Implement color coding and other techniques to highlight important information and attract viewers' attention.

Work/project management platform:

It gets challenging to manage spreadsheets efficiently. A robust project management tool like Trello can help you streamline processes correctly. You can run content

marketing campaigns

. Just add calendars, charts, workflows, and set automatic notifications.
A content marketing calendar can come in other forms. Just look at the screenshot below, and you'll see other content calendar formats used by some reputable companies.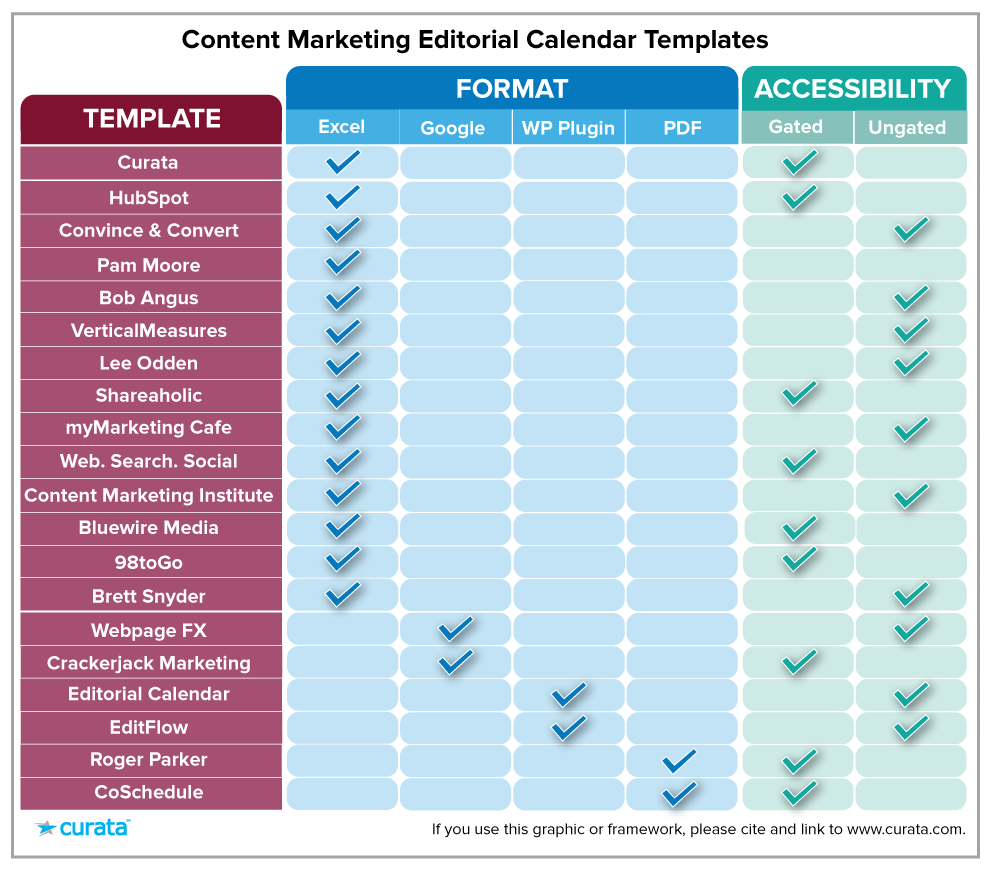 The key is to choose the format that works for you and your team.
Why Are Content Calendars Important?
A content calendar helps you stay organized. This section will look at three reasons content calendars are critical to your content marketing efforts.
Proper Scheduling
Content calendars help ensure all your content-related activities are occurring on time. When you are disorganized, you tend to miss deadlines. The result? You don't accomplish your content marketing goals. With a perfect calendar, you never miss out on a task or lag behind. Not only that, but your outreach team will know when they should schedule an outreach and follow-up email campaign for your content.
Team Collaboration
A content calendar helps ensure smooth collaboration within your team. That presumes you share your calendar for everyone to see the deadlines and prioritize tasks for the day. You can have your editorial calendar in the cloud or the form of a Google Sheet.
Clear Forecast
A content calendar gives other departments a clear picture of what will happen in the next few weeks. That can help them plan relevant events around the content.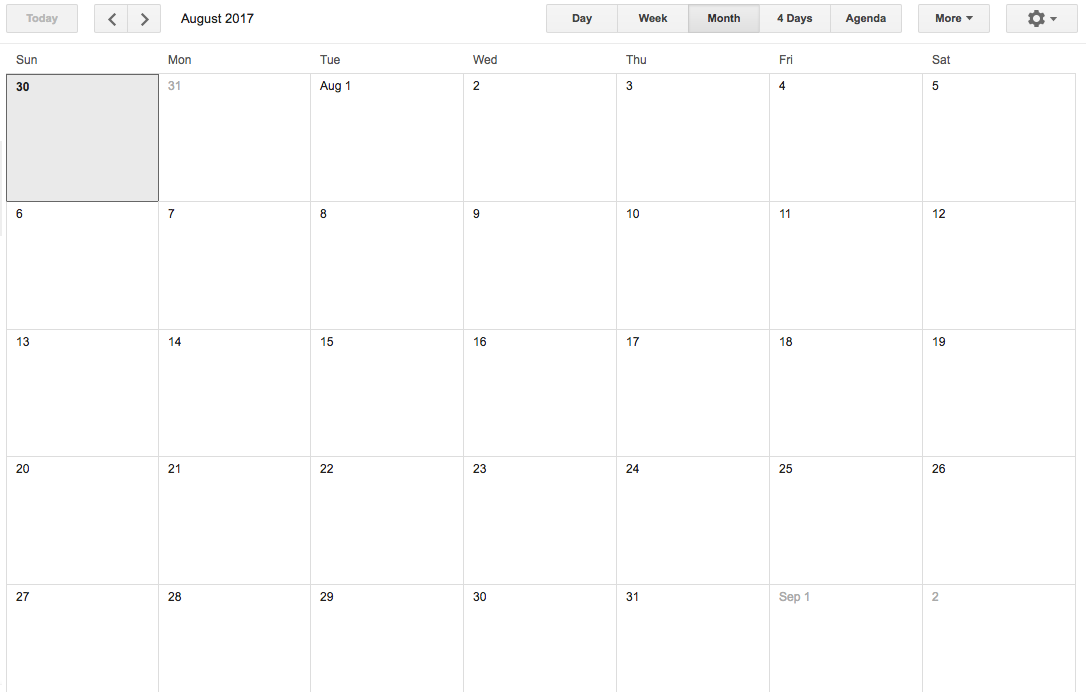 You can use Google Calendar to view content scheduled in advance.
How to Create Your Content Calendar
Follow these tips to create that data-driven content calendar you need. When you start writing your content, don't forget to use content style guides so your content marketing strategy will be a success.
1. Set Your KPIs
Everything you write on your content calendar should help you achieve your content marketing goals. But you'll only know what to write there once you set your Key Performance Indicators (KPI). A KPI is a performance measurement. It evaluates the success (or lack thereof) of your strategies in achieving a specific goal.
Let's say your goal is to increase website traffic by 10%. For that goal, page views would be a good KPI. That's because the more views a blog post on the website has, the more traffic the website has, too.
Once you know your KPI, you can determine the specific steps you need to reach your goal.
For example, you can calculate the number of blog post views you should aim to reach the 10% increase. If you're currently getting 20,000 views in a month, a 10% increase would mean you'd need to get 22,000 overall views in a month instead. To get the new number of views each new blog post should have so you can reach your 22,000 views in a month, use this formula:
Average monthly contribution x % aspirational growth
Then calculate the number of blog posts you need for the month to reach your goal. Here's the formula:
New month content goal / average post contribution
Once you know how many blog posts you need to publish for the month to meet your 10% increase goal, you can create a plan for the types of content to publish and a schedule for when to publish each.
2. Create Content Themes
Content themes are high-quality broad topics that align with your business objectives and customer needs. So if you're selling marketing software, for instance, your content themes could be content marketing, social media marketing, and email marketing. Those themes make sense because when you create content under any of those topics, you are likely to attract people who are most likely interested in purchasing your product, too.
Content themes should influence your brainstorming and content development efforts for several reasons. Here are some of those reasons, according to DivvyHQ:
With content themes, you strengthen your brand authority:

When you write about specific topics, your readers will see you as the go-to person in that field.

You improve your SEO:

When you limit your content to specific topics, search engines can categorize your site easily.

You can come up with topics easily:

Since you limit your content topics, you won't have to entertain too many possible topics. That means you avoid decision paralysis, which, according to

Psychology Today

, stems from choice overload.

You ensure a great customer experience:

Website visitors can easily navigate your site when they have only a few content themes to choose from.
Don't just come up with general content themes, though. Come up with content themes based on holidays and other sales events as well. So, for example, for Easter, if you're maintaining a beauty blog, a possible content theme could be Easter-inspired looks.
3. Brainstorm Content Ideas
Now it's time to brainstorm content ideas. Your content ideas should be based on the content themes you came up with. You can do the brainstorming the traditional way or in not-so-traditional ways. Let's discuss the traditional way first.
Let's say you decided to come up with the content on email marketing and social media marketing. You'd gather all your team members and have them give you specific content ideas under those content themes.
Of the content ideas you come up with, you choose the ones you think will help you achieve your KPIs. As a team, you also determine the content structure (is it a blog post or an infographic?) and where you will have that content published.
You will also have to determine how advanced your content will be on the topic. This one depends on your target audience. So if you're targeting marketing professionals, your content under your pre-determined content themes should be advanced. If, on the other hand, your target audience are first-time business owners who have little experience in marketing, then you'd opt for beginner's content. You can also opt for intermediate content.
Once you have your content ideas, you can organize them based on content type using project management software such as Trello. Add as many cards as necessary. In the end, you should have something like this:

If you're working with multiple writers, you can also include the name of the person assigned to each article on each card.
There are other non-traditional ways you can brainstorm content ideas. If you're alone, you can use Hubspot's Content Brainstorming Key, for example.
Under that method, you just drag the X in each category (target audience, content structure, and content medium), depending on your preference. You then develop as many content ideas as you can with that specific target audience, content structure, and content medium in mind. Include the names of people assigned to each article once you've made your pick of which content to publish.
The Content Brainstorming Key is a great strategy because it allows you to visualize possible content ideas. When you run out of ideas, you can just drag the X somewhere else and change your focus.
4. Set Your Publication Schedule
Now that you have your content ideas set a publication schedule. Find out the best time to post content. According to Coschedule, Tuesdays are great for posting on your blogs. If your content goals include social shares, each social media platform will have an optimal publication time.
According to Sprout Social, here are the best days to post on each platform:
Facebook: Wednesday

Instagram: Wednesday

Twitter: Wednesday and Friday

LinkedIn: Wednesday and Thursday
Plan your publication schedule around that data, and include it in your content calendar. Once you create a schedule, stick to it. You wouldn't want to overhaul your entire publication strategy just because you missed a deadline.
5. Review Your Results
Once you've done everything on your content calendar, it's time to determine whether or not you met the content marketing goals you set out to achieve in the beginning.
If your KPI was X number of page views, did you reach it? If you didn't, by how much did you miss your target?
Take a look at how each content structure performed, too. Did the infographic get the required views? If it performed better than your blog posts, then you might want to prioritize that in your next content calendar, assuming you have the same goal of increasing page views. Did long-form content get more views than short-form content? Then include more of those the next time around.
You need to check whether your content marketing strategy worked so you'll know what content is engaging and what isn't. So the next time you create another calendar, you'll know what content to include and exclude to meet your content marketing goals.
Summing Up
A content calendar is critical to the success of your content marketing strategy. It can help you plan your content marketing activities. It can also help ensure collaboration among members of your team.
To reap all these benefits, though, you need to create a content calendar based on data. You need to strategize based on your target audience and your KPIs. A content calendar created out of whim just won't cut it.
Just follow the tips I shared with you in this article. Once you have your data-driven content calendar, make sure to stick to it. The result? Your content marketing strategy will be a success, and your brand will be well on its way to meet its business goals and beat the competition.
Author's Bio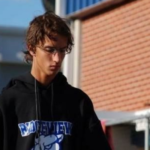 Nicholas Rubright is the communications specialist for Writer, an AI writing assistant designed for teams. Nicholas has previously worked to develop content marketing strategies for brands like Webex, Havenly, and Fictiv.