The human brain is an incredible thing. It's often said that you don't remember what people do, but you do remember how they made you feel. The same reason that's a pretty accurate statement is the same one that makes the idea of a countdown pop up as successful as it is.
For one, it stands out, and you're going to be at least slightly surprised by its appearance. You will also find yourself intrigued if the contents are put together correctly.
These are the feelings you want to evoke in your site visitors, and well-designed and well-placed countdown popups are just the way to pull it off.
What is a Countdown Pop up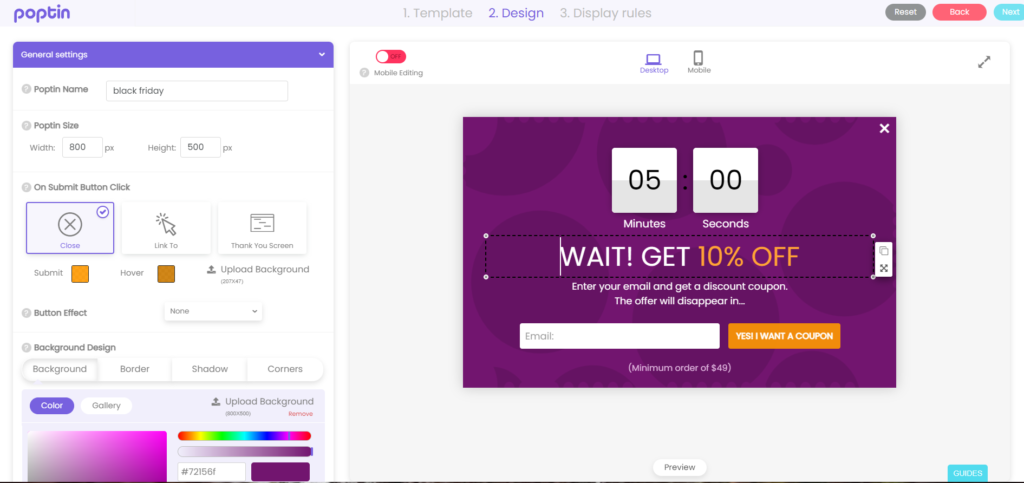 Popups for websites are nothing new. So, what makes a countdown popup so different and so unique? Well, it's all in the name. You see, there is usually a timer prominently featured in the design.
This will be accompanied by some message that's meant to induce action. For example, you may want your page visitors to plug their e-mail addresses into a field and click on a "submit" button.
The countdown element is meant to play on the fear of missing out (FOMO), which is the reason behind many split-second decisions.
By pairing your call to action with a timer, you create a unique situation where what may have otherwise been ignored is now enticing. Imagine being on a site and having some interest in what's there.
Now, you're ready to navigate away because that amount of interest didn't move up or down. You're pretty indifferent, and as you're about to leave, you can get 20% off everything on the site.
At this point, you're considering it, but not enough to guide your decision too much. Then you notice that you have two hours to capitalize on that 20%, or you will have to pay the total price if you return to the site later. Who wants to pay the total cost?
That's the kind of thought process you're aiming to stimulate in potential customers. By using a pop-up, the focus is immediately drawn to what it says. How you put it together can make the difference between greater or less engagement.
Here's a look at how you can use your countdown popups well, as well as some great examples and ideas that you can consider.
How to Use Countdown Pop Ups?
Should your countdown timer popups be a random message with a timer thrown in? Of course not! When you see an effective one, it tends to be very simple from a design perspective.
Nevertheless, it is anything but. You'll find that the elements involved are carefully selected and placed to achieve the desired result.
Here are five beneficial uses that countdown popups bring to the table.
Remember to start by thinking about what you want to achieve before any design or publishing takes place.
1. Stimulate Customer Excitement
Anticipation is at play here. It's human nature to look forward to what's coming. After all, you don't want to be left out, do you?
Take advantage of this feeling and use your countdown timer popups to get people feeling pumped and looking forward to what's to come.
Once the messaging is attractive, it's probably not too hard to get potential customers to throw in their e-mail addresses so you can "notify them when the big day comes along."
2. Grab Attention to Limited-time Offers
If there were ever a use case for capitalizing on FOMO this is it. Sometimes, people would genuinely take advantage of limited-time offers before it's too late. The problem is they don't feel as firmly convinced to purchase as they need to.
By taking advantage of countdown popups, you now cause them to think about it to make a decision actively. Others just like getting something free, saving money, or whatever incentive comes along.
Regardless of which of these situations will work out to your benefit.
3. Increase Email Signup Numbers
In most cases, you're trying to build your mailing list here. After all, promotion is essential if you want eyes to get on your site and whatever product or service you want to sell to your customers.
Getting people to give you their contact information for no reason willingly is not the easiest thing in the world. Thankfully, countdown timer popups can assist by indicating a provision of some benefit that requires an e-mail address entered.
For example, there's the Gravity Transformation website. It has a macro calculator that is meant to help people find out how much they should be eating based on their activity and body type to achieve their physical aesthetic goals.
As soon as you finish entering your lifestyle and body composition details, a pop-up shows up asking for your e-mail address in exchange for the results. Of course, the numbers are valuable to you. That's why you visited the site in the first place. So, throwing in your e-mail address is a minor inconvenience at best.
4. Encourage Customer Feedback
Here, you're incentivizing data input from your customers just as you would be for increasing your e-mail sign-up numbers. The difference is that you want feedback on your product or service instead.
Unfortunately, providing that kind of information is pretty annoying for many people. So, having an attractive reward tacked on to a short survey is always a good idea.
5. Reel in Leaving Customers
Cart abandonment is a massive problem with e-commerce websites. People visit, add items to their carts, and then go away.
As they're navigating elsewhere, it's the perfect time to let them know that they can get the items in their cart for a reduced price, with free shipping, or with some other benefit if they complete their checkout within whatever time frame, you decide. Now, people will think twice and probably even buy whatever was left in the cart.
6. Request E-mail Addresses for Rewards
Consider using incentives that will only set your business back a little to help populate your mailing list. They could even be for future use.
For example, if a customer provides an e-mail address, there is a $15 coupon for the next purchase over $100. You don't necessarily always need to be doing something immediately.
7. Improve Sales Campaign Momentum
Sales campaigns are meant to drive more clicks and buys. Especially if you have a long-awaited event, stimulating interest via countdown timer popups is no small feat.
Perhaps you can provide potential buyers with the option to take advantage of the "early sales prices" or offer them a sneak peek into the event, causing people to prepare themselves for what they want to buy.
8. Build a Waitlist for Anticipated Products
This goes beyond just letting people know what's on the horizon. Here, the intention is to use the information to collect you collect to understand precisely where the interest lies.
This is useful if you plan to introduce multiple products or services simultaneously. For a reward, you can have people tell you exactly what they're looking forward to, which allows you to game plan effectively and even change your product launch plans entirely.
9. Incentivize First-time Customers
First-time customers are yet to develop any brand loyalty. However, that starts with purchase. Attractive coupons or discounts on first purchases are one of the most successful methods for initial conversions. Why not use countdown popups to let them know what they can have?
Countdown Popup Ideas and Examples
Christmas Countdown Popup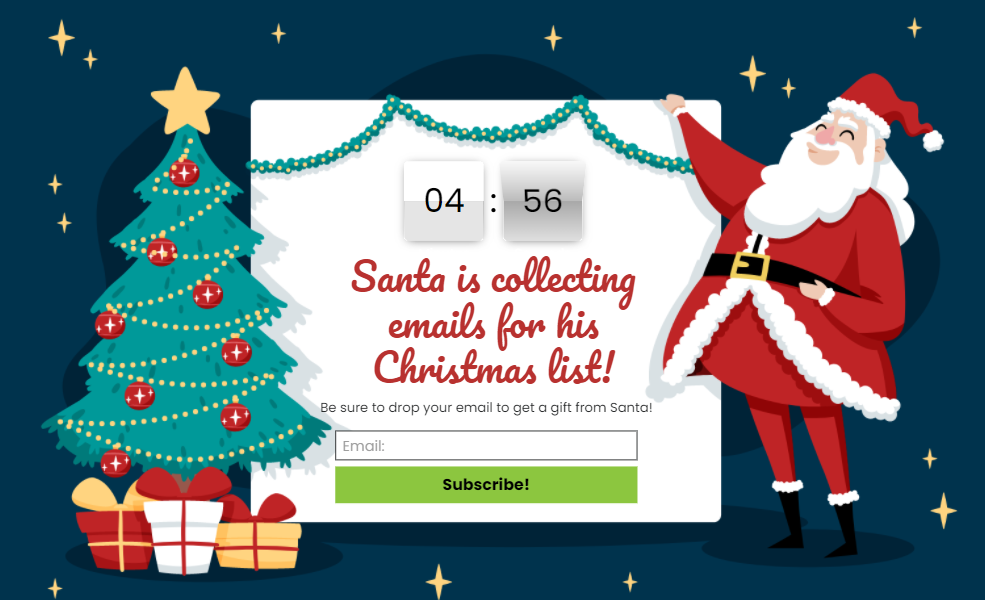 Countdown timers are a common type of Christmas popup that display the number of days, hours, or minutes remaining until Christmas Day. These timers can build excitement and anticipation for the holiday season, and drive more visitors to convert into sales.
Use Christmas countdown popups to create a festive atmosphere or promote holiday-themed products or services, which may include promotional codes or links to specific pages on the website.
B2B Countdown Pop Up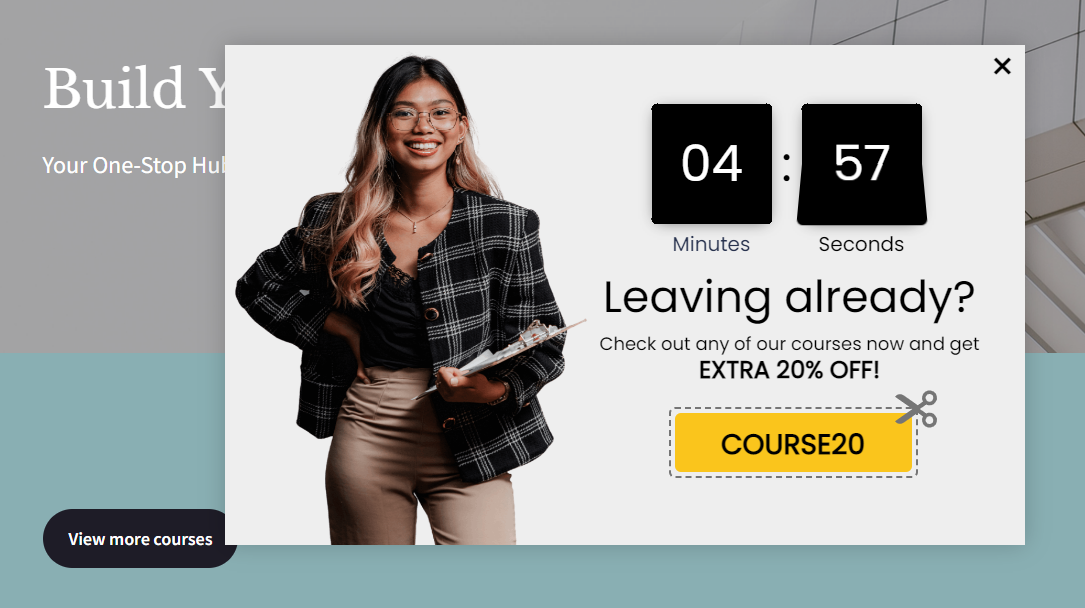 There's no limit to how you want to design and launch your B2B countdown pop ups. You can use it to generate more leads, offer discounts, welcome first-time visitors, get more subscribers, and invite people for product demos.
Easter Countdown Pop Up
Nothing beats the cuteness of Easter countdown popups. You can play around love colors and elements as you offer your Easter-themed promotions, events, and services to your visitors.
Valentine's Day Countdown Popup
Countdown pop ups can be a valuable tool for promoting special offers, announcements, or events on Valentine's Day. To make the most of your Valentine's Day countdown popups, consider offering a holiday-specific promotion or discount, using romantic imagery, and including a clear and compelling call-to-action.
It's also crucial to set the timing and frequency of the popup carefully and to test and optimize your Valentine's Day popups to see what works best.
Mother's Day Countdown Popup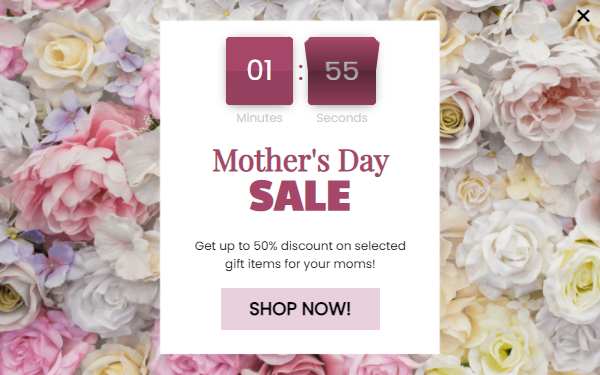 Consider offering a special promotion or discount that is only available for a limited time on Mother's Day. This could be a discount code or a special bundle deal. It's a once-in-a-year moment to honor moms, so why not take this chance to offer them something big? It's either a discount code or a special bundle deal.
Halloween Countdown Pop Ups
Halloween is also one of the most anticipated times of the year. It's the holiday when everything's spooky! You can unleash your creativity and use more Halloween-themed elements to catch attention, such as ghosts, witches, and monsters. Use these themes in your popup design to make it feel more appropriate for the holiday.
Some brands also take advantage of countdown banners on their website.
Payless ShoeSource

This one is pretty simple. Payless is doing a series of holiday reveals where selected brands go on sale at different times over four weeks. The pop up is attractive enough to show off what is currently on sale, and it may entice you to buy that. Additionally, there is a timer counting down to when the next reveal will come.
So, you find that this one has two objectives. The first is informing you that the sale is on and what you can get now while building anticipation is building for what is coming next.
WWE Shop
WWE Shop cells merch and other items related to superstars and the show. Perhaps the prospect of buying the items at their regular price doesn't necessarily entice you. However, if you got a big enough discount, there may be a conversion.
This countdown timer pop-up capitalizes on FOMO quite well. You can get 40% off, but only if you act within the next five hours. How can you possibly pass that up?
Fashion Nova
Fashion Nova needs no introduction. If you notice, this pop up consists primarily of women, which may be by design because they account for the most significant percentage of online purchases.
Why would they pass up the ability to buy something and get a similar item free across the entire site? Fashion Nova knows the power of "free stuff," so you had best believe that coupon will be used.
Conclusion
Countdown timer popups are incredibly useful for a plethora of reasons. Building them, however, requires a bit of creativity and an excellent base to start with.
With Poptin, you can take advantage of various templates, embedded forms, and more in different attractive designs to easily create your countdown pop ups to entice your site visitors and boost sales.