There are many ways to grow your Shopify store but an all-time, trusted method is to use email marketing to convert your prospects into actual customers.
Email marketing still reigns supreme, even now, more than ever that personalisation and technology are influencing customer behaviour.
But how effective are you at growing your email list? Are you still hoping and waiting for your prospects to fill out your contact forms and perhaps leave their emails, or are you actually taking active steps and using the right tools to capture prospects on your Shopify store at the right time?
You see when we talk about the right tools, we don't just mean any tool out there. We're referring to popups – those tiny or sometimes large window boxes that pop up on your screen when you're browsing through a website.
Yes, those popups, however, you may feel about them, will indeed contribute to increasing your lead conversions if you use them rightly.
As a Shopify store owner, you're probably looking for the best ways to maximise your website traffic without spending a fortune on marketing. In that case, you need a popup app for your Shopify store.
The best popup for Shopify are ones that offer a chance at growing your leads and conversions using exit intent technology or special triggers and targeting rules that make the most of your conversion efforts.
But before we talk about the best popup app for Shopify stores, let's review the different popups you can use to improve your email list.
The Types of Popups You Need
Let's start with an overview of the various popup options your application should offer. This way, you can get a tool that provides you with the popup styles you need to enhance your list-building strategies.
You're familiar with these — they appear when you scroll down to a specific web page area, for example, halfway down a blog post. Some appear even before then.
This works well because it appears for visitors engaging with your content (and more likely to want to sign up for your email newsletter).
Then there are the popups that show up after a certain time. For instance, 30 seconds after a visitor lands on a web page.
This is another excellent method for capturing leads from prospects showing interest in your site. The longer they're on your website, the higher their interest.
But you don't want to wait too long to show your popup, or you'll risk them leaving too quickly.
Now, if you want your popups to be more targeted, you can activate them when a particular image, word, or link is clicked. This eliminates anyone who doesn't complete the action, so it has a backup for capturing visitors with different behaviors.
Exit intent popups are one of the most effective popups you can use to capture leads from your Shopify store. If you're confident in the quality of the traffic you're driving to your website; then you don't need to do any more targeting.
Simply set up a popup that shows when visitors are about to click away from your Shopify store. For instance, when they're about to click the back or close button.
Do You Need Popups for Your Shopify Store?
Absolutely!
When you're in the e-commerce business, you need a way to market your products. And as we find, retailers do best when they have a flourishing email list of targeted and engaged email subscribers.
You have several options for achieving this. You can hope your blog will captivate your audience enough to fill out the opt-in newsletter form at the bottom or side of each post.
However, who's to say they'll even take the time to look at your offer, let alone sign up for it?
Or you can shell out money to pay for ads to drive people to a landing page for your newsletter sign-up. But this can quickly become an expensive ordeal that yields little to no ROI.
This is why popup forms have become so popular. You can easily convert your visitors into hot leads when shown at the right time and with the right message.
Once you grow your email list, you can continue to engage your audience and potentially earn (more of) their business. Stats show email can generate $38 for every $1 spent.

So which popup app is the best for your Shopify store?
Let's take a look.
Poptin – Exit-Intent Popups App for Shopify Store
There are several reasons why we consider Poptin to be the best exit-intent popup app for Shopify stores. For one, it offers all the different popups we listed above. Plus, the design is intuitive enough for a first-time user to create popups within minutes.
Create your exit intent popups for Shopify stores here!
Features
This popup app is used by digital marketing agencies, online marketers, bloggers, and e-commerce website owners.
You can easily create and set up popups for your Shopify stores based on exit intent, scrolling, multiple clicks, a link click, or time-based triggers.
It has a drag-and-drop editor to quickly create fully responsive popups for Shopify and even conduct A/B split tests.
And best of all, you can try it for free today using the free version. Afterward, you can pay for the premium version to unlock its excellent features.
Plans
There are multiple pricing plans to choose from — the Basic plan is $25/mo, Pro plan is $59/mo, and Agency plan is $119/mo. You can also save 20% by choosing annual plans.
How to Use Popups to Grow Your Shopify Store
So how can you use Poptin to make your Shopify store perform better?
Let's take a look at several strategies.
1. Reduce Cart Abandonment Rate with Exit-Intent Popup Apps
We can't deny the power of exit-intent popups. When used correctly, you can use it to reduce your bounce rate and even your abandoned cart rate.
If you're suffering through a high cart abandonment rate, it may be due to several reasons. In many cases, the visitor gets distracted or is still shopping around and is leaving to check prices elsewhere.
You can use exit-intent popups to remedy both problems. When your shoppers fill their cart and then aim to leave, a popup can capture their email and offer a discount.
The discount offer alone can help deter shoppers from going to a competitor. Then if they still don't check out, you can use their email to remind them of their abandoned cart (include a discount to entice them to return).
Poptin makes it simple to create exit-intent popups for your cart-abandoning visitors.
2. Upselling and Cross-Selling Popups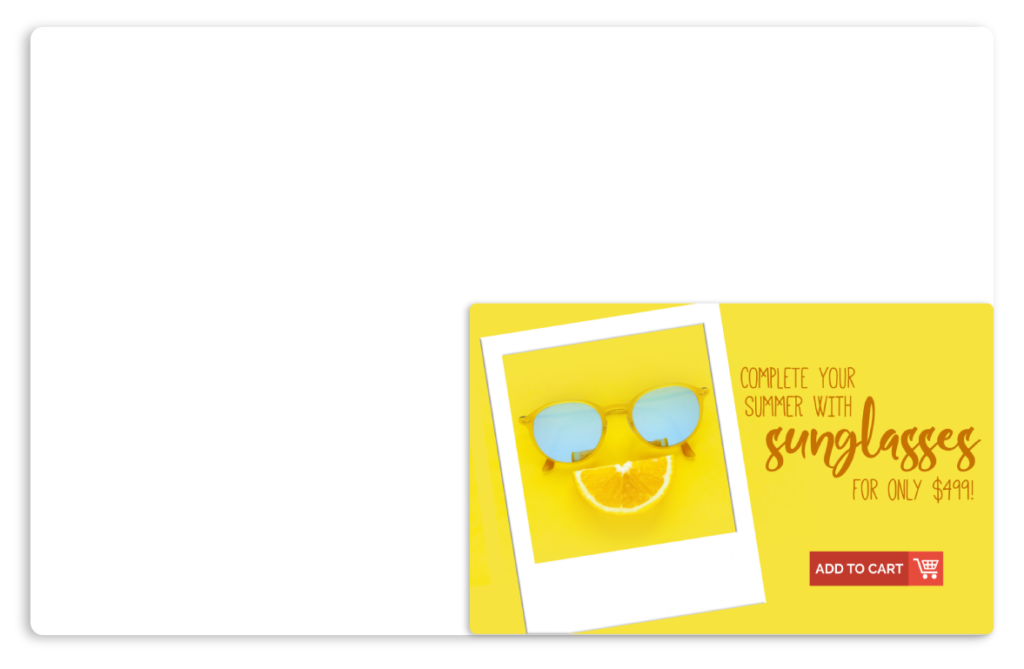 The best e-commerce stores have the best sales tactics. This includes using upselling and cross-selling techniques. You can implement this into your strategy using popups.
For instance, you can create segmented Shopify popups for specific visitors. Let's say you have a visitor looking at boys' shoes and then show a popup with boys' clothes that match the shoes they're browsing through or have in the cart.
This is an example of cross-selling — you're trying to get shoppers to buy other related products.
Another option is to show popups with a similar product at a higher price. For this to work, the item should be of a higher quality and/or have better reviews.
Today's shoppers always look for the best deals but are keen on buying the highest quality goods.
You'll have to set up these popups on your product pages, requiring lots of experimentation to find which convert the best.
3. Offer a Discount to Newcomers Using Time-Triggered Popups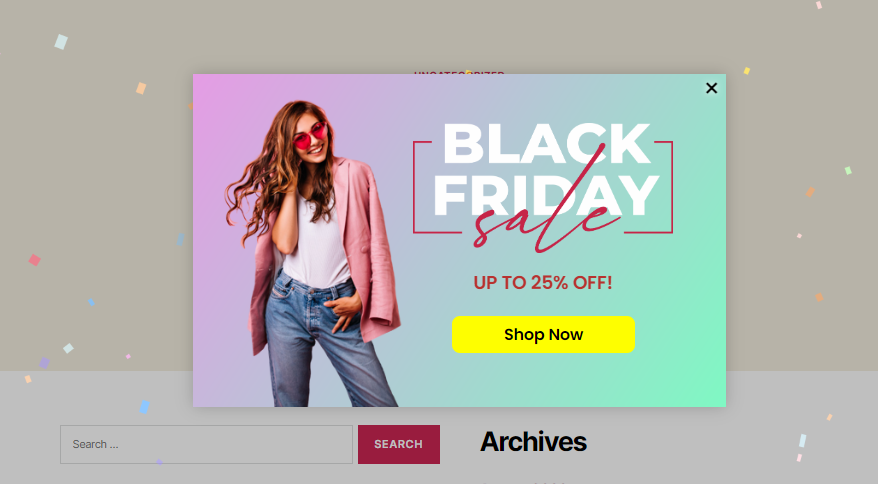 When new visitors come to your site, you want to get them to stick around. Besides using Shopify exit-intent popups, you can use time-triggered ones.
One way to do this is to create popups that show up within 30 seconds with an offer. This can be a discount code, free shipping, or another incentive to make them want to shop (and, more importantly, purchase).
You can either have this show up specifically for new visitors or use it for returning visitors.
4. Segment Your Popups Based On Category and Page
You'll find many different scenarios you can take advantage of using popups. This will require A/B testing to identify which popups and messaging work the best.
You can use specific Shopify popups in each store category to give you an idea. For example, popups show when shoppers are browsing through your show section, purse section, or any other type you have.
Then if you have a blog, you want to use popups Shopify that are relevant to the content. For example, if you wrote a blog post about this season's hottest purses, creating a popup with a coupon for a handbag would be ideal.
Start Building Powerful Exit-Intent Popups for Your Shopify Store
Popups are valuable for building your email list and growing your sales. However, it requires the right app and strategy.
So your next step now is to sign up for Poptin to start experimenting with your strategy. You can easily create A/B scenarios to see which campaigns perform the best.
Try the above tips to see which suits your visitors and shoppers. Then come back and let us know what worked!