The e-commerce sector is increasing, with customers purchasing goods from online retailers. However, most consumers prefer to invest in well-known brands; thus, creating a recognizable eCommerce brand is vital if you want to succeed long-term in this game.
Crafting an eCommerce brand is challenging, and creating an asset that adds genuine value to the marketplace requires a long-term vision to be built. This article will explain the significance of branding in the e-commerce industry and the actions you can take to advance your e-commerce brand.
What is an eCommerce brand, and why is it important to build one?
Any company that offers and sells products or services online is an eCommerce brand and will carry out online transactions by digitally transferring money and data.
However, your eCommerce brand is more than your name, logo, and a catchy tagline; it's also how people see your company and its character. It's the perception that customers have about an online retailer with whom they have had any kind of interaction.
There has never been a better opportunity to launch an online business, with retail eCommerce sales expected to exceed about $6.8 trillion globally in 2023.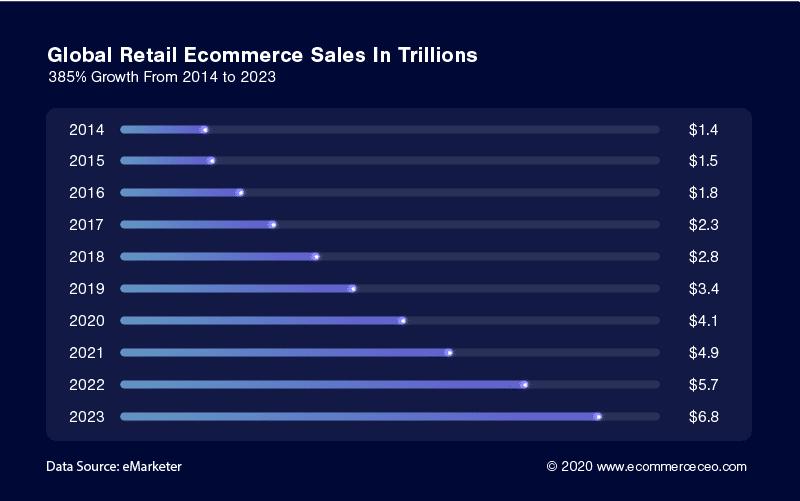 But how much does it cost to start an eCommerce business that brings money to the table? This is what we will explore in the next section.
How much does it cost to start an eCommerce business?
An eCommerce business can start with a minimum budget of $100, which include a subscription to an eCommerce platform like Shopify or BigCommerce and a theme to begin crafting your online presence.
Ecommerce businesses are less expensive than physical stores because they don't need as many licenses and permissions and don't have to pay rent for a storefront. For instance, starting a dropshipping business will probably be less expensive since you won't need to invest in inventory, raw materials, or other costs.
In the first year, new eCommerce store owners can anticipate business costs of up to $40,000, which are recovered by profit margins and returned to the owner. This does not imply, however, that you have to spend $40,000 on the launch of your online store.
Depending on the industry, the eCommerce business model, and whether the business is a full-time job, this cost can change significantly. The following chart illustrates the sections in which eCommerce businesses spend their budget in the first year: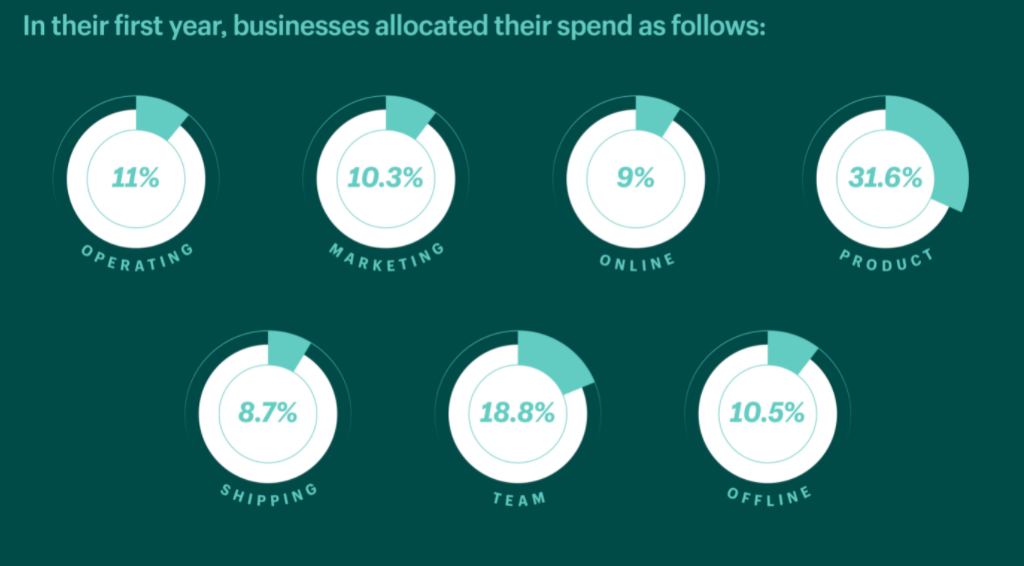 We can see that there are various sections in that a business owner needs to invest money in the beginning, but everything depends on the business goals and the long-term business plan you have in place.
Many business owners prefer to start low and scale up the business as it produces more and more revenue.
Seven ways to create an eCommerce brand
Define your brand's target audience
Any eCommerce business' success depends on concentrating on the appropriate target market and producing as much value as possible. Even if your product is perfect, you will struggle if you don't reach your intended market.
Potential buyers instinctively connect with audience-focused marketing, so they're willing to pay for your product because they already want it. Therefore creating a buyer persona and having a deep understanding of where your potential customer is spending time and money can drastically increase your chances of success.
Some of the characteristics to keep in mind are:
Who are they? (search beyond demographics trying to find interests, needs, and behavioral patterns)
Where are they spending time? (Find the platforms, social media, or groups that you can connect with them and build a rapport)
What do they struggle with? (Research their pain points and the problems they struggle with that your product could solve)
Which search terms do they use? (Find the phrases and keywords they use to search for products, so you optimize your copy to draw them organically to your store)
Outline the benefits of your brand
Similar tools are frequently used by brands today to differentiate your products from those of your competitors in a crowded market and emphasize the features that set your brand and product apart from others.
Make yourself stand out by:
Focusing on narrow target markets.
Using a tagline that expresses your mission and values
Adding another layer to your product or service that your competitors ignore
Highlighting the unique perspective of your products or services
The optimal way to approach these topics is through stories. As people, we remember and relate to others on an emotional level through storytelling than through any other kind of communication.
You must communicate your brand's story in a way that inspires confidence in potential customers and gives them access to the inner soul of your company. Therefore, share how you ended up building this startup. Why are you here? Why would someone choose to purchase something from you?
Those are questions that every new visitor to your e-commerce website will ask. Customers generally want to get to know you, even though some things may make them fall in love and buy before they even care about who you are.
Pro Tip: The responses should all be incorporated into your brand strategy and help your company differentiate from competitors. In the following steps, we will explore tactics like email marketing and content creation that can help you portray the benefits of your eCommerce store.
Create diverse content types
Every eCommerce brand should produce content on blogs, podcasts, or YouTube videos. Read that again.
Online presence is vital in today's marketing world; content that can pierce through your potential customers' screens can be game-changing. As a brand, you need to produce content that is both engaging and provides value to your potential customers.
The easiest way to do that is by creating a blog that educates your readers about your niche. You can add more channels to your branding strategy with podcasts or videos.
Creating podcasts can be budget-friendly and has many benefits for your online presence. You can take interviews from highly authoritative people in your niche, which increases your brand's credibility, or share your thoughts on various topics that solve customers' pain points.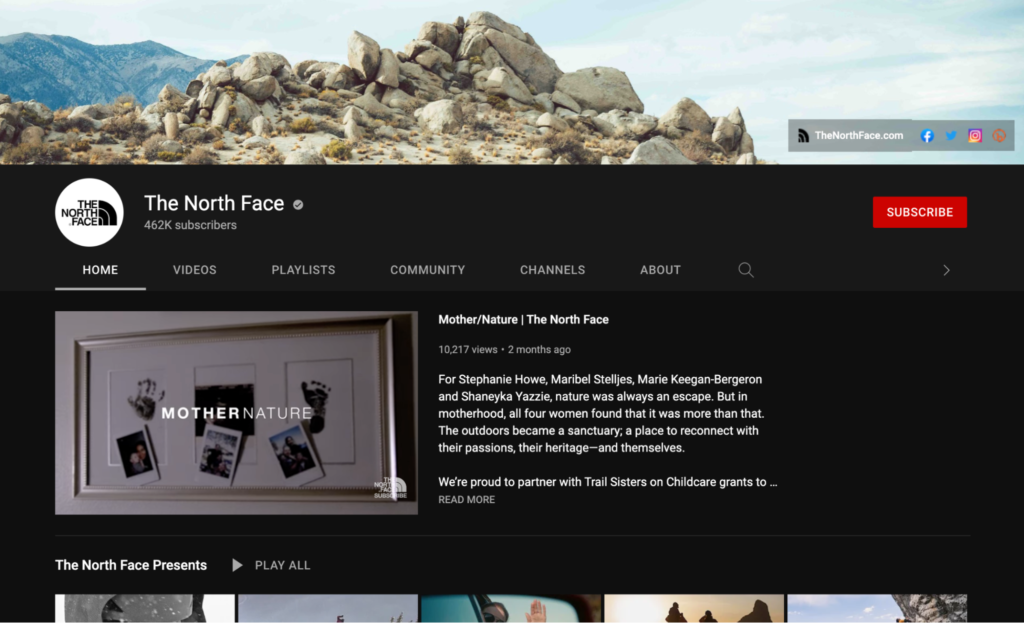 The same rules apply to videos which can increase the budget for their production, but it's one of the most vital tools in your arsenal if you want to grow fast while creating meaningful connections with your audience.
Invest in email marketing
We analyzed why content is essential for your eCommerce business to grow, but now we need to find a way to distribute this content to potential customers. Email marketing is an excellent channel, and the best part is that you only need email marketing software to kickstart your email campaigns.
Dedicated email marketing software can help you optimize your campaigns, capture leads through landing pages and opt-in forms, and create a high-converting email marketing funnel.
Using custom responsive templates, you can craft an email design that combines your best-performing content, your social media channels, and other valuable tips and news you want to share with your audience. It's that easy, literally.
Pro Tip: An excellent strategy for eCommerce brands is to set up email automation for their customers' specific actions. Apart from the newsletters you may send to your customers, you can set up cart abandonment emails or other behavioral triggering emails to focus more on producing additional income for your business.
Experiment with advertising
Organic traffic can take you far, but advertising can bring you fast. The only caveat is that you need a lot of budgets if you want to prioritize this channel. Trial and error is a must when it comes to advertising, and you must be ready to spend a lot of resources on content and ads.
However, many eCommerce brands thrive with ads so you may be one of them shortly. You first need to understand where your audience is and the best type of content to grab their attention. It can be a visually pleasing image, a product demo video, or an infographic showcasing your product's or service's benefits.
Most brands prefer Instagram and Facebook because of the targeting algorithm, while TikTok is becoming more popular recently because of the lower costs of the ads. Google is another beast for advertising where you can place your ads as a 'search result,' as a display ad, or even as a preroll YouTube video.
With paid advertising, possibilities are endless, and you should experiment if you want to see faster growth for your eCommerce business.
Invest in outreach and link building
As we mentioned, building a solid rapport with your audience is crucial for growing your business. A high-authoritative website is a must in this situation, and to create one, you need to create links that drive traffic to your content.
You can achieve this by using cold outreach, which can be an excellent way to connect with like-minded people and collaborate. Although outreach can be intimidating for many people, it benefits both parties as you may use it to build links to your website or create partnerships.
Extra exposure that points back to your products or services is essential to take your brand to the next level and increase sales. You can leverage special discounts, for example, that you can offer your partners to share with their audience. You can start an affiliate program to help you add another income stream to your business.
Establish a social media presence
Most people have at least one social media account, whether Facebook, Instagram, or LinkedIn. Being present online is an absolute must for eCommerce businesses that want to build a deeper connection with their target audience.
However, building a social media following can be challenging, so it is essential to focus on channels that have value for your type of audience. For example, if you are into cosmetics, Instagram would be an excellent channel for your business. Posting QR codes (created using any of these best QR code generators) pointing to product pages can help in further increasing your sales.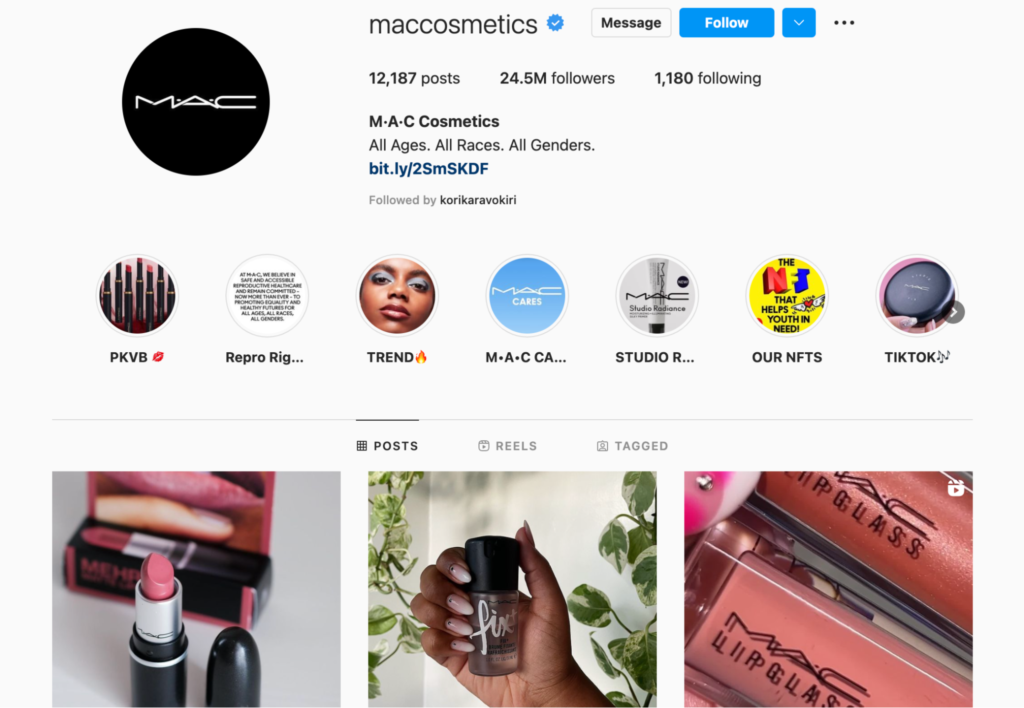 However, if you are more into consulting-based services, you may consider using LinkedIn and spending time educating your audience with valuable tips on your niche.
Whatever the case, eCommerce brands that understand the power of social media achieve massive growth. If you want to ride the wave, you better start building your social media accounts effectively.
The Takeaway
Starting an eCommerce business is challenging, but you can create a future empire with the right tools and blueprint. Start with as little money as possible and push the boundaries as your business grows organically.
Leverage content and use distribution channels like email marketing and paid advertising to portray your values to your desired audience. Social media presence is also vital to establishing a well-recognizable brand as more and more people spend hours shopping online.
Remember that building a business is time-consuming, so take a breath and dive deep into an ocean full of possibilities.
Author's Bio: Alex works at Moosend as a content writer. He took a chance and moved from his professional architectural career to the field of digital marketing and hasn't looked back. He enjoys traveling to new areas throughout the world in his spare time.