JangoMail is an email marketing platform that focuses on helping its users send all the messages they want to their customers, leads, and prospects in the easiest way possible.
However, its price is not affordable at all. 
Therefore, most users prefer going for other alternatives instead of trying JangoMail.
The problem is not everyone knows which platform to go for, and some of them are not that good at the end of the day, so it's difficult to find someone to trust. 
Try any of the JangoMail alternatives and similar email marketing platforms below and enjoy their benefits! 
JangoMail Alternatives for Email Marketing
MailChimp is one of the best JangoMail alternatives you can find on the market, and it's the must-go option for most users looking for a marketing automation platform.
The best thing about MailChimp is its transparency and how you can create an optimal customer journey for first-time buyers.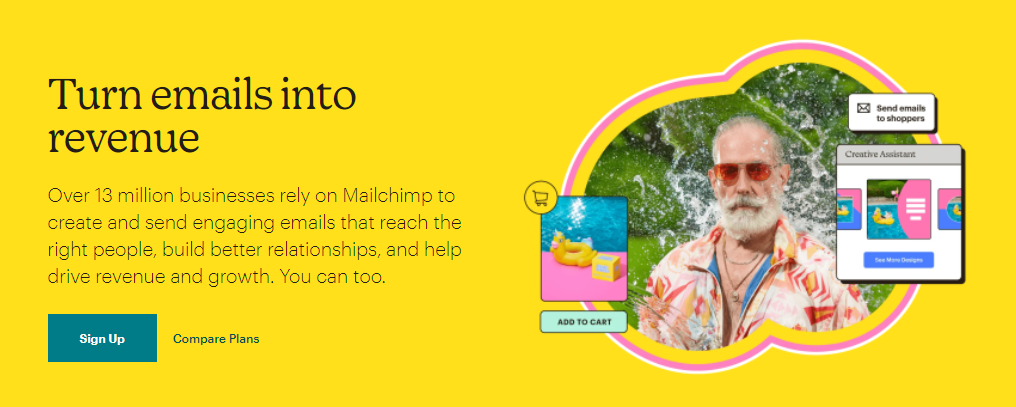 Features 
MailChimp classifies its features in Audience Management functions, Creative Tools, Marketing Automation, and Insights & Analytics. Starting with Audience Management, it allows you to successfully segment and target your audience.
Audience Management
You can't create a decent marketing strategy if you don't know who to direct your efforts, and this is when this feature comes in handy. You can create signup forms to collect all the information you need from your leads and then compare it with the one from others. 
Segmenting your audience becomes easier after that, and that includes behavioral targeting, insights, and even an audience finder. MailChimp can access this feature from the platform's mobile app. 
Creative Tools
Creative tools, as their name suggests, are everything you can use to create high-quality content for your email marketing strategies.
Here is where designers make your brand look different from any other online, and that includes the messages you send to your clients.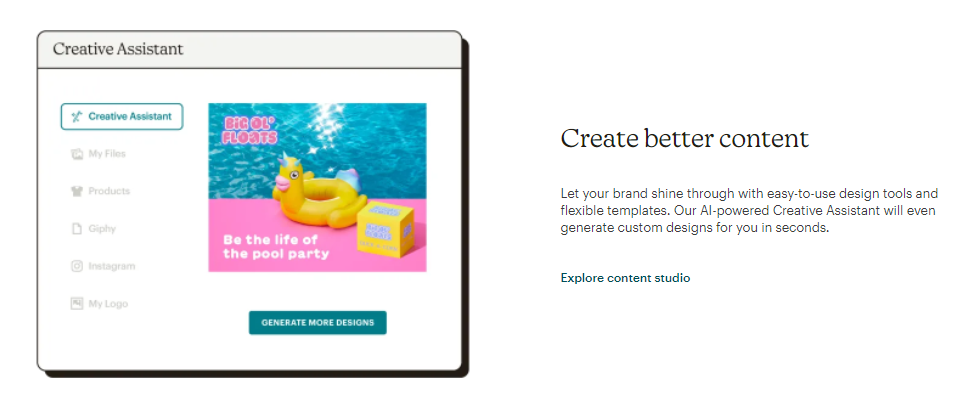 Nonetheless, if you don't feel like spending all day designing something, the app's creative assistant can automatically create designs based on what you want for your company.
As for messages, you only need to create one and let the dynamic content feature personalize it for all your clients. 
Marketing Automation
This is when things get more interesting since you can design the customer journey you want for your new clients.
Doing this helps you manage your leads' expectations and what you want to show them to keep them from leaving your website. Integrations are also compatible with MailChimp.  
Insights and Analytics
You can't improve your marketing strategies if you don't keep track of the things you need to improve about them. Insights & Analytics let you use test subject lines, content optimizers, and even campaign benchmarking to understand what works for your customers and the things that don't.
Pros 
Simplifies email segmentation audience targeting
Offers you several pre-made templates for you to use and also allows you to create some of your own
Analytics reports give you insights on what you need to improve about your campaign
It helps you create the ideal customer journey for your clients
Cons 
It doesn't have a cloud-connected desktop app
Some integrations are not optimized
Pricing 
Free Plan – $0-monthly
Essentials Plan -$11-monthly
Standard Plan -$17-monthly 
Premium Plan $299 -monthly
Who Should Use MailChimp? 
MailChimp is for everyone looking forward to creating templates and an optimal customer journey for their clients, so it's best if people who already know something about eCommerce use it. 
While MailChimp is excellent for companies regardless of how big they are, Mailforge focuses on small and mid-size companies.
Thus, it has one of the friendliest interfaces on this list, which makes it perfect for beginners in eCommerce. 
Features 
Mailforge features include Email Marketing functions and Lead Generation functions. They are:
Email Marketing
Email Marketing features offer you everything you need to create and send emails to your customers. Firstly, one-time emails and scheduled emails are on the table, so you don't have to wait a lot of time to send something to your clients at a specific time.
On top of all, you can split test your emails before sending them to make sure everything's okay.
Lead Generation
Although email automation apps focus on making sending emails for your customers easier, some of them forget you can't have customers if you don't generate leads in the first place.
Mailforge understands this, so it includes popup editors, embedded forms, and sharing links for your website. 
Pros 
It's affordable
It's user-friendly
It offers decent lead generation features
Cons 
Analytics and reports are not that good
It's not the best option for big companies
Pricing   
Free Version -$0 
Professional Version -$20/monthly 
Enterprise Version – Custom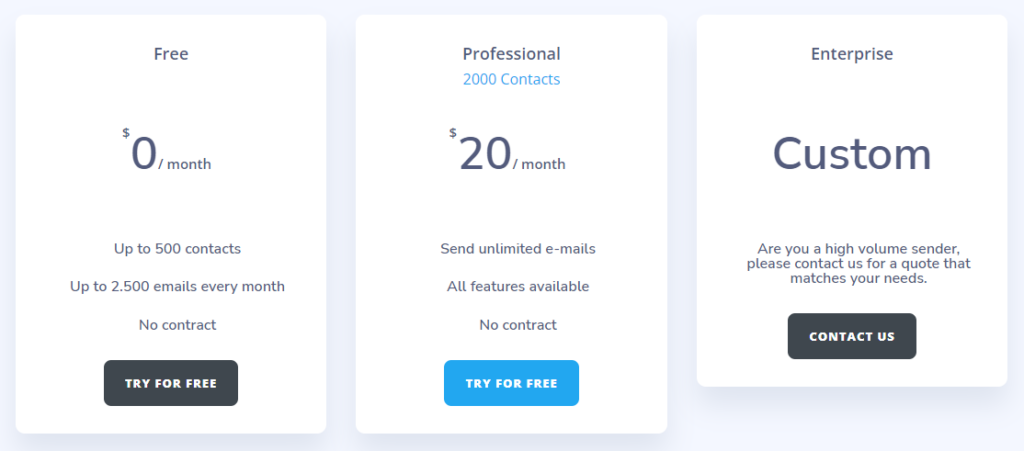 Who Should Use Mailforge?
Mailforge works its best with startups and businesses that are not that big.
As we mentioned before, each company must offer something that makes it unique and different from others on the market.
When it comes to Sendpulse, it allows you to work on SMS marketing, Facebook chatbots, and popups.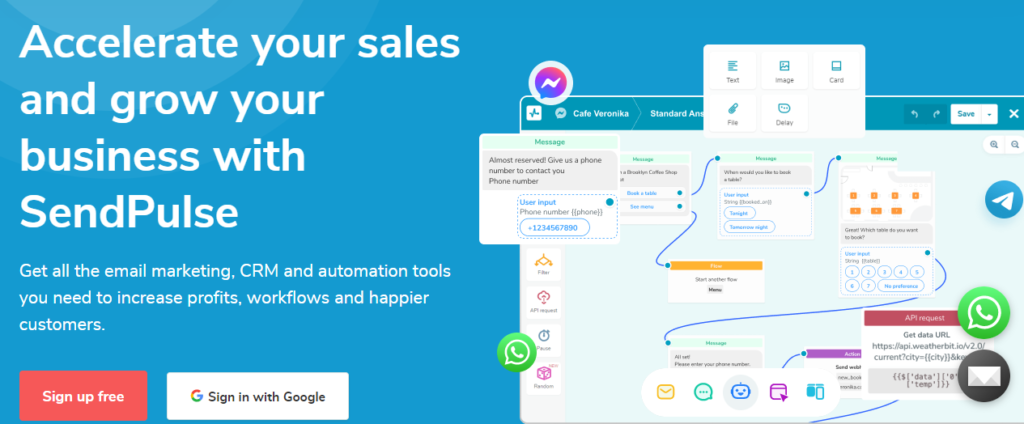 Features 
Email Campaigns
Sendpulse gives you everything you would need in an email marketing campaign, but this app's flagship feature is its drag-and-drop editor.
Even a beginner would easily use this editor, so it's excellent for startups and people who don't know that much about marketing.
Aside from that, you can create subscription forms any time you need and check the statistics on how your strategies are doing.
Chatbots
Although not many people know how they work or use them, chatbots are useful for getting to a younger audience on social media.
Sendpulse doesn't only help you achieve a more effective support service on Facebook since now you can also use it on WhatsApp, Instagram, and Telegram. 
SMS
SMS campaigns are more effective than many people think, but you can only take advantage of their benefits if you use a decent automation app for it.
Using Sendpulse is one of the safest bets you can make on the matter since it offers complete language support, high-speed delivery, and integration with CRM and CMS.
Pros 
It offers intuitive chatbots
Excellent customer support team
You can use its beginner-friendly drag-and-drop builder
Cons 
It lacks some integrations
Pricing 
Free subscription -$0/mo 
Standard subscription -$6.40/mo 
Pro subscription -$7.68/mo 
Enterprise subscription -$10.75/mo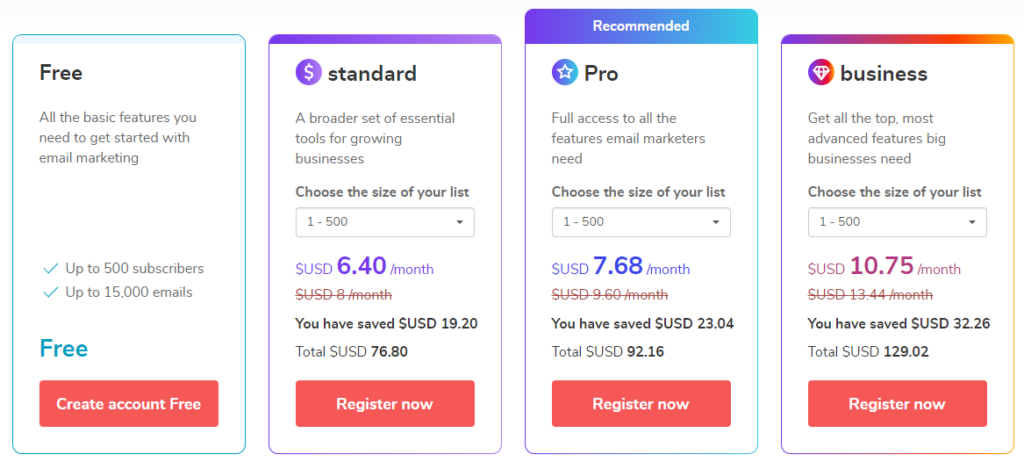 Who Should Use Sendpulse?
The email automation and SMS features Sendpulse offers are decent, but this software shines its most due to its chatbots.
Therefore, this app works its best with businesses that need to stay in touch with their customers daily. 
Good Read: Boost Your Email Pop Ups with Poptin and SendPulse Integration
When you hire an average email marketing software, you can create emails and use a standard email for a business platform. Mailify offers you a whole team there to help your company grow to like it never did before. 
Features 
Email Automation Tool
Mailify's features may seem simple at a first glance, but the beauty of them is how the Mailify team helps you adapt each tool to your business model. This company wants you to take the most advantage you can of its tools, so it guides you through every step of the process.
SMS Marketing Platform
Communicating with your customers and prospects is crucial to building a loyal community. Mailify's SMS marketing platform has a 95% opening rate, and it helps you gather all the information you need from your prospects.
Pros 
It has mobile and desktop compatibility
Its first 30 days are free
It directly communicates with you to help your company grow
Cons 
It's too complex for beginners 
Pricing 
5,000 emails -$69/mo 
10,000 emails -$99/mo
25,000 emails -$139/mo
Who Should Use Mailify?
Mailify is for experienced marketing teams that want to take their company to the next level. 
Mailigen defines itself as an integrated marketing platform you can use for both social media and email marketing.
Features 
Although it supports social media integration, Mailigen focuses on marketing by email. Thus, its best features are its email automation that sends trigger responses and gives you valuable insights on your customers and the smart email builder that allows you to create emails in a matter of minutes.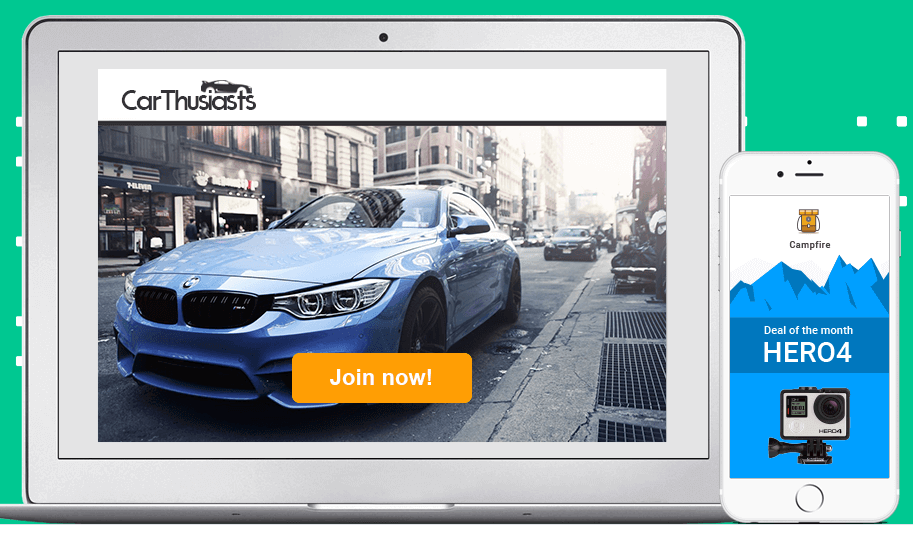 Pros 
It has an intuitive interface
Integrations are excellent
Customer segmentation becomes easier with it
Cons 
Pricing 
Starter plan – $10/mo
Professional plan – $19/mo
Premium plan – $299/mo
Who Should Use Mailigen?
Integrations are not always that good on email automation platforms, so you can go for Mailigen if you are looking for an app that has optimized integration and focuses on automation. 
Freshmail aims at giving you a wide variety of templates for you to create appealing emails for your leads and clients.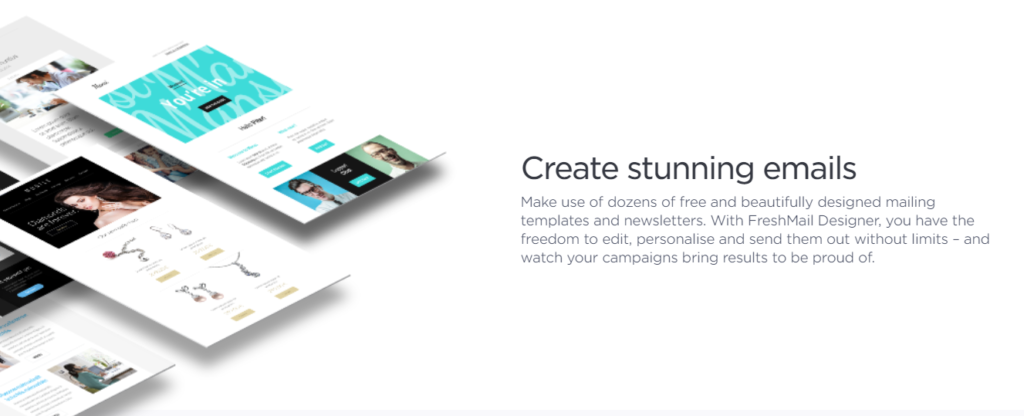 Features 
As we mentioned before, Freshmails' top priority is to give you as many templates as you can get, and its other features are there to optimize how you use those templates.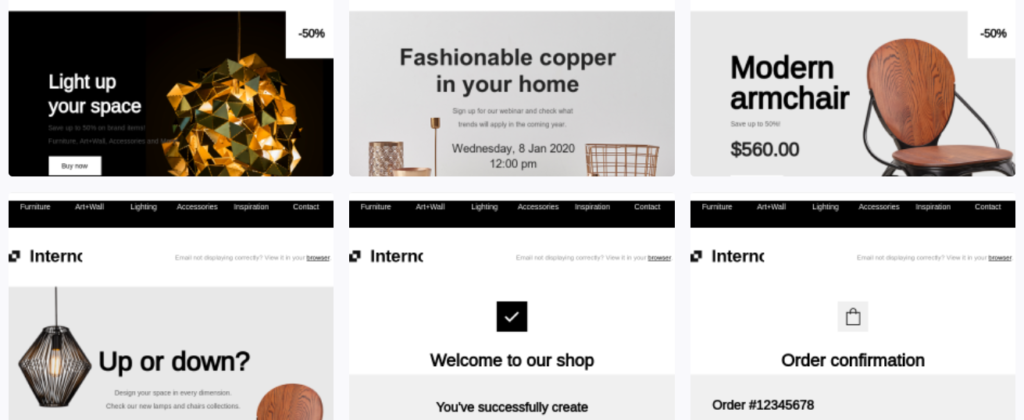 You can use its real-time email tracking to see how your emails are doing before creating new ones. 
Pros 
It offers numerous templates
It has real-time tracking
You can test your emails before sending them
Cons 
It lacks basic features that other platforms have
Pricing 
Starter – €12/mo
Standard – €44/mo
Pro – €94/mo
Enterprise – €580/mo
Who Should Use Freshmail? 
Freshmail is for people who mainly want to try new templates for their business instead of focusing on other areas of email marketing.
Conclusion
As you could see, JangoMail is not the only software that offers you email marketing templates and automation features.
You can pick any of the platforms on this page and see how that benefits your business in the short and long term. 
Want to know more about email marketing? Here are helpful resources for you!