The idea in the online business world is to attract as many visitors or potential customers as possible for a particular business to expand.
We can assume that this was much more difficult to do before the so-called pop-ups appeared on the market.
Minangka windows sing katon ngarep-arep bisa ngonversi maneka pengunjung, pop-up saiki dadi alat utama sing digunakake para pemasar saben dina.
Apa sampeyan seneng utawa ora, kasunyatane windows kasebut dadi luwih umum lan saiki ana akeh aplikasi pop-up.
So, as MailChimp is a popular platform that constantly helps small businesses by offering various tools and apps, we have selected the four best pop-up apps for Mailchimp that you can try out and see how useful they can be to your business goals.
Ayo wiwiti!
Poptin minangka alat pop-up sing efisien banget, kanthi nggunakake fitur serbaguna, mbantu sampeyan nggawe windows pop-up sing gampang lan cepet.
Kaya kabeh aplikasi pop-up, tujuan utamane yaiku ngonversi maneka pengunjung dadi pelanggan.
Kajaba iku, sampeyan bisa mbantu luwih akeh lengganan email lan nyuda ninggali keranjang belanja.
Kanthi nggunakake Poptin, sampeyan bisa:
Gawe popup MailChimp sing apik tenan

Mbangun formulir semat kanggo situs web sampeyan

Kirim email otomatis menyang pelanggan
You can easily create MailChimp popups with the help of an efficient drag-and-drop editor in a manner of minutes.
Here you can take advantage of various options like inserting images, logos, changing colors, fonts, and more to ultimately make your MailChimp pop up to your liking.
Poptin digunakake dening kabeh wong, wiwit saka para pemasar online nganti blogger, amarga app kasebut nggawe manawa sapa wae bisa gampang ngatur.
Fitur sing ditawakake:
Seret banjur selehake editor

Pilihan pemicu

Opsi target

Tes A / B

Analytics

Pustaka template

Integrasi

Dhukungan pelanggan sing apik
Explore all Poptin features here.
Kaluwihan nggunakake Poptin
Poptin is very easy to use. You don't need any coding skills, so it is accessible to everyone. Integrating it with MailChimp is easy-peasy. 
With the many different features it offers, a phenomenal drag-and-drop editor stands out that allows you to make windows exactly the way you envisioned them.
Iki bakal ngewangi sampeyan nglumpukake luwih akeh, entuk luwih akeh dodolan, nambah jumlah pelanggan, lan liya-liyane.
Mung sawetara jinis pop-up sing ditawakake yaiku:
Kothak cahya

Geser

Countdown

Overlay layar wutuh

Widget sosial

Bar ndhuwur

Bar ngisor

Gamified popups (spin the wheel, scratch cards, pick a gift pop ups)
Countdown pop munggah
Video pop ups
Tonton video iki kanggo pandhuan visual babagan cara nggawe nyembul MailChimp dhewe .
Also, it has excellent customer support that will solve any doubts and is available by phone, live chat, or email.
Pustaka template nawakake akeh desain apik sing bisa diowahi miturut kabutuhan, lan sampeyan bisa nindakake kabeh mung sawetara menit.
Kanthi nggunakake pilihan pangujian A / B, sampeyan bakal mesthi yakin manawa versi popup MailChimp sing paling apik lan sing paling cocog karo para pamirsa saengga tambah akeh dodolan ora bakal dilewati.
Learn more about the Poptin <> MailChimp integration.
Kerugian nggunakake Poptin
For someone who is entirely new when it comes to monitoring analytics, it is best to turn to customer support, with which everything will become much more straightforward.
Regane Poptin
You can opt for a monthly and annual subscription. When it comes to packages, they start at $19 per month but they also offer you to try Poptin for free and make sure it's the right choice for you.
Napa Poptin minangka aplikasi popup sing apik banget kanggo MailChimp?
Besides offering fantastic targeting options, Poptin also offers triggering options that will help you gain as many customers as possible because your MailChimp popups will appear at precisely the right time.
You will be amazed at how easy it is to use a drag-and-drop editor and how easily and quickly you can use customization options.
Using various templates lets you play with the design quickly and efficiently and make great windows for your website.
A/B testing lets you check each pop-up's success with your audience and what needs to be changed to make everything work even better.
Rating Poptin minangka aplikasi pop-up kanggo MailChimp
Mangkene:
Kemudahan panggunaan: 5
Tingkat kustomisasi: 4
Daya tarik visual: 5
Fitur: 5
Integrasi: 5
Dhukungan pelanggan: 5
Regane: 5
Total: 4,9 / 5
Pengin miwiti saiki? Mlebu karo Poptin GRATIS !
2. Privy
Privy is a platform that can help you create attractive MailChimp popups, flyouts, banners, follow-up emails, and more.
It concentrates on collecting but retaining as many customers as possible, thus increasing sales.
It is especially intended for small businesses, but it can be used by anyone who deals with online companies and wants to take it to a higher level.
Privy utamane mbantu sampeyan nambah dhaptar email kanthi luwih cepet, nyuda ninggali keranjang, lan nambah tanggapan kanggo kampanye email.
When it comes to creating pop-ups, Privy's editor is simple yet effective, and it helps you effortlessly customize your pop-up window according to your wishes.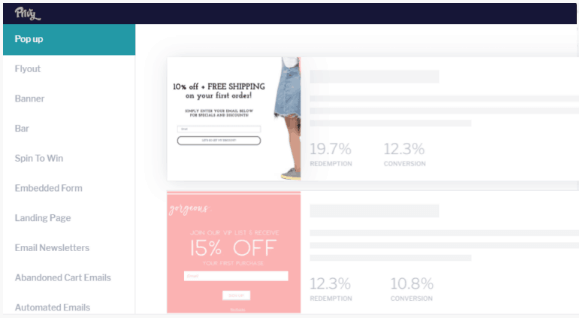 Sampeyan uga bisa nggawe macem-macem bar, spin-to-win, formulir semat, lan landing page kanggo situs web sampeyan.
With its advanced targeting options, you can choose the most suitable audience to show your relevant MailChimp popups to and thus increase the chances of buying.
Fitur sing ditawakake:
Seret banjur selehake editor

Pilihan pangaturan dhewe

Pilihan penargetan lanjutan

Kampanye tujuan metu

Kampanye sing wis digawe

Bar lan spanduk

Menang-menang

Tes A / B
Kaluwihan nggunakake Privy
Privy pancen apik kanggo narik kawigaten, nanging utamane kanggo nyegah calon pelanggan supaya ora bisa mbukak situs web sadurunge arep tuku.
It offers many different options, such as attractive pop-ups, flyouts, bars, banners, and other different onsite displays.
With Privy's help, you can offer additional products based on what the customer has already bought, which is another good way to increase sales.
It helps your online business with email marketing as it encourages the growth of your email list, for example, by sending coupon codes to those visitors who have subscribed.
Another thing that makes it easier to create different forms is the templates that are beautiful and easy to edit.
Kabeh responsif seluler lan desktop.
Kerugian nggunakake Privy
Since it does not have certain features, the price is slightly higher than other tools.
Bakal luwih efisien yen ana opsi liyane kanggo nggawe email upsell.
Sawetara pilihan pangaturan dhewe ora ana, kayata ngganti fonts.
Rego Privy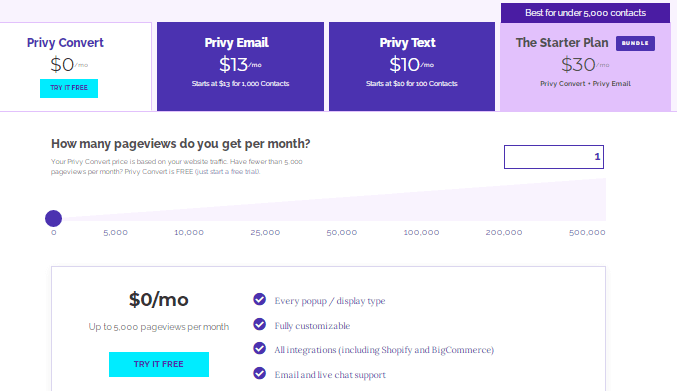 Privy has a free plan that includes up to 5000 pageviews, and paid packages start from $10 per month. Prices differ and depend on how many page views you get per month or the number of contacts, as we can see below.

Napa Privy minangka aplikasi pop-up sing menarik kanggo MailChimp?
Pucuk, bar, spanduk, lan flyout sing duwe tujuan khusus dirancang kanggo narik luwih akeh pengunjung lan nambah penjualan sampeyan.
It is mobile-friendly, so customers can constantly access your business wherever they are.
Privy's pop ups are effortless to create, and its editor allows you to customize them and change their look according to your needs.
Sampeyan bisa nggunakake opsi nargetake kanggo target pamirsa tartamtu lan kaget karo penawaran fenomenal.
Kanthi nggunakake tes A / B, sampeyan bisa kanthi gampang ngerti carane pop-up nindakake lan modifikasi apa sing kudu digawe.
Rating Privy minangka aplikasi pop-up kanggo MailChimp
Iki minangka rating:
Kemudahan panggunaan: 5
Tingkat kustomisasi: 4
Daya tarik visual: 5
Fitur: 4
Integrasi: 5
Dhukungan pelanggan: 5
Regane: 4
Total: 4,6 / 5
3. WisePops
WisePops is one of the great tools for small and big businesses, online marketers, and e-commerce in general.
Pop pop sing cerdas gampang nanging kuat, lan saliyane, sampeyan uga bisa nggawe bar lan spanduk sing apik kanggo nambah penjualan.
It is straightforward to use, and you don't need coding or designing skills to make attractive pop-ups.
With the help of its simple and functional dashboard, you can customize everything and make great campaigns appropriate for your website.
WisePops views the creation of MailChimp popups as art and therefore allows you to use several different types of pop ups:
Metu pop-up

Pop-up Lightbox

Pop-up email

Pop-up video

Pop-up seluler
Nalika responsif, kabeh padha responsif seluler lan desktop.
With its targeting options and detailed reporting, you can track your visitors' behavior and see the best tactics for boosting your sales.
Fitur sing ditawakake:
Seret banjur selehake gawe

Pilihan pangaturan dhewe

Opsi target

Pilihan pemicu

Integrasi

Tanggepan

Layanan pelanggan
Kaluwihan nggunakake WisePops
Yen sampeyan pengin nggawe popup MailChimp sing berkualitas kanthi gaweyan minimal lan kecepatan tinggi, gunakake template sing wis digawe.
It is very easy to use its highly customizable drag-and-drop editor and create various pop-up windows according to your every need.
With advanced targeting and triggering options, you can reach the right person at the right time with a unique offer.
Amarga pop-up WisePops ramah seluler, para pelanggan ora bakal kesulitan ngrampungake tuku nalika plancongan.
It also has customer support to help your customers resolve potential problems with dedication and efficiency.
Kerugian nggunakake WisePops
If you are a designer, customization options may not be to your taste ultimately.
Biaya sing larang bisa dadi masalah kanggo wong sing ora ngrancang dadi pangguna sing kerep.
Regane WisePops
WisePops offers a 14-day free trial, and after that, you can upgrade to some of the paid packages whose prices vary according to how many page views you get per month. Prices start at $29 per month, where you get 50.000 page views, and you can see prices for other packages on their website.

Napa WisePops minangka aplikasi pop up liyane sing apik kanggo MailChimp?
With this pop-up app, you get to create unique MailChimp popups in just a few minutes, which leaves you room to dedicate to some other tasks.
Using its many templates, you can design your pop-up entirely according to your customers' wishes and present your business in the best way possible.
Various tracking options help you get a complete impression of how your business is going and whether people generally react positively.
Kabeh responsif seluler lan desktop, lan ndhukung macem-macem integrasi.
Rating Wisepops minangka aplikasi pop-up kanggo MailChimp
Ayo dideleng:
Kemudahan panggunaan: 5
Tingkat kustomisasi: 4
Daya tarik visual: 5
Fitur: 4
Integrasi: 4
Dhukungan pelanggan: 5
Regane: 4
Total: 4,5 / 5
4. Getsitecontrol
Getsitecontrol minangka alat pop-up liyane sing, kajaba nambah tarif konversi, mbantu ngontrol total babagan bisnis online.
You can develop your marketing strategy but at the same time actively work on bringing in as many visitors as possible without waiting for them to come to you first.
It helps attract your visitors' attention with proactive pop ups, collect feedback with contact forms, conduct surveys, and reduce cart abandonment.
You can also create personalized messages, which positively strengthen the relationship with your customers.
Their gallery contains various templates that you can use to tailor your MailChimp popups perfectly.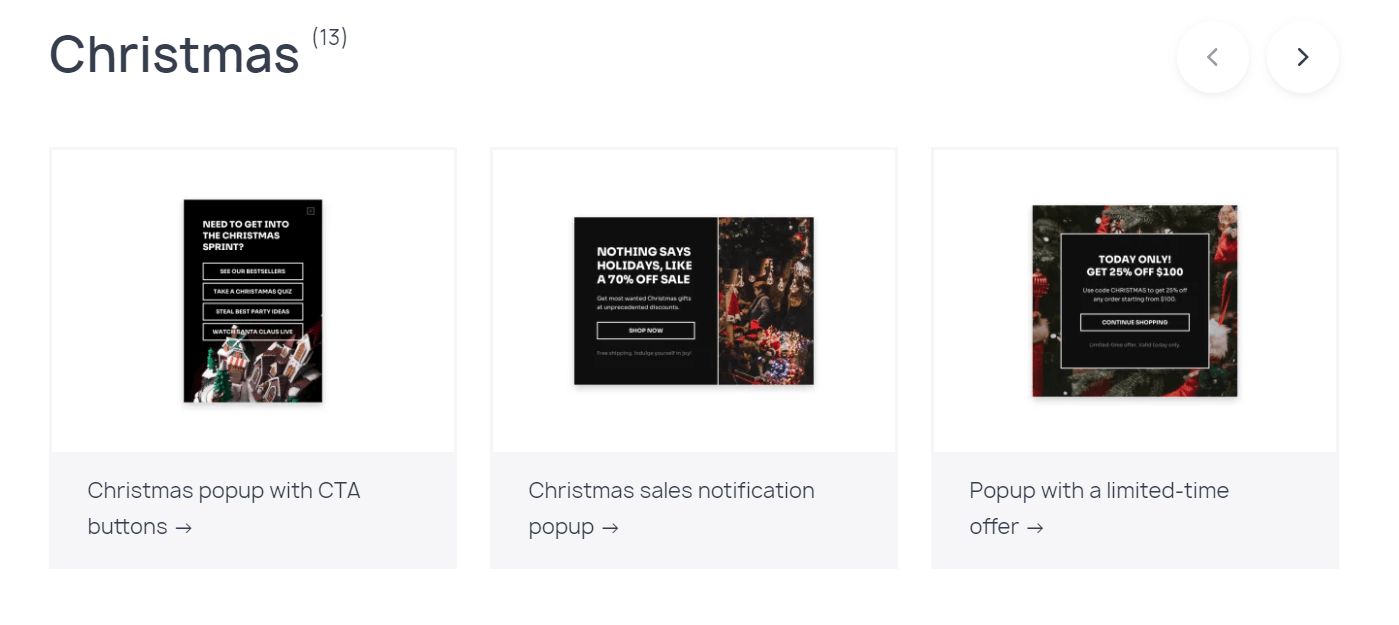 Mung sawetara jinis pop pop populer yaiku:
Pop-up ajakan-tumindak

Bar ngambang

Geser

Bar lengket ndhuwur lan ngisor
Contone, kanthi nggunakake pemicu tujuan metu, sampeyan bisa nyuda tarif ninggali keranjang amarga pop-up bakal katon pas kanggo nyegah pengunjung metu saka situs web.
Fitur sing ditawakake:
Templates Gallery

Opsi target

Pilihan pemicu

Tanggepan

Editor CSS

Integrasi

Widget multi-kaca

Tes A / B
Kaluwihan nggunakake Getsitecontrol
Sampeyan ngidini sampeyan nggawe pop-up seluler sing gampang banget lan tanpa cacat sanajan ing layar cilik.
With targeting and triggering options, you will be able to accurately target a specific group and make your pop-ups appear just when you need them to.
A/B testing helps you determine which pop-up design your audience likes the most.
Getsitecontrol is very easy to use, and with the help of its CSS editor and clear interface, you can easily create and customize your MailChimp popups to fit into your brand.
Nalika nerangake konversi, sampeyan bisa nggunakake macem-macem analytics kanggo ndeleng kepiye polah pamirsa lan apa ana prelu diowahi.
Kerugian nggunakake Getsitecontrol
To use some of the features, you have to pay for the upgrade, which is a drawback.
Opsi kustomisasi bisa uga luwih apik.
Rega Getsitecontrol minangka aplikasi pop-up kanggo MailChimp
Sampeyan bisa miwiti nyoba gratis, lan sawise iku, sampeyan bisa nganyarke menyang sawetara paket sing dibayar miturut tampilan widget sing ditawakake saben wulan.
Napa Getsitecontrol aplikasi pop-up liyane sing cocog kanggo MailChimp?
It offers you a multitude of exciting forms that you can use to activate your online business and gather as many customers as possible.
Aplikasi iki mbantu sampeyan melu pengunjung nganggo macem-macem formulir lan survey pop-up lan ngajak supaya tuku dadi target pungkasan.
It helps you grow your email list by using subscription forms, and you can also personalize messages and stand out in that way.
It is fully responsive, and it offers many integrations.
Rating Getsitecontrol minangka aplikasi pop up kanggo MailChimp

Rating kanggo app iki ing ngisor iki:
Kemudahan panggunaan: 5
Tingkat kustomisasi: 4
Daya tarik visual: 4
Fitur: 5
Integrasi: 5
Dhukungan pelanggan: 5
Regane: 4
Total: 4,6 / 5
Garis Ngisor
Although there is a vast number of different pop-up apps on the market, it is essential to choose the right one that will help you create the most amazing MailChimp popups.
If you are looking for an all-in-one solution for your online business, then Poptin's smart pop-ups are the unmistakable choice.
Take advantage of all the features these great apps offer you and convert your visitors into customers faster and easier than ever!
Yen sampeyan pengin sinau luwih lengkap, iki ana sawetara artikel sing relevan supaya sampeyan bisa mlaku: