Most digital marketers fear popups on their websites because they feel they provide the user with a poor experience. They worry that their bounce rates might increase and refuse to consider pop-ups.
However, most people don't realize that the problem only occurs when you don't use the right features, such as exit-intent technology. You can reverse that trend and decrease bounce rates if the pop-ups only show up when a visitor tries to leave.
Generally, exit-intent pop-ups are the best, but that doesn't mean you can't create popups for other purposes.
A popup builder, such as Poptin, helps you create a variety of pop ups and email forms.
This post focuses on five pop-up case studies that show the power of website pop-ups and how they could solve your problems so that you reap the rewards. 
1. Green Banana Improves Conversions by 400%
Green Banana offers innovative beanbags to Israeli people, designed for relaxation and comfort. The products were well-thought-out, but the goal was to attract more people to the brand to learn about it.
Overall, the company wanted to update the website visitors about its newest offerings to boost future sales. Fortunately, it had Poptin on its side to provide an effective solution.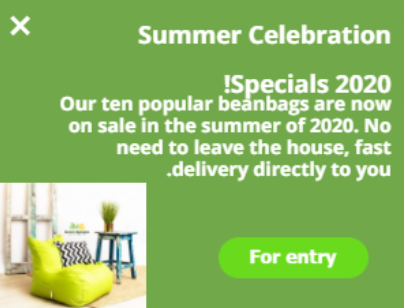 The company wanted to improve site conversions by implementing attractive pop-ups that incorporate the latest promotions while sending potential customers to the main promotional page.
Before using Poptin, the brand had no solution to its problem. However, once it learned how to create popups for itself, it improved conversion rates by 400 percent in some cases in just one month.
Moreover, this company didn't just focus on conversions for people clicking on the pop-ups; it went deeper to consider the revenue levels from sales on the website.
Green Banana claims to have used Poptin for over a year. It designed exit-intent pop ups and email forms to cover its promotions.
The simple interface made it easy to create popups. The brand feels the popup builder contributed to its success.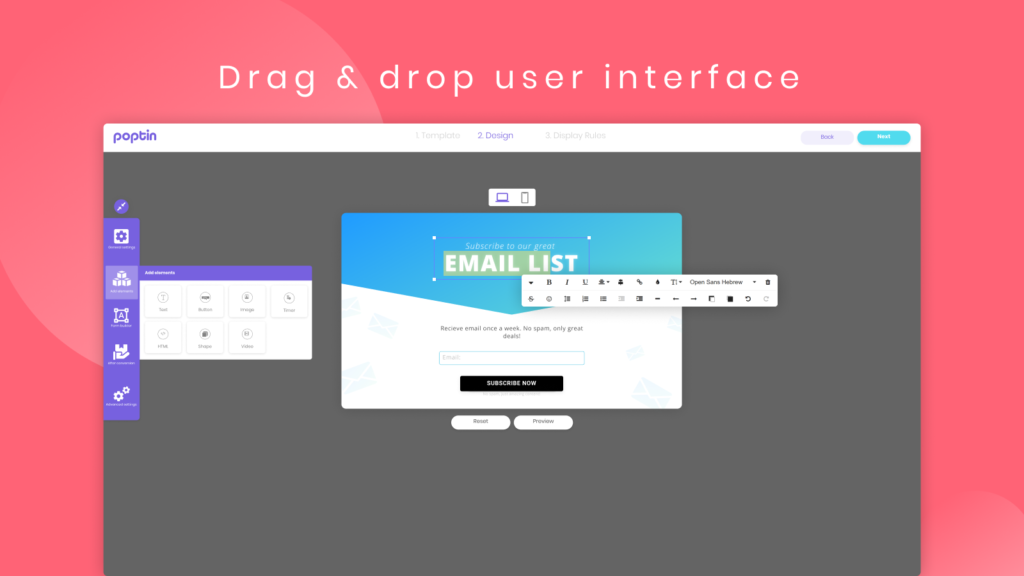 The company hopes to offer pop-ups with coupon codes, email forms for its Customer Club, and much more.
2. Scrumbles Increases Conversion Rates by 20% in Only Two Weeks
Scrumbles provides natural pet food for dogs and cats that's gentle on their stomachs.
It uses all-natural ingredients sourced from the UK, and it wanted to boost the email database and strengthen newsletter sign-ups. Thankfully, it had email forms and pop-ups from Poptin to help!
Initially, the company focused on building its newsletter sign-up base. Before partnering with the famous popup builder, it manually generated sign-up features on the website or sought sign-ups during special events.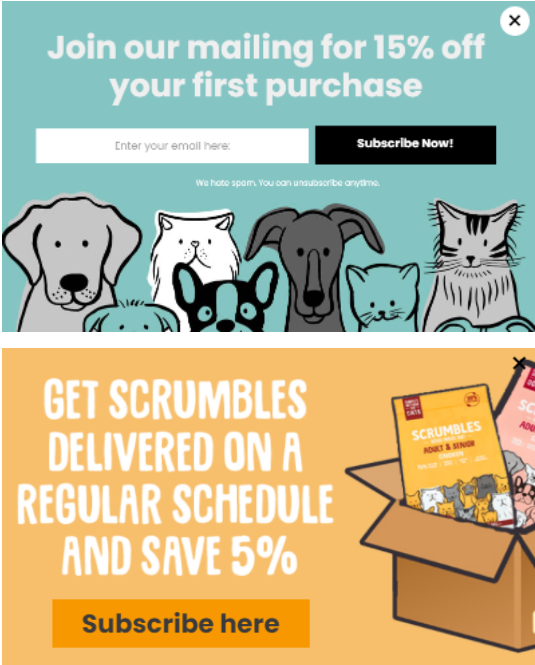 Once it launched its first popup, it only took two weeks to have conversion rates of 20 percent and 56 new sign-ups.
Scrumbles said that, at the time, it was new to the popup builder and had only used the sign-up pop-ups.
However, it plans to use pop-ups to convert blog readers to the shop, creating a buzz around new sales and product launches. It may also look into exit-intent pop ups in the future and hopes to create email forms more easily.
Good read: Email Popups: 6 Creative Offers To Grow Your Email List
3. XPLG Acquires Hot Leads Quicker with Pop-Ups
One global software company focused on turning log data into actionable insights for various purposes, including fast troubleshooting, optimized service delivery, security, monitoring, IT optimization, and investigating.
XPLG realized that the competition was growing in the market, and it had to do something to reach more leads that might turn into potential customers in the future.
Therefore, it decided to choose Poptin as its popup builder and embarked on a marvelous journey.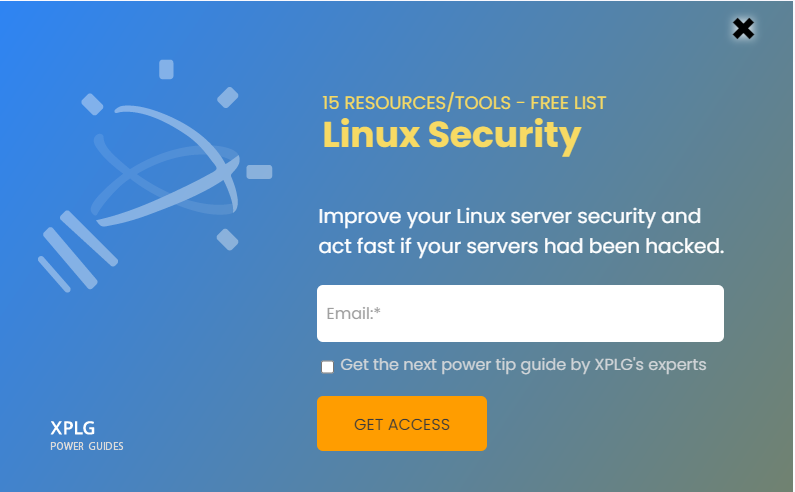 First, XPLG wanted to acquire authentic email addresses because many visitors left fake emails. Secondly, it wished to boost its engagement and lead generation efforts with its content and items, getting more downloads of its most popular product.
While things didn't happen very quickly for XPLG, the brand received 20 authentic email addresses and about 30 pop-up clicks in the first 30 days of using Poptin. The download aspect wasn't as good as the company wanted, but it has also seen a slight spike.
Overall, the brand claimed it was easy to create popups, and Poptin had an excellent lead generation approach. It then sent autoresponders to the email, providing the user requested content. This made it much easier for the brand to do business.
4. Okisam Achieves a 42 Percent Boost in Email Sign-ups in Just One Month
Okisam helps eCommerce brands grow their company's online strategies. This digital marketing agency helps with SEO, web development, analytics, and automation. To expand its influence in the industry, it wanted to increase event/webinar registration and email subscriptions—Poptin's email pop ups.
Okisam had one issue: the pop-ups had to comply with RPGD regulations and integrate with its CRM efficiently. It had used native forms, popups, and other tools with little success for years.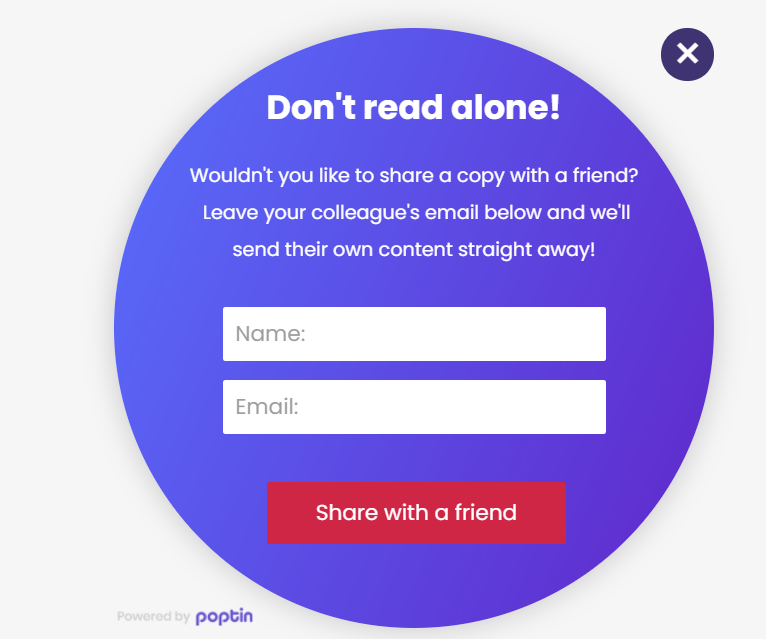 Since it started using Poptin's popup builder, it increased its subscription conversions by 42 percent in one month. Plus, conversion rates for events increased two percentage points.
It increased its webinar registration three-fold within the first two months, giving it 17 new business meetings a month. Okisam also closed about two to three more clients each quarter.
It claims that the key factors here were integration capabilities, A/B testing functionality, and various designs to choose from.
For example, it now implements various pop-ups for its webinar invitations, newsletter subscriptions, and other campaigns.
Currently, Okisam hasn't used the email forms, but it hopes to do so in the future.
With so many display, design, and customization options, it's sure to continue creating new marketing popups.
5. Shapewear Wholesale Triples Customer Conversions with Pop-Ups
Shapewear Wholesale is the one-stop shop because it manufactures and promotes women's activewear, underwear, and maternity products.
The brand has a global sales network and caters to many established distributors and brands.
From labeling, manufacturing, packaging, and shipping, it does it all and wants to grow its business.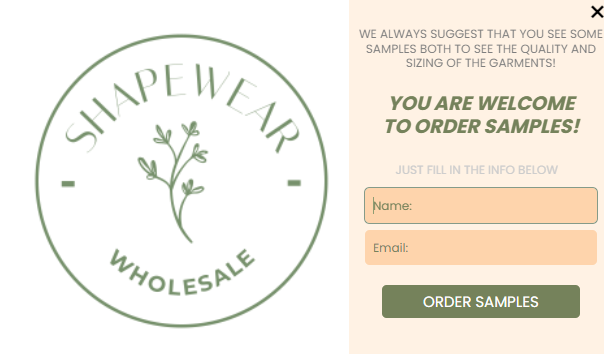 Overall, Shapewear Wholesale is worried about not being available for sale when clients visit the website to order samples or request information.
So it utilized Poptin's popup builder to automatically send customers a link to the FAQ section or sent catalogs, price lists, and sample guides where appropriate. Because of that, it tripled its sample order counts!
Conclusion
As you can see from the five pop-up case studies shown above, website pop-ups and overlays can almost guarantee an improvement in your conversion rates and subscriber counts.
Here are the benefits that each company above saw once they used the famous popup builder, Poptin:
Green Banana: Up to 400 percent improvement in conversions for one month
Scrumbles: 56 new sign-ups in two weeks and conversion rates of 20 percent
XPLG: Received 33 clicks on the popups and 20 authentic email addresses
Okisam: Three times the webinar registrations in two months, and 17 new business meetings in one month
Shapewear Wholesale: Tripled its new customer acquisition because of autoresponder emails
Soon after, each of these companies learned how to create popups and saw a higher return on investment. So, could you be the sixth business on the list?
Create popups and email forms for free with Poptin today!