Every business around long enough knows how vital Black Friday and Cyber Monday are for sales.
This goes for both retailers online and offline. With the growth of e-commerce, we've witnessed a significant increase in sales on both days.
For example, in 2019, we saw holiday shoppers spent a whopping $7.4 billion. This is an 18% increase from 2018!
And if you think it's lucrative enough, wait 'til you realize that during Cyber Monday 2019, total sales went up to $9.2 billion, up by 6.2% from the previous year. That's crazy!
Can we expect Black Friday 2022 to be one for the books too? Hopefully, you have already set up your sales strategy to boost both in-store and online sales.
With popups, you can do this.
How? Let's look at several strategies to increase your sales just in time for Black Friday and Cyber Monday.
1. Offer a Deal in Exchange for Social Followers and Email Subscribers
You can expect to generate a lot of new traffic to your site over the holiday season. Why not capitalize on these shoppers with a popup geared directly towards them?
With the right platform, you can target new visitors with unique popups. In this case, it can be a popup offering a discount code they can use once they subscribe to your email list.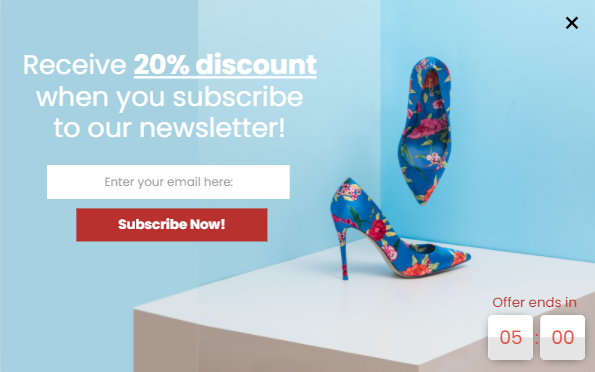 Then it's also wise to include social "like" and "follow" buttons in the popup. Consumers are likelier to click social buttons if the offer is excellent and the brand is trustworthy.
Another way is to offer them the option of liking/following or subscribing to your email list in exchange for the coupon. Make sure the popup has a clear CTA, prominent social buttons, and an irresistible deal.
2. Drive Traffic to Your Deals Page
You can use this for your Black Friday and Cyber Monday deals pages. Remember, holiday shoppers are in a rush, so why not help them find what they're looking for?
Since it's impossible to know precisely what they want, you can use a popup to direct traffic to your sales page. In most cases, that's exactly what they're looking for anyway.
These users want to find deals quickly before items are sold out. Ensure the landing page is organized by category so users can easily find what they want.
As a rule of thumb, this popup should showcase after a few seconds of landing on the page. This will help minimize bounce rates due to impatient visitors unable to find your deals.
3. Reduce Cart Abandonment with Exit-Intent Popups
There are many cases where exit-intent popups can come in handy. But for this strategy, we're honing in on shoppers who abandon shopping carts.
These visitors have already shown intent to purchase from your brand, and simply allowing them to leave allows money to flow down the drain. With exit-intent popups, you can potentially reduce your cart abandonment rates.
The key is having the right triggers set up to stop users from leaving before checking out. But you don't want a popup asking them to complete their order.
You have to give them the incentive to do so. For instance, you can offer free shipping or a discount that expires in an hour or so. In most cases, shoppers are hesitant to purchase because the prices are high.
So offering an opportunity to save even more on your Black Friday or Cyber Monday sale can help seal the deal.
4. Make a Powerful Offer to Repeat Visitors
If your site gets repeat visitors, they may compare your prices to competitors. This means they're still considering your items.
So to help them make their final purchasing decision, you can offer a deal they can't resist. Show a popup that provides an even deeper discount on your Black Friday and Cyber Monday deals.
You can also offer other incentives, such as free shipping, BOGO, etc. Set it up, so this popup shows to visitors who've been to your site within the last 24 hours. This will help target visitors who have already started their holiday shopping.
5. Use Upsell and Cross-Sell Popups
Holiday shoppers are looking for all the best deals they can get their hands on. The problem is they can't be everywhere at once. The fear of missing out is major during this shopping season; you can play on that with upselling and cross-selling.
You'll find this works great for Amazon all-year round. If you offer your visitors additional related options at a discounted price, they're more inclined to buy.
An intuitive popup platform is essential to make this work. For example, you can create a campaign that shows visitors three to four related items in a popup based on their search history and shopping cart data.
You can do the same with upselling. Use their behavioral and shopping cart data to showcase deals on higher-priced items. This is more compelling if the quality and value are higher as well. Otherwise, folks are going to stick with the cheaper option.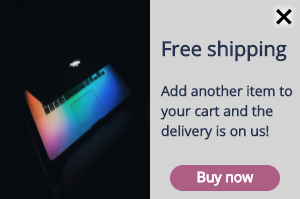 6. Display a Permanent Tab with Deals
What's great about tabs is that they don't go away. Even after visitors close your popup, permanent tabs will display throughout the site at the top or bottom of the screen.
Use this feature to share deals, such as free shipping on orders over $X or an X% off coupon code. It's also practical to show a timer ticking away to help create a sense of urgency.
But don't use this without the popup – the popup still captures shoppers' attention. Also, you can make the tab clickable so it takes visitors to your deals page or any other landing page that'll help convert them into customers.
Or you can have the same popup show up when users click the tab, offering to take them to the deals page.
7. Use Popups with a Limited-time Offer
Again, creating a sense of urgency is an effective way to convert more leads into sales. You can do this with a popup that has a limited-time offer.
But don't stop there; include a countdown clock. This will help drive more visitors to act quickly. For instance, the popup can say, "Get $20 off plus free shipping when you complete your order in the next 10:00 minutes.
Then include the clickable coupon code beneath the timer (for copy and paste purposes).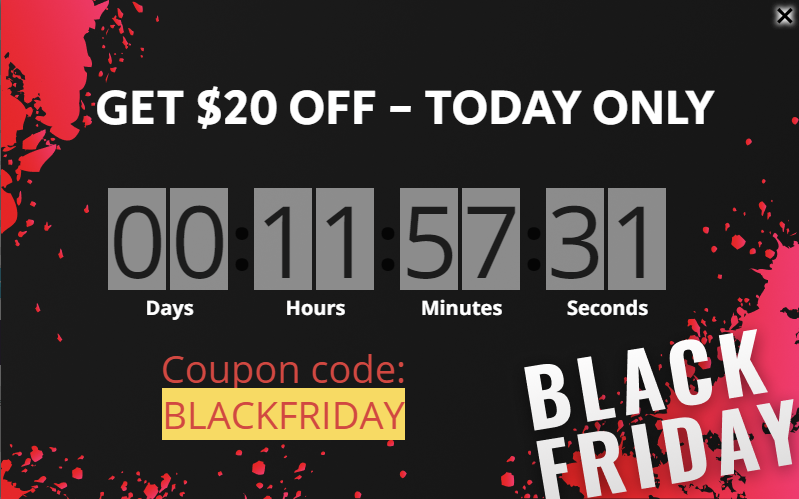 You can also read Boost Your Sales with Last-Minute Black Friday Marketing Campaigns if you want to get some more ideas before Black Friday and Cyber Monday are here.
8. Create an Exit Popup to Collect Email Addresses (and Reduce Cart Abandonment)
Another way to reduce your instances of cart abandonment is to use popups that collect email addresses. Rather than simply offering a deal to stay and complete their purchase, you can ask for their email address to send a discount code.
Once you have their emails, you can retarget them later if they still don't check out. Be sure to have a strategy in place just for these users.
A fast-drip (vs. slow-drip) email campaign is vital for visitors to return and complete their purchase before the sale ends.
9. Implement Popups to Enhance UX
If you sell popular items that typically sell globally, you must inform users if you don't ship to their area. Using cookies, you can identify where a visitor resides.
You can then use a popup that shows items stating that delivery options aren't available for their area. This can trigger when the object's added to the visitor's cart.
Visitors can either change the delivery address or remove it from their cart. This will help prevent issues down the line and improve the user experience.
Creating the Ultimate Holiday Sales Popup Strategy
You only get one shot each year to maximize Black Friday and Cyber Monday sales. Without implementing sound strategies to grow your holiday sales, don't let time pass you by.
With the above popup ideas, you can ensure you can do just that.
If you're looking for a quality platform to assist with implementing these strategies, then check out Poptin. You can give it a shot using the free account.
Let us know in the comments what popup ideas work for your business this coming Black Friday and Cyber Monday!